So you need a homeschool classroom and you really don't have room for it, huh?
Well, I have some good news for you: you don't necessarily need a homeschool classroom in the traditional sense of a classroom.
If you can carve out a small space in the family room, bedroom, hall, laundry room, or even a closet (yes, I said a closet classroom!), we have some great homeschool classroom decorating ideas to fill those small spaces so you can have a fun and functional homeschool space.
These 35 (!!) homeschool room ideas small spaces will solve your space problems and how to set up a homeschool room even in super small spaces.




Check them out!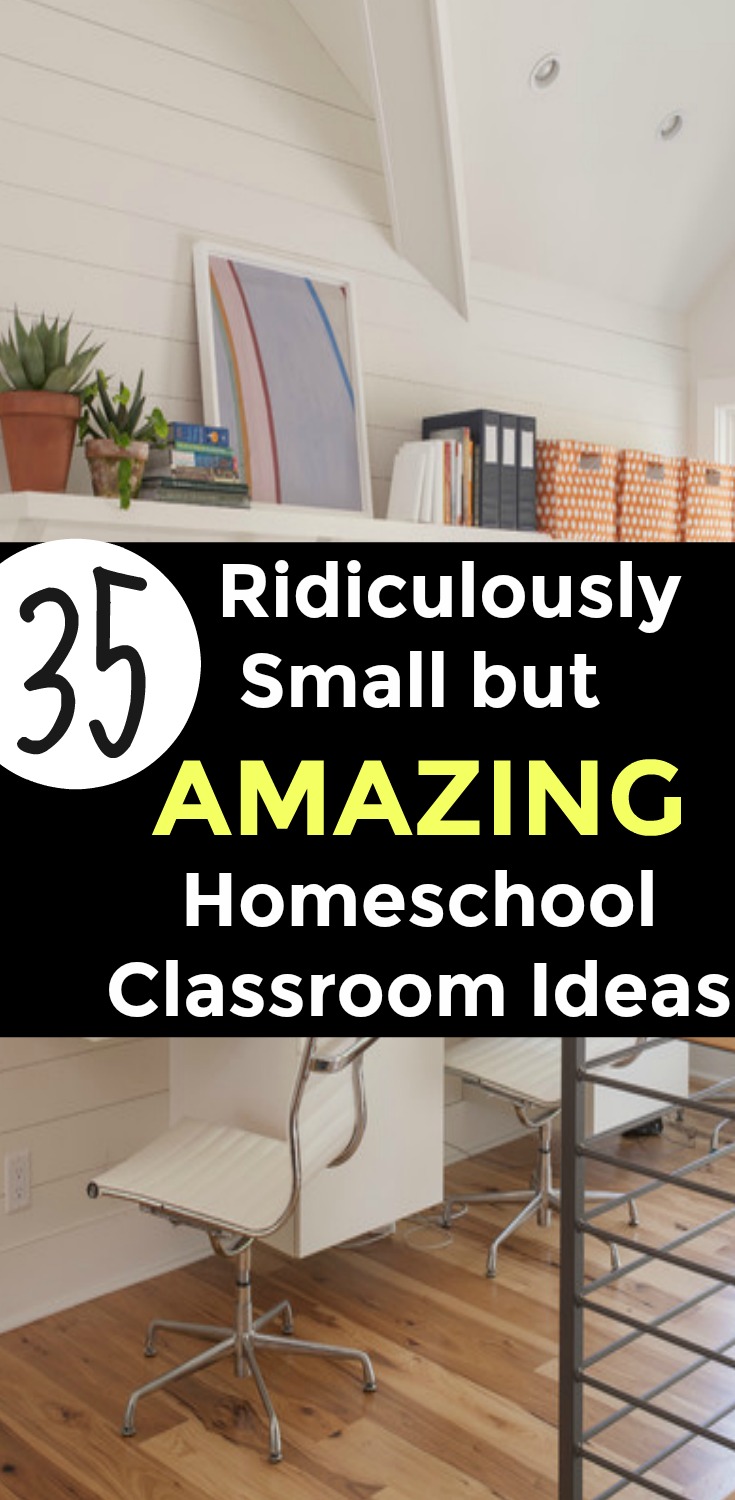 35 RIDICULOUSLY SMALL (but AMAZING) Homeschool Classroom Decorating Ideas
Walk-In Closet Classroom
If you have a walk in closet that you can spare (or find elsewhere to stuff your clothes and shoes and all those toys from 1987), then a walk-in closet makes an awesome classroom.
(FOR REAL!)
It gives a secluded area for your homeschoolers to complete their work, and then you can close away the homeschool classroom when it's not in use.
Another great thing about a closet classroom is that you and the kids can decorate it however you want without worrying whether or not it stays with your decorating scheme.
(So, go crazy with colors and chalkboard paint!)
Plus, it's fun for the kids because it's kinda like their own secret room.
Here are some amazing walk-in closet homeschool classrooms to give you some ideas:
Coat Closet Homeschool Classroom
OK, I get it.
Not all of us have huge walk-in closet space to dedicate to a classroom.
However, you don't even need a walk-in closet. You can make a homeschool classroom or study space in a regular old (very small) closet.
For real!
Check out these examples.
(I was super impressed and I know you will be, too!)
What about if your little closet doesn't have a door? No worries! Just use a cute curtain that matches your decor to hide the study space when it's not in use. (Bonus points for the usable top shelf that is already in most closets!)
And, here's another super small but very usable space.
It makes you realize your space can probably work, huh?
Under Stair Homeschool Classroom
Do you have stairs at your place? If so, chances are there's a closet or space that can be converted under the stairs.
Even if it's all walled up, you still might be able to open it up and make it usable.




Check out how clever (and cool) these spaces are for homeschooling!
Landing Classroom
If you have stairs, you probably also have some kind of landing space at the top of the stairs. If so, you might be able to snag that space for a homeschool classroom area.
Here are some people who got creative with their upstairs landing space.
I thought this classroom space was interesting because they hid everything behind doors. So, when you get to the top of the stairs it just looks like you have a set of book cases!
(PS? Fold down desk for the win!)
I LOVE this landing space for multiple homeschoolers (or parent area and kid area).
Laundry Room Classroom
If you have a nice, big laundry room area, don't be afraid to make it a multipurpose room that doubles as a homeschool classroom.
The island in the middle here was genius because when it isn't being used for school and crafts, it can be used to fold clothes (or, just be a junk collection area like any counter space at my house).
I really love the drawers on the end of the island for extra school storage!
Most of us don't have a large laundry room (although it is on my wish list). But, your laundry room doesn't have to be large.
If it has enough space for a desk, table, or even a fold down desk, then it will work just fine.
I know we're talking about small spaces, but I loved this example of how you can put a shelf-like desk on a wall in a laundry room for a homeschool study area.
---
---
Kitchen Homeschool Classroom
A kitchen classroom is a good idea because the kids can be working on their studies while you are cooking or doing other things in the kitchen, but are still available for questions and assistance.
I like how this kitchen has a desk and storage space for the bigger kids, but also has a small table workspace for the younger kids.
I like how they used a taller chair for this desk so they could reserve underneath the desk for more storage (which we all know you can never have enough of for homeschool).
Also, I think they did a good job in this kitchen of combining study and kitchen space.
They're even storing plates and bowls on the same shelves as books and it looks fine.
In this one, they took that super small space between kitchen cabinets and the doorway and plopped a cute little attached desk . . .  and it works! T
hey could even add some open shelves above for books.
I like how they put open shelves at the end of this kitchen desk set up so that they had extra book storage.
Family Room Homeschool Classroom
Family rooms are the perfect place for homeschool space because the family can be all together working on different things.
In this example, they just took a small wall space and made it the study area with two desks and shelving.
It looks great in the family room because they followed their same decorating scheme and colors that they were using in the family room.
If you don't want your family room study space out in the open, just place some decorative curtains in front of the space that can be closed when it's not in use.
Then, anyone visiting will think it's just a window and it will be your little secret!
I love how they kept this family room super casual so that adding three desk spaces and a couple of chalkboard walls makes it feel like it all fits.
It's a great shared space!
---
HOMESCHOOL BLOGS : READ THESE NEXT