If you're homeschooling a high school student (or just researching the home school option), you may be wondering, "Do homeschooled students get a high school diploma?"
The quick answer is yes, homeschoolers get a diploma just like other high school graduates upon completion of their high school studies.
But, let's take a closer look  . . .
How do homeschooled students get a diploma?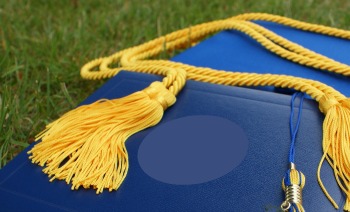 Homeschooled students are issued a diploma the same way traditional students are issued a diploma: by their educational institute. In the case of homeschooling, the educational institute is made up of the parents who are homeschooling the child. The homeschooling parent(s) obtain or print and sign an official diploma that includes all of the same information as found on a diploma from a traditional or public school. The diploma then serves as the student's official completion documentation and may be submitted to employers, businesses, colleges, or any other time the graduate needs to present a high school diploma.
What should be included on a homeschool high school diploma?
First, you should print (or purchase) a professional looking diploma (and not one of those ones with balloons or splashes of colors as a border!).
Affiliate links are used on this site. As an Amazon Associate I earn from qualifying purchases. Read more in our DISCLOSURE.
(You can get official looking diploma paper to print on and get a cap and gown to have your own ceremony!)
Remember, this is the diploma that the child will use as copies for jobs, college, and other purposes. So, you don't want it to look like you just created some piece of paper off some fun template you found on Pinterest.
(Know what I mean?)
The diploma should have the following components:
The phrase "High School Diploma"
Full name of the student
Name of your homeschool
Standard phrasing that they completed the required studies for secondary education
Name and signature of person issuing the diploma
Date the diploma is issued
As always, check your homeschool state laws and requirements for high school graduation and diploma requirements.
---
HOMESCHOOL DIPLOMA TIP:
---

PIN TO SAVE!
Do homeschooled students have to take the GED?
GED stands for  General Educational Development and General Education Diploma. It is a test that people take to prove they are proficient in high school level academics. Unlike previous generations, homeschoolers today don't necessarily need to take a GED. Homeschool diplomas are now widely accepted by both employers and many colleges and universities. However, some parents still have their homeschoolers take a GED as an additional proof of proficiency. You can search the internet for approved GED testing centers near you.
---
ALSO CHECK OUT:
---
Can homeschoolers go to college?
YES! Many colleges and universities (even Ivy League schools!) are excited to accept homeschooled students who meet the same admission requirements as other students. In addition to the high school diploma, you will also need to document a transcript of what your homeschooled student studied and completed during their high schooling years. As always, check your state (or country) laws on the documentation requirements for high school. Also, if your child is planning on attending college, you will need to check what is required by the college or university for applications.
---
DON'T MISS:
---
As an Amazon Associate I earn from qualifying purchases. Please refer to our
DISCLOSURE