Peter Rabbit makes a great theme lesson and a lot of learning fun. We have 60 of the best Peter Rabbit activities for the classroom, home school, or even group learning—enough for you to make your own peter rabbit curriculum. You'll find rabbit lesson plans for kindergarten and beyond, Peter Rabbit comprehension, all about rabbits worksheet, and even pet rabbit activities for both the Peter Rabbit book and movie.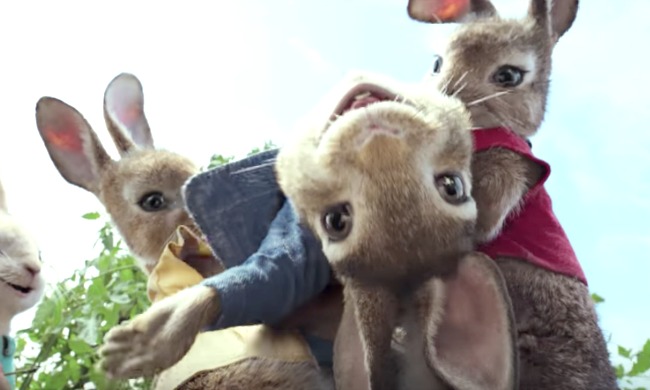 I've loved Peter Rabbit since I was a kid and I first read The Tale of Peter Rabbit.
Affiliate links are used on this site. As an Amazon Associate I earn from qualifying purchases. Read more in our DISCLOSURE.
I still have that tiny Peter Rabbit by Beatrix Potter picture book (now falling apart) from my childhood.
(Of course, I think I called him Peter Cottontail. They are the same, aren't they???)
It's one of the earliest books that I remember reading and loving.
So, you can imagine my . . . ahem, hesitancy when I heard that they were doing a Peter Rabbit movie.
I mean, how could they possibly improve upon that beloved little rabbit in the blue coat?
Well, I've only seen a preview of the movie so I reserve the right to full judgment later, but The Tale of Peter Rabbit movie trailer looks funny and fantastic!
DISCLOSURE: Affiliate links are used on this site and may be used in this post.
Please refer to our DISCLOSURE STATEMENT.
Peter Rabbit Movie Trailer
(Funny, right?)
And, just like whenever a new book or movie of interest comes out, I figure out how to incorporate it into our learning with awesome lesson plans or activities to pair up with the movie (and/or book).
(Don't miss the 60 FREE ways you can incorporate the book and/or movie into your learning later in the post! KEEP SCROLLING!)
Is Peter Rabbit movie OK for kids?
The Peter Rabbit movie is rated PG for some "some rude humor and action."
(You can even watch Peter Rabbit online now!)
What age is Peter Rabbit movie appropriate for?
Most parental reviews and family sites are listing the movie as appropriate for ages 7+.
Want more info on the movie?
Read the Common Sense Media Peter Rabbit review.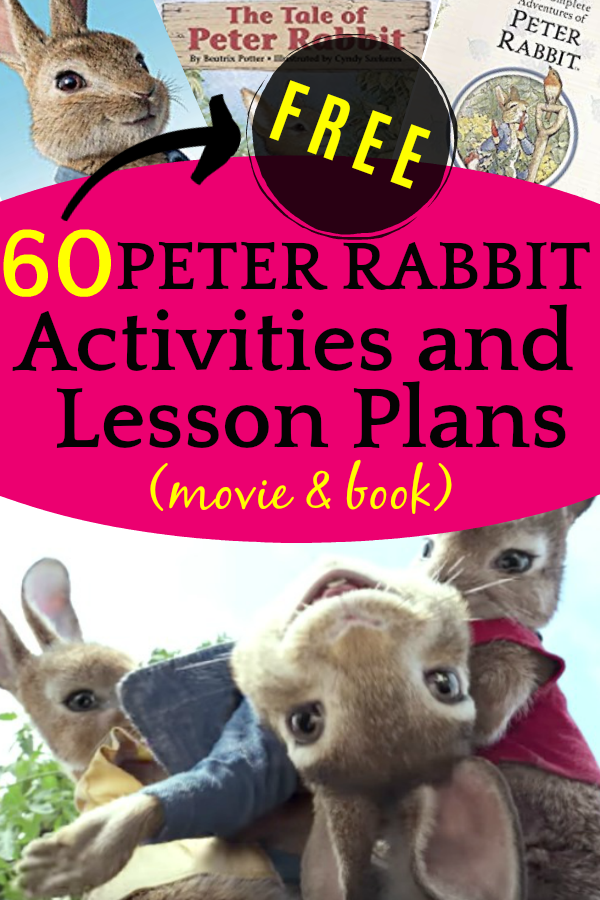 PIN TO SAVE FOR LATER!
Ready for your FREE Tale of Peter Rabbit lesson plan and activities?
Let's go!
60 FREE Peter Rabbit Activities, Worksheets, Printables, Lesson Plans, and Crafts
The Tale of Peter Rabbit Printables, Classroom Activities, and Crafts
Read a FREE online version of the book
Watch a Peter Rabbit video cartoon
Compare and contrast the movie versus book with this packet
Get a PowerPoint presentation of the book
Do a Spring Lesson Unit on the him
Build literacy skills with Peter Rabbit
Talk about The Tale of Peter Rabbit Moral Lessons
---
YOU MAY ALSO LIKE :
---
Work on Peter Rabbit character traits (Grades 3-5)
Do A Garden Plot: an agricultural themed lesson based on the book/movie
Get a study unit and lapbook printable
Visit author Beatrix Potter's website
See the original book illustrations and learn the history
Do a Peter Rabbit coat and button activity
Do an 'R is for Rabbit' lesson plan
Make a rabbit paper bag puppet (then use it as a story time helper)
Download rabbit coloring pages
Complete a Peter Rabbit lesson plan
Create a READ WRITE THINK story map to go with the story
Get Peter Rabbit and Flopsy, Mopsy, and Cottontail magnet (or dot marker) printables
Learn how to draw Peter Rabbit
Play a rabbit mapping coordinates game
Watch a VIDEO on how to draw and paint Peter Rabbit
Grab some Peter Rabbit activity sheets
Make Bunny masks [VIDEO directions]
Make a Peter Rabbit pop-up "garden"
Get a Peter Rabbit rhyming poster
---
ALSO CHECK OUT :
---
Get a literature guide for the book
Make Peter's Coat (use old fabric, felt, or even tissue paper)
Download a story beginning, middle, end recording worksheet
Answer short questions and extended answer questions about the book (Grades 3-5)
Make an interactive Facts About Rabbits notebook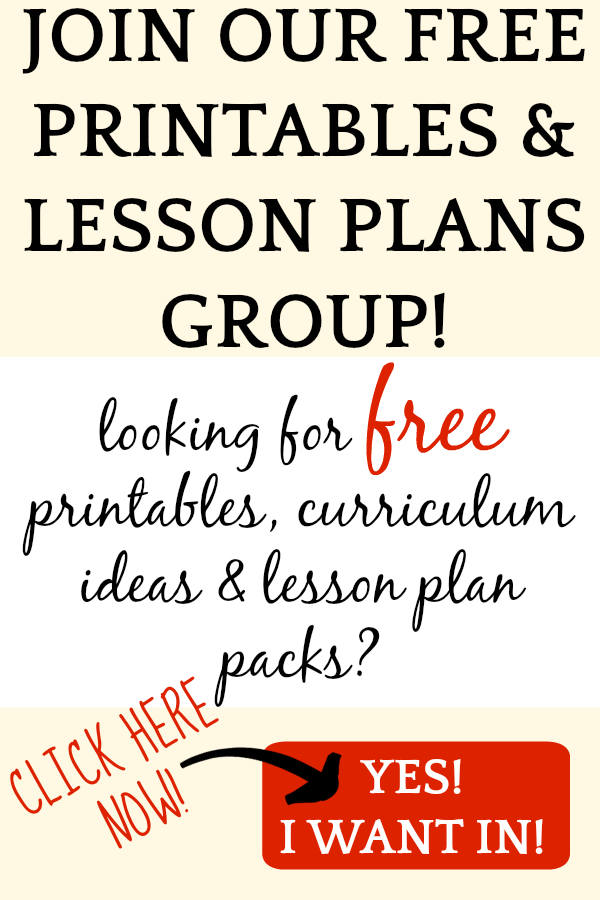 Download a When Peter Rabbit Went to School flipbook
Write your own version of the story
Do a Rabbits vs The Easter Bunny Venn Diagram
Get Rabbits (or Bunnies): "Needs – Can – Have – Are" Chart
Do the Eating Like a Rabbit project
Get an Animal Alphabet Coloring Pages: R is for Rabbit
Do a fun online quiz about the story
---
Peter Rabbit Books and Gifts
---
THEME LESSONS: TRY THESE NEXT
WONDER LESSON PLANS (BOOK AND MOVIE)
JUMANJI LESSON PLANS AND ACTIVITIES (BOOK AND MOVIE)
32 PADDINGTON BEAR LESSON PLANS AND ACTIVITIES (BOOK AND MOVIE)
WRINKLE IN TIME LESSON PLANS AND PROJECT IDEAS (MOVIE AND BOOK)