If you're thinking about homeschooling (or just now doing your research) or if you just started homeschooling, one of your concerns may be: What is the cost of homeschooling?
Or, you may be wondering, Is it free to be homeschooled?
---

What Does it Cost to Homeschool?
The cost to homeschool depends on your choices. There are free online curriculum, as well as paid homeschool curriculum and online courses. When determining the cost of homeschooling for your budget, you will take into account factors like:
How many children you are homeschooling.
Type of curriculum you will use (if any).
Type and amount of outside the home classes and activities and any other homeschool programs.
Books and supplies.
Technology (computers and software).
Anything other expenses you will have when homeschooling. (Will you need a babysitter twice a week to watch the little one so you can focus on the older kids?)
---
How Expensive is Homeschooling? [VIDEO]
Affiliate links are used on this site. As an Amazon Associate I earn from qualifying purchases. Read more in our DISCLOSURE.
So, when asking How much does homeschooling cost? you'll have to consider several factors (just like anything in life).
Homeschooling can be costly, but not so expensive that you cannot do it.
However, traditional school (like public school) and associated extracurricular activities can also be expensive.
(In one part of our state, students even have to pay a fee to ride the public school bus!)
So, schooling–in general–can be costly!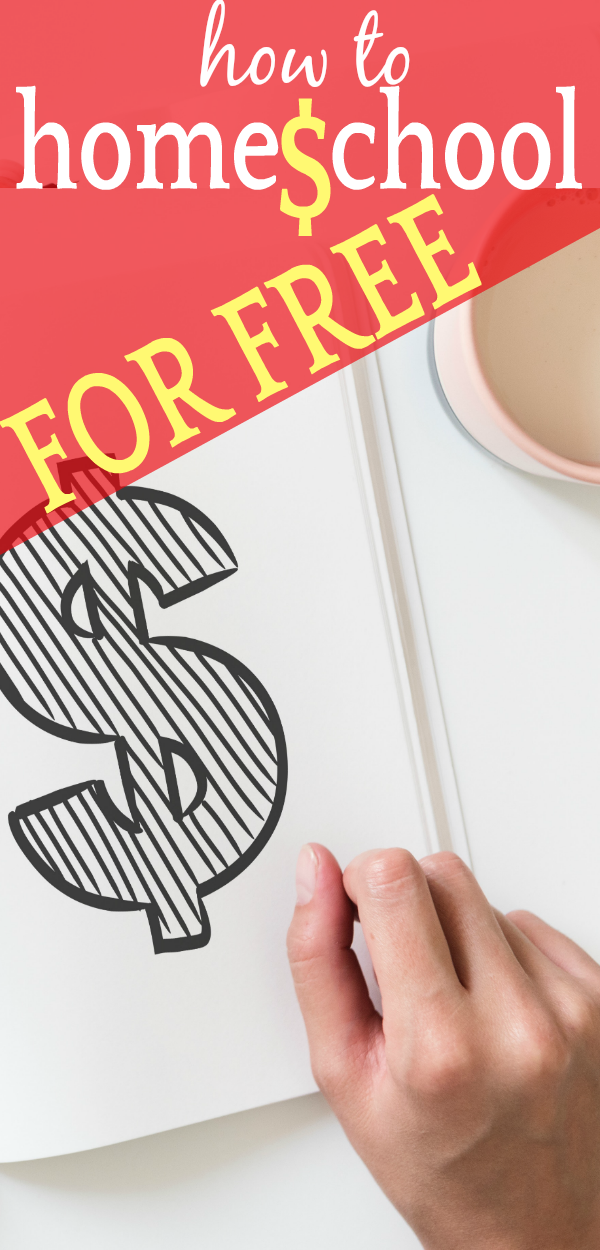 PIN TO SAVE FOR LATER
---
Is it free to be homeschooled?
Another question that you may have is How can I homeschool my child for free?
There are many free homeschool resources
 or cheap homeschool resources where you can find gently used homeschool curricula, study units, worksheets, and online reading like free books that help keep homeschooling expenses down.
(Repeat after me: the library is your friend — but watch those library fines!)
How can I homeschool my child for free?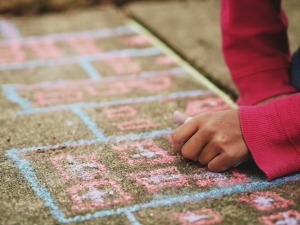 When the budget is tight, you can find ways to homeschool for cheap or free!
(It's all about thinking outside of the box!)
Here are some free (and affordable) ways you can homeschool that won't break the budget and can work within what you want to spend.
Check this out:
Homeschool curriculum (free), worksheets, and printables
Free online school (or affordable homeschooling online)
Library (books and free classes)
Documentaries (Public Television offers great resources)
Free local classes (through colleges, businesses, and more)
Podcasts
Free online software and homeschool programs
Free museum days and free local travel landmarks
YouTube tutorials
Nature hikes and journaling
Gameschooling
---
ALSO CHECK OUT:
---

PIN FOR LATER
THIS IS PART 6 IN OUR SERIES FOR NEW HOMESCHOOLERS.
---
HOMESCHOOLING COSTS: A CLOSER LOOK
Just like any facet of raising a family, your expenses and budget are determined by your choices.
For homeschooling, those expenses include decisions like what homeschool curriculum you use
, what books you buy, what method you choose, what social activities your kids are involved in outside of the home, and if you join a co-op.
Involvement in classes outside the home always raise expenses.
(And, it's the same if a traditionally schooled kid is in a lot of extracurricular activities!)
However, one of the biggest expenses new homeschool families have is curriculum and at-home courses.
Let's take a closer look at some of the most expensive homeschooling costs:
How Much Does Homeschooling Cost Factor #1: Homeschool Curriculum
Homeschooling families have homeschool curriculum or online courses available that will make your homeschooling life easier.
However, these curricula and courses can run into a few hundred dollars for each kid or learning level (at the most expensive end of the spectrum).
And, the never-ending search for the best homeschool curriculum can make you crazy (and, can be costly, especially if you hate it and have to purchase another one).
So, you should give some serious consideration to homeschooling curriculum.
How to Choose the Best Homeschool Curriculum:
Do you need a homeschool curriculum?
Will you buy it and hand it down to other kids?
Do you want an online curriculum or curriculum with books and study guides (or both)?
How do your kids best learn?
How do you best lead and how involved do you want/need to be in each lesson? (For example, do you work and need to the older kids to have more independent learning?)
Are there any special needs for learning?
YIKES! That's a lot, right?
I like to call picking out a homeschool curriculum the NEVER ENDING HAMSTER WHEEL.
That's because we're convinced that BIGGER and BETTER is always out there.
Here's the solution for that (AND it will help you from wasting money on homeschool curriculum that doesn't work for your family:
---
WE HAVE A FREE HOMESCHOOL CURRICULUM WORKBOOK YOU CAN DOWNLOAD TO HELP YOU MAKE THE RIGHT DECISION FOR HOMESCHOOL CURRICULUM!
---
How Much Does Homeschooling Cost Factor #2: Outside Classes
The next biggest (or equal) expense is the number and type of classes your kids take outside of the home.
We try to do a mix of paid classes (music, Spanish, swim) and free classes, like those offered through a museum or a library.
Many organizations today recognize the growing homeschooling movement and add free or cheap homeschool classes to their offerings.
(If you don't see them for a museum or business that you love, just ask!)
How Much Does Homeschooling Cost Factor #3: Other Expenses
I know lumping everything else into other homeschooling expenses into one category is weird, but the homeschool curriculum and the outside classes really are the most expensive things about homeschooling.
In this category, figure out what you'll spend on supplies and other items that you need to make things happen.
Do You Get Paid to Homeschool Your Child?
YES!
You get paid in love and satisfaction.
Ohhhhhhh.
That's probably not what you meant, huh?
All joking aside, you do not receive a payment to homeschool your child (or as a "homeschool teacher").
---
YOU MAY ALSO LIKE :
---
Money for Homeschooling From the Government
Even though you aren't paid to homeschool (in the traditional sense), in some states you may get a tax credit or be able to take a deduction.
However, some homeschooling families are against taking any kind of government funding, deductions, or credits.
Many homeschooling families believe that the government should not regulate homeschooling in any way.
Some families fear that tax credits or deductions are just the beginning of allowing the government into your homeschooling world.
However,  many others take those tax credits or deductions (if offered by their state) and find that they are helpful for their families.
Be sure to do the research for your state and make an informed decision that is best for your family.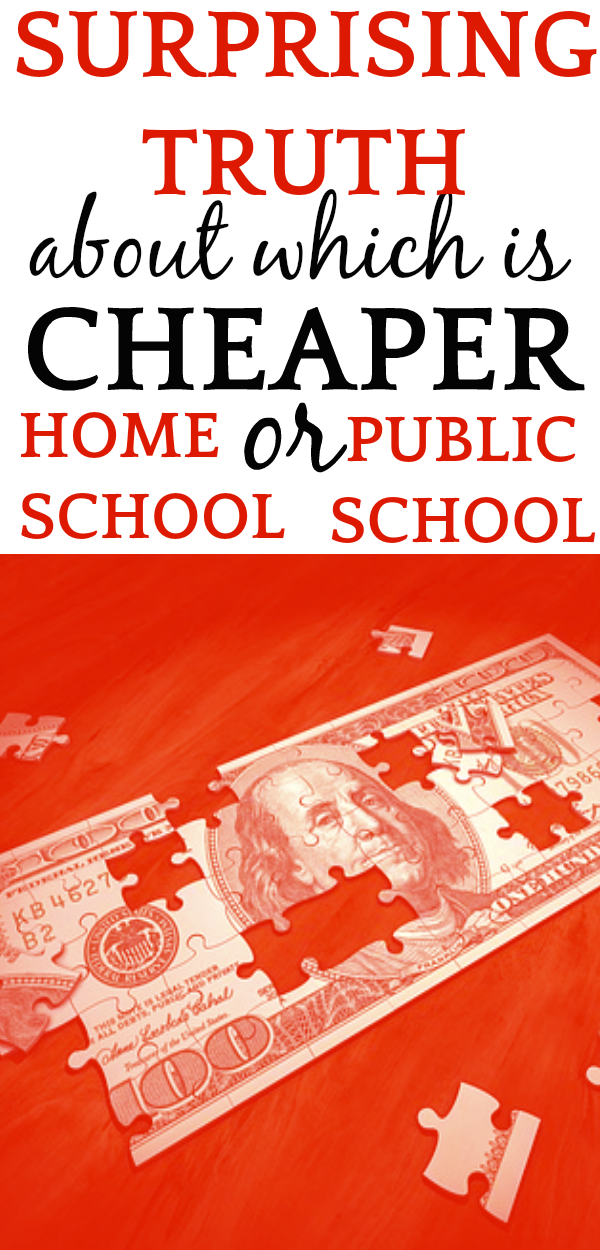 PIN TO SAVE FOR LATER
Cost of Homeschooling vs Public School
So, what is the cost of homeschooling vs public school?
Multiple homeschool sources report that the average cost of homeschooling a child the first year is around $600 to $900.
However, our homeschooling costs our way above that because my kid does a not of outside classes and activities.
(Our homeschooling costs+classes+outside activities alone run around $5,000/year. Your homeschooling may be a lot less or more. It depends on your choices!)
---
Your first year of homeschooling is generally the most expensive because you are just figuring it all out.
---
During the first year, you may have a few trial and error purchases (homeschool curriculum, books, online classes, etc.) before you find what really works for you.
So, be aware that if your budget is feeling stretched the first year, it might actually get better the second year of homeschooling.
By the way, just as an interesting comparison, a 2014 study reported that one year of public school can cost the system an average of $11,009 per student.
Tuition-Free Online & Virtual Public School
One last thing I want to cover in the cost of homeschooling is tuition-free online & virtual public school.
If you're new to homeschooling, this is one of the first things that comes up when you search for homeschooling programs online or free homeschool curriculum.
And, I want you to understand the distinction.
---
Tuition-free online & virtual public school is NOT true homeschooling.
---
(This is not opinion. This is just fact.)
These are homeschool programs that are run by the public school, but the work is just done from home (virtually).
These programs are regulated and they follow the same rules as public schools — like standardized testing, curriculum set by the state, etc.
If you want to homeschool in the true sense of having total control over your homeschooling, then virtual public school is probably not the way to go (even if it's free).
We've talked about the many costs of homeschooling, including how you can free homeschool and how the homeschool costs can quickly escalate. Be sure to understand your budget so that you know where you can spend or splurge during homeschooling!
---
CHECK OUT THESE OTHER HOW TO HOMESCHOOL BLOG POSTS
---
Part of this post is an excerpt from the #1 Bestselling book in 4 educational categories, It's Homeschooling, Not Solitary Confinement: Busting the Myths, Misconceptions, and Misinformation About Homeschooling, which can can answer many of the questions that you have about homeschooling.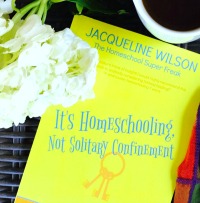 As an Amazon Associate I earn from qualifying purchases. Please refer to our
DISCLOSURE
STARTING HOME SCHOOL? CHECK OUT OUR HOW TO HOMESCHOOL GUIDE