A homeschool co op is for a group of homeschooling families with a common goal to share in the education of their children together. There are different cooperatives, like homeschool buyers co-op that offer discounts and affordable homeschool curriculum, or if you need your kindergartener in a co-op for social time, or classroom-like settings for your home school student.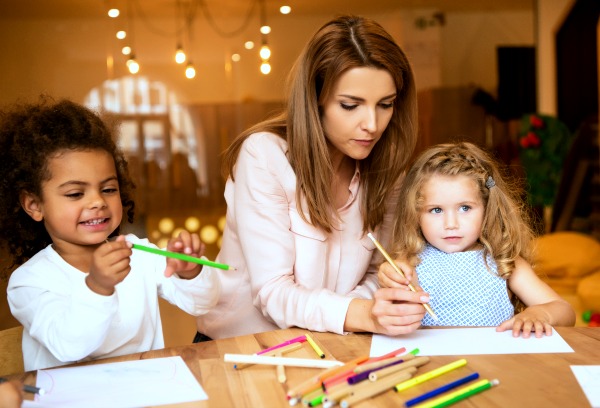 If you've been around a group of homeschoolers, you may have heard the term homeschool co op being thrown around here and there.
And, especially if you're new to the homeschooling community, you may be wondering, "What is a homeschool co-op?" (Or, "What happens in a homeschool co-op?")
Let's take a closer look…
Affiliate links are used on this site. As an Amazon Associate I earn from qualifying purchases. Read more in our DISCLOSURE.
What is homeschool co op?
A homeschool co op is a group of homeschoolers that meet-up regularly for a specific purposes and to cooperatively to achieve common goals. In some cases, the co-op may meet several times each week and provide academic enrichment classes. The group or class will be listed by city for each state.
There are also other homeschool co-ops like a homeschool buyers co-op that offers discounts on homeschool materials and social homeschool co-ops where families meet up for field trips, outside classes, and more.
You can find homeschool co op preschool and up!
How do I find a homeschool co op?
You can find a homeschool co op for your family by starting with your local homeschooling groups or searching for "homeschool co-ops near me" online. Also, if you have an active home school state, check with your local library or local social media homeschool pages.
IN THIS WHAT IS A HOMESCHOOL CO-OP POST, WE'LL COVER:
Definition of a Homeschool Co-op
What Is a Homeschool Co-op (a closer look)
How Do Homeschool Co-ops Work (AND why should I care)?
Different Types of Homeschool Co-ops
Should I Join a Co-op?
EYE OPENING Homeschool Co-op Pros and Cons
Starting a Homeschool Co-op
How Do I Find a Homeschool Co-op Near Me?
Is There An Online Homeschool Co op Available?
Now that you have a basic homeschool co-op definition, let's take a closer look . . .
Homeschool Co Op Definition
You may already know, but co-op is short for cooperative.
And, it's not a term that is exclusive to the homeschooling community.
It is a word that simply means:
a group working together for a common goal
For homeschooling, co-ops are generally organized by a group of homeschooling parents for a variety of reasons that act as a homeschool support group to achieve common goals.
Homeschooling co-ops may form to:
Offer classes
Organize field trips
Participate in group arts and crafts
Provide social time for homeschoolers
Create a homeschool buyers co-op to get the benefits of group discounts
& more.
Although one of the most popular type of homeschool co-ops is the homeschool co op classes, you can see that there are many types of co ops available for homeschooling families.
SO, be sure that you understand the different types of homeschooling co ops before signing up for one!
If your goal is to just find other homeschoolers for meet-ups, joining a homeschool co-op that organizes classes that meet three days a week probably isn't going to work for you.
---
YOU MAY ALSO BE INTERESTED IN:
---
How Do Homeschool Coops Work?
Different Types of Homeschool Co-ops
How homeschool co-ops work will depend on the type of co-op it is.
Here are some homeschool co-op ideas and types:
1. Academic Enrichment Classes / Co-ops
Many co-ops are academic, focusing on offering classes on different topics.
If you have a homeschool co-op that offers classes, the group will need to:
Hire a teacher, OR
Pay "tuition" to a center or organization that offers this type of co-op, OR
Each parent in the co-op must sign up to teach a topic of choice or an assigned topic.
The group will also need to decide how often they meet.
Some homeschool co-ops meet weekly or even several times a week, while others meet monthly (or a couple of times each month).
A popular homeschool co-op is Classical Conversations.
It is a "nation-wide program that helps train and equip parents to provide their children with a Christian classical education."
It is heavy with parent involvement (with parents required to attend the classes and often acting as tutors) and usually meets for an extended period once or twice each week.
However, Classical Conversations is just one example of an academic enrichment homeschool co-op.
2. Homeschool Buyers Co-op
Another co-op you may hear about frequently is a homeschool co op buyers.
In this type of cooperative, homeschoolers join with a group of other homeschoolers to receive volume discounts for curricula, books, lessons, and other educational resources.
Generally, homeschoolers join a homeschool buyers co-op for free or a low membership price.
The more people that are in a homeschool buyers co-op, the bigger the potential savings that are passed on to the members because the co-op can buy a large amount of products at a deeply discounted price.
Although these kinds of co-ops may sponsor or hold events for homeschool groups, they are not often co ops that do regular meet ups.
3. Social Homeschool Co-ops
If you join a homeschool co-op that focuses on field trips, you will meet up with a homeschool group for different field trips, tours, and play dates around your area.
There is generally one homeschool parent (or a couple of homeschool parents) who starts the group or takes control of the group and makes all the schedules, interacts with the destination places, collects the money and more.
It's a REALLY hard "job" (for which they don't get paid), so be sure to show your co-op leader lots of love and patience!
Learn more about: How do homeschoolers make friends?
How To Find A Homeschool Co Op
How Do I Find a Homeschool Co-op Near Me?
The best place to find a homeschool co-op near you is to search online for "homeschool co ops near me" (or for your city and state) or "homeschool support groups near me." There may also be a homeschool co op directory for your state.
Also, be sure to join homeschool Facebook groups for your local area.
Your local homeschooling families are a wealth of information and will provide valuable feedback on homeschool co-ops in your area.
(You can also join us! We have a very interactive, information, and supportive Facebook page!)
Is There An Online Homeschool Co op Available?
Online homeschool co-ops are often called virtual homeschool groups.
A virtual homeschool group is group of families who come together to support one another, share in homeschooling their children, and provide information, resources, courses or classes, and sometimes even homeschool co-op curriculum.
Online homeschool co-ops meet up online (of course), but some also may host local, in-person meetups, too.
AN IMPORTANT WARNING: When looking for an online homeschool co-op, be aware of virtual homeschools. They are often NOT the same as co-ops.
READ ABOUT THE IMPORTANT DIFFERENCE HERE.
Should I Join a Co-op?
Homeschool Co op Pros and Cons
You may be wondering if a homeschool co-op is the right fit for you and your family?
It really depends on what you are looking for as an addition to your homeschooling.
There are several factors to consider when you're considering a homeschool co-op.
Just like anything in life, there are homeschool co-op pros and cons, too.
Homeschool Co-op Pros
Advantages of homeschool co-ops include:
Caters to all types of homeschoolers, so there is something for everyone
Helps you build your homeschool support group and tribe
Gives you (and your kids!) a break from each other
Allows for new and interesting experiences
Can be as active as you want (for most co-ops)
Provides benefits (like discounts) that you may not be able to get as a single family
Can be A LOT of fun
Homeschool Co-op Cons
Some homeschool co-op problems include:
Can take a huge time commitment
Some can be costly, especially if a tutor/teacher is hired
Can work against one of the biggest benefits of homeschooling: flexibility!
Anyone can teach/lead, so you're not sure what you'll get
Keeping people active/interested in the co-op is A LOT of work
Might need to come up with your own class descriptions and lesson plans
Everyone has different ideas/input so it might be hard to agree / have to deal with pettiness
Are co ops worth it?
If you're looking for more regimented, scheduled classes to supplement your homeschool, then an academic co-op may be a good choice for you. But, you need to remember that most academic homeschool co-ops take a great deal of commitment, time, and involvement (and sometimes costs).
This can be a big con for homeschool families who enjoy a more relaxed method of homeschooling.
So, it's something to keep in mind.
If you're just looking to supplement homeschooling with some social meet-ups or field trips, then check out local Facebook homeschool groups or other ideas where you can find a more relaxed schedule and you can interact and join when your schedule allows (both online and in person).
Starting a Homeschool Co op
Starting a homeschool co op can be a huge undertaking, but it can be done!
To start a homeschool co op you'll need to:
Determine the type of homeschool co op that you want to start. (Will it only be for

homeschool kindergarten

? Will it be academic enrichment for a span of ages? Will it be a craft or nature co op? The type of your homeschool co op is only limited by your imagination!)
See if there is a need or interest for your area. (You can poll your local homeschool Facebook groups for this!)
Understand how you want your homeschool co-op structured. (Will it be shared teaching? Do you need homeschool co-op lesson plans? Will there be a cost?)
Consider if you need homeschool group insurance. (Yikes, it just go real, didn't it?)
Come up with ideas for homeschool co-op classes and create your homeschool co op class descriptions.
Determine your meet up venue.
Recruit other homeschool parents who are dedicated to the co op and will volunteer and help.
Determine the homeschool co-op rules.
Get people to join your new co-op!
ARE YOU IN A HOMESCHOOL CO OP? WE'D LOVE TO HEAR ABOUT YOUR EXPERIENCE!
As an Amazon Associate I earn from qualifying purchases. Please refer to our
DISCLOSURE
STARTING HOME SCHOOL? CHECK OUT OUR HOW TO HOMESCHOOL GUIDE