When you're new to homeschooling you'll feel like you have no idea how to homeschool or even where to start.
(We get it! We've been there!)
You probably came here today because you are asking questions like, "What do I need to homeschool my child?"
Here, we'll talk about common questions that new homeschooling parents may have and answer those common questions.
---
DON'T MISS ALL THE ANSWERS TO THE HOMESCHOOL QUESTIONS BELOW!
KEEP SCROLLING!
---
(After the list of questions, you'll see homeschooling topics that you can click on that will take you to more information.)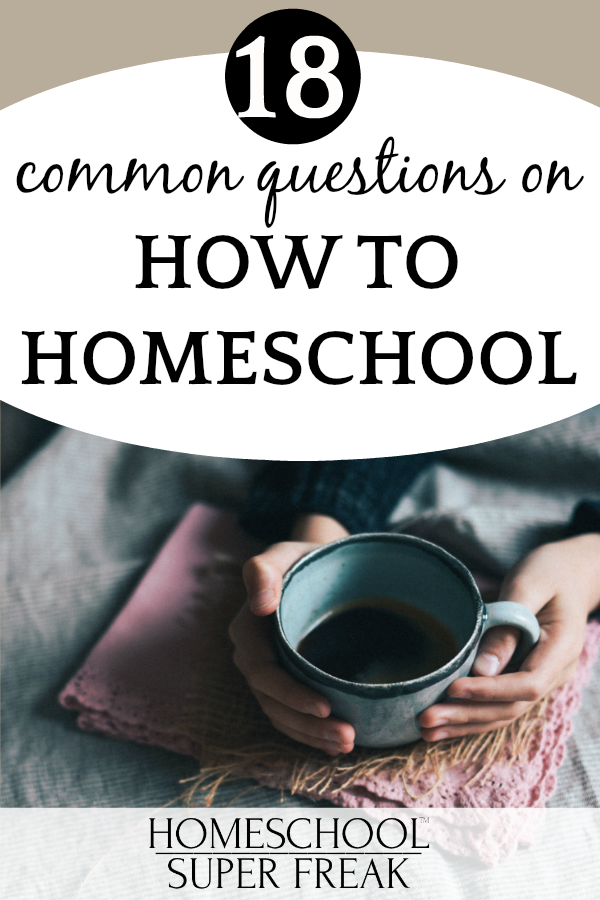 ---
18 Common "How To Homeschool" Questions New Homeschoolers Often Ask
What is homeschooling?
How do I start homeschooling today?
What is deschooling (and why is it a must)?
What are homeschooling requirements?
What parent qualifications do you need to homeschool?
How much does homeschooling cost?
What's the difference between homeschooling versus schooling at home?
What are the homeschooling pros and cons?
What is the best homeschool curriculum?
Do homeschool kids get socialization?
Can you really free homeschool?
What are the common questions that people ask about homeschooling?
Why do people homeschool?
Homeschooling vs public school: which is better?
What is the history of homeschooling?
What are the biggest homeschooling myths (and facts)?
Can you play sports while homeschooling?
What is a good preschool curriculum and how do I homeschool preschool/kindergarten?
---
Understanding homeschool requirements, getting input on homeschool curriculum (including homeschool preschool curriculum), reviewing how much does homeschooling cost, sorting out that pesky homeschool socialization issue and other things (even as simple as encouragement for homeschooling moms and dads) is super important.
Because of the importance, we've put together homeschool blog posts on the common questions about homeschooling.
(It's the information we wish we had when we started.)
We recommend starting with #1 and working your way through each topic in order to help you understand how to get started homeschooling TODAY.
Just click on each image [below] to read more information for new homeschoolers!
HOW TO HOMESCHOOL