You may have heard this thing floating around about being able to free homeschool.
Is it fact?
Is it a myth?
Urban legend?
Is there a free curriculum for homeschool?
Affiliate links are used on this site. As an Amazon Associate I earn from qualifying purchases. Read more in our DISCLOSURE.
Are there free homeschool resources?
Does homeschooling for free really exist?
Come on. Can you homeschool for free or not?
If you're ready to get right to it, here are some ideas . . .
How can I get free homeschool?
Use the library for books, movies, and the computer lab
Download free pdf books
Create your own unit studies
Watch YouTube How To videos
Make watching documentaries a regular occurrence
Listen to audio books online
Take advantage of local free days at museums, zoos, and other businesses
Use free homeschool curriculum
Join local homeschool meet-ups that coordinate field trips
Use nature and the outdoors
Don't forget how much you learn cooking!
---
Don't miss 27 RESOURCES TO HELP YOU FREE HOMESCHOOL later in the post!
KEEP SCROLLING!
---
Free Homeschool Curriculum
If you've been recently searching for a homeschool curriculum, you may be in sticker shock.
Pre-packaged curriculum and online courses can sometimes run into the hundreds (or thousands) of dollars if you're homeschooling multiple children.
Wouldn't it be nice if there was a free homeschool curriculum (and not just affordable homeschooling online)?
(STAY TUNED for that later in the post . . .)
So, how can you homeschool and not break the bank or—more specifically—how can you do it all for FREE?
But first I want to cover something SUPER IMPORTANT in homeschooling . . .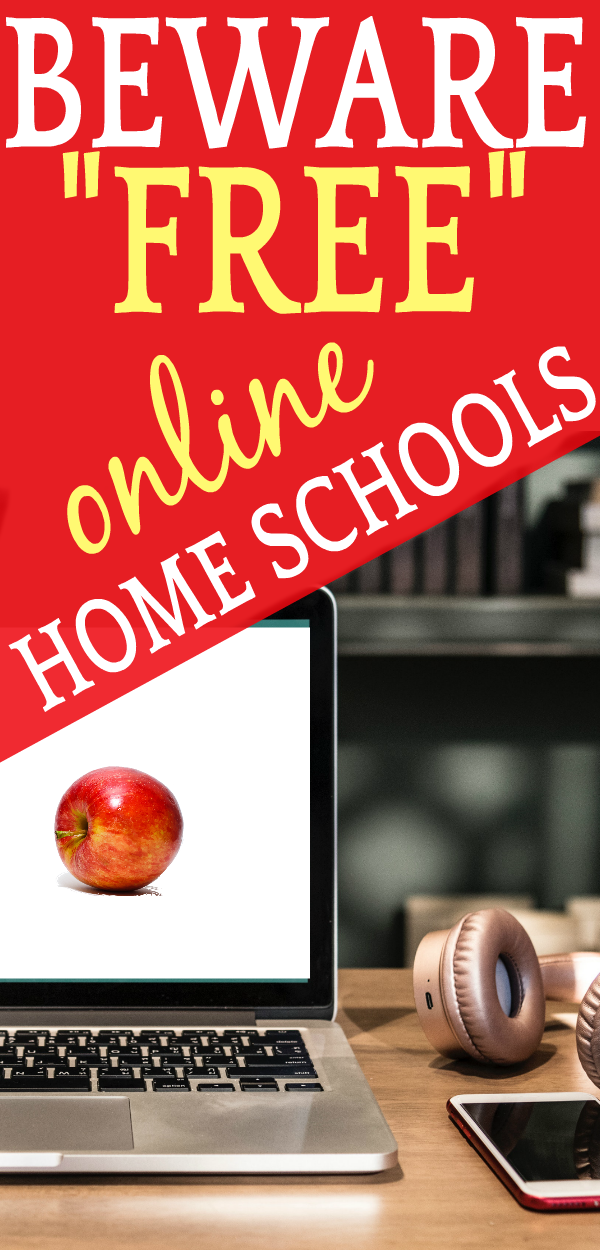 PIN TO SAVE
---
Beware Free Online Homeschooling (Like Tuition-Free Online & Virtual Public School Programs)
Before we go any further and discuss how you can homeschool for free, let's talk about those things you see in online searches like:
Free online homeschooling K-12
Free online high school
Tuition-free online
Tuition-free online & virtual public school programs
Virtual public school programs
---
What you need to know is that these programs are not true homeschooling, even if they are done from home.
---
These programs point you to schooling at home and NOT home schooling, which are two VERY DIFFERENT things.
If you don't already know, you need to understand the differences before moving forward.
(I wrote a detailed post about schooling at home versus homeschooling, so it might help to read that first and then come back to this post.)
If you are looking for true homeschooling, then avoid programs that are affiliated with public schools or are state sponsored.
OK.
Now that we've straightened that out, let's talk FREE!
---
DON'T MISS:
---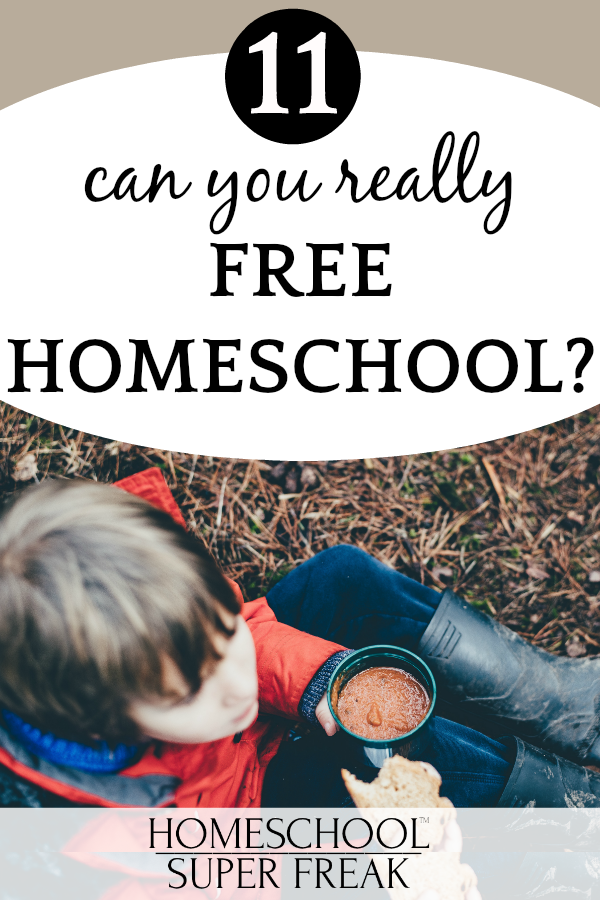 PIN TO SAVE
THIS IS PART 11 IN OUR SERIES FOR NEW HOMESCHOOLERS.
---
The Truth About Free Homeschool
So, can you free homeschool?
Yes, you really can free homeschool because there are many, many free online resources to cover just about any homeschooling topic that you want or need for homeschooling.
However, homeschooling for free is not always easy (again, especially if you homeschool multiple children).
In some cases, you will be piecing together a free printable homeschool curriculum or free homeschool lesson plans with free homeschool worksheets and free homeschool printables from different sites and resources.
And, that's fine . . .
. . . just know that it takes a little more time and planning then just ordering up an all-in-one, boxed homeschool curriculum that is delivered all nice right to your doorstep.
Here's how you can do it: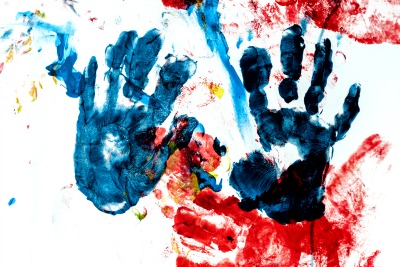 How can I homeschool my child for free?
How to Homeschool for Free in 5 Easy Steps
If you're homeschooling for free, then you definitely need to get your ducks in a row.
(Or, bouncing around to different sites looking for something cool and interesting to learn will make you crazy AND take up a ton of time.)
Follow these steps to get you ready:
How To Homeschool Free Step 1. Figure out what you need.
For each child that you are homeschooling, make a list of what you need for them:
• Grade/learning level
• State/country requirements
• Subjects you want to cover
• Other interests (don't forget to ask your kids what they want to learn about!)
How To Homeschool Free Step 2. Understand how you teach and how your kids learn.
Understanding these two factors will save you A LOT of time and heartache.
(I cover some of this in my homeschool curriculum post if you need more help with it.)
If your kid hates doing worksheets, but you spend two hours each week printing out worksheets for him to do, then you're wasting time for both of you.
(And, making your child frustrated with a learning method is one of the fastest ways to kill a child's natural love of learning!)
However, if your kid learns best just by reading, then you know that the library will be your best free homeschooling resource.
If you need your child to do a majority of their work as independent learning while you work from home, then it doesn't make sense for you to search out free resources where you need to assist your child a great deal.
Figure all of this out BEFORE you go on your hunt for free homeschool resources.
How To Homeschool Free Step 3. Take advantage of local free homeschooling classes.
Most businesses are getting hip to homeschooling. They're tapping into our market by offering free homeschool classes, field trips, craft time, and more just to reach a growing audience.
Search online for homeschool classes near you and then sign up!
Also, don't forget about the library–not just for the books, but many libraries offer free classes on a variety of topics!
How To Homeschool Free Step 4. Create learning around unit studies.
Do you know about unit studies?
Unit studies take a topic of interest and then incorporate all the subjects into that one topic.
(This is a great way to give your children more say over what they're learning, too.)
For example, let's say your child is interested in ostriches. You could create a free unit study on ostriches by:
Checking out books from the library on ostriches (subject covered: Reading)
Watching a documentary on ostriches and where they live (subject covered: Geography)
Comparing and contrasting how much faster or slower an ostrich runs than other animals (subject covered: Math)
Painting an ostrich or creating a Play-doh ostrich (subject covered: Art)
Visiting the zoo and documenting observations on ostriches (field trip)
These are just a few examples, but unit studies are only limited by your (and your child's) imagination and are a great way to homeschool for free!
Need ideas for homeschool unit studies?
Check out our extensive list of theme lesson topics for homeschooling for some fun ideas—which includes hundreds of free resources!
How To Homeschool Free Step 5. Find a homeschooling group and homeschooling programs!
If you haven't already, be sure to join some local homeschooling Facebook groups.
(And, join us on our page, too! We share a lot of great homeschool resources!)
Many of these groups organize free (or very cheap) field trips, classes and other freebies for homeschoolers.
Plus, it's a great way to grow your homeschool support network!
---
ALSO CHECK OUT:
---

27 RESOURCES TO HELP YOU FREE HOMESCHOOL
There are thousands of sites that offer free educational resources that you can use for homeschooling, but searching through them takes SO.MUCH.TIME.
That's why we've given you 27 great free homeschool resources to get you started!
---
MORE COMMON HOMESCHOOLING QUESTIONS ANSWERED
CHECK OUT THESE HOMESCHOOL BLOG POSTS NEXT:
As an Amazon Associate I earn from qualifying purchases. Please refer to our
DISCLOSURE