Let's face it, your kid needs to learn typing and, luckily for you, there are FREE fun typing games for kids to help teach typing!
(Yes, even with all the advancements in technology, your kids should STILL learn typing / keyboarding!)
With keyboarding practice (which is what typing is called now, by the way), one of the best (and most fun ways) to learn touch typing, practice typing speed, and a typing test is with typing games.
And, honestly, you don't even need a keyboarding curriculum!
For real.
Just check out some of these cool typing games for kids and it will cover the lessons you need for your kids to learn typing and even fun speed typing games!
And, PS?
The earlier you start keyboarding during their schooling, the better.
(You know, before they ruin their keyboarding skills with those pesky texting habits.)
---
What is keyboarding?
Keyboarding is using the keyboard on a computer to type. It is another term for typing, where typing previously referred to a typewriter. It now means typing on a computer keyboard. Keyboarding definitions also include something called touch typing.
---
What Is Touch Typing?
Touch typing is a style of typing. It means typing without looking at the keyboard during typing practice or while typing. Instead, you use your sense of touch to place your fingers at specific starting points on the keyboard and type without looking down at your fingers. There are plenty of typing games that teach and reinforce touch typing. Touch typing is an important skill because it increases your speed and your average wpm (words per minute).
Typing Tutor for Touch Typing [VIDEO]
Here's a video that demonstrates the touch typing method.
(You can think of it as a video typing tutor!)
---
12 Fun & Free Typing Games for Free Typing Lessons
Here are some of the best free typing lessons and games for kids:
Dance Mat Typing
TypeRacer
Learn How to Touch Type
Touch Typing Finger Chart
Typing.com
LearningGamesForKids.com
Kidztype: Fun to Type Free Keyboarding Games
Free Typing Game
Turtle Diary
Slime Kids Typing Games
Nitro Type
Keyboard Climber
---
DISCLOSURE: Affiliate links are used on this site and may be used in this post.
Please refer to our DISCLOSURE STATEMENT.
---
Let's take a look at each of these keyboard typing games for kids in more detail.
These are free online typing lessons, typing practice paragraphs, and typing lessons exercises—some even have an online typing tutorial!
Free Typing Games for Kids to Learn Keyboarding (Typing)
Today, kids start using keyboards, laptops
and those awesome tablets just for kids
at very early ages.
And, I have to admit, I have been worried about my daughter developing poor keyboarding skills for a while now.
So, I decided to add typing lessons to our learning.
And, I have good news!
I was surprised to learn that typing has come a long, long way since my experience with Mavis Beacon Teaches Typing and typing practice paragraphs in a very loud high school class full of electric typewriters.
(UGH. All that whirring and dinging. I can still hear it in my head!)
If you're looking to add typing to your child's learning, you don't have to pay big bucks to do this (or listen to a bunch of whirring and dinging).
Now, there are plenty of free and fun typing lesson options online!
(You can even get a free typing test with some of the typing software and games!)
We tried a few and here are some our favorite typing adventure games.
Some are speed typing games and some are just fun typing games.
I found that mixing it up and having her do a few of the typing exercises from different games really helped.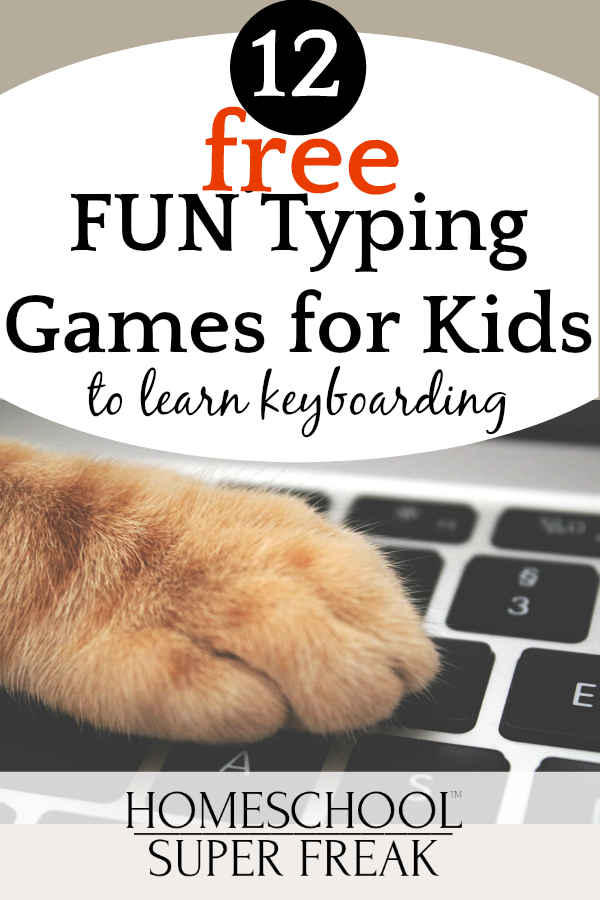 PIN TO SAVE
---
11 Free Typing Games for Kids (and Beginner Typing Lessons)
The good news is that typing today is FUN because your kids can learning keyboarding through online typing games!
Many of the lessons are presented in a game-like format to keep kids engaged.
(The bad news is that there is no loud whirring of the electronic typewriter and no sound of the keys hitting the page. Sorry. Whatever.)
Here are some learn how to type games and I also included some typing lessons for kids for online typing practice:
Dance Mat Typing is one of my daughter's favorite typing games.
There are four different levels and it starts with learning home row keys and moving on from there.
Funny and fun characters guide your kids through the game (starting with learning finger placement) and will also keep them laughing.
Learn How to Touch Type starts with reading and understanding some of the basics (including correct posture and placement of hands and wrists).
From the website:
"Touch typing is all about the idea that each finger has its own area on the keyboard. Thanks to that fact you can type without looking at the keys. Practice regularly and your fingers will learn their location on the keyboard through muscle memory."
Also, there is a free typing test, typing tutor, typing practice and more.
You can also invite friends to online typing competitions.
This site is less game and more tutorial, so it may be better for older students or if you're looking to measure typing skills (like speed and tests).
---
ALSO CHECK OUT:
---
Touch Typing Finger Chart is not a typing game.
Instead, it's a graphic that shows typing basics.
I think it's a good typing for kids starting point to give them a visual of hand placement, keyboard layout, etc.
Typing Games for Kids #4: Typing.com
Typing.com is one of my favorite free typing sites for typing and keyboarding.
Not only does it have typing lessons for beginner, intermediate, advanced, or practice.
There are also timed tests, but the most fun are the typing games.
(Of course.)
(If you like old school Space Invaders or Asteroids, check out Z Type. It drops words from the top of a starry night sky and you have to type the words before they hit the bottom. When you type the words correctly, it shoots them, like in Asteroids, and they explode. I may or may not have "tested" that game for a good 15 minutes. Ahem.)
LearningGamesForKids.com has a ton of different learning games, including an entire section on keyboarding.
There are lessons, practice, challenges, and typing games.
Kidztype.com offers multiple typing games for kids.
They also list out the benefits of typing, which is an interesting read.
FreeTypingGame.net is kind of a dated looking site, but it offers sections of free typing games, free typing lessons, and free typing tests.
Once you click on a section, it expands out and offers different games (or lessons, or tests).
Typing Games for Kids #8: Turtle Diary
TurtleDiary.com has a large list of typing games.
One of my favorite parts is that you can filter them based on levels: beginner, intermediate, and advanced.
SlimeKids.com offers different typings games.
However, there are no typing lessons, tutorials, or tests. So, it's good for games (but not for extended lessons or learning.)
NitroType and TypeRacer are both really interesting takes on free typing lessons and typing practice.
These online typing programs are each set up as a typing competition.
For example, with Nitro Type, you are a (typing) race car driver. You work through a series of typing games and "race" against others from around the world.
Pretty cool!
These programs are kind of like an online typing club!
TvoKids.com has a section called "Keyboard Climber."
It is a very basic animated keyboard game.
You help a monkey climb up branches by quickly typing the letters it shows you on the bananas. As you complete the branches, you advance through the levels.
Get one wrong and a coconut bumps you on the head and drops the monkey back to the beginning of the level.
Fun for younger ones just starting to learn.
---
ALSO CHECK OUT: Typing and Keyboarding Books
If you want a keyboarding curriculum for offline learning, check out these typing and keyboarding books:
---

Are you adding keyboarding to your learning?
Are you using a typing game or software that you love, but that isn't mentioned here?
Leave it in the comments!
Let's talk!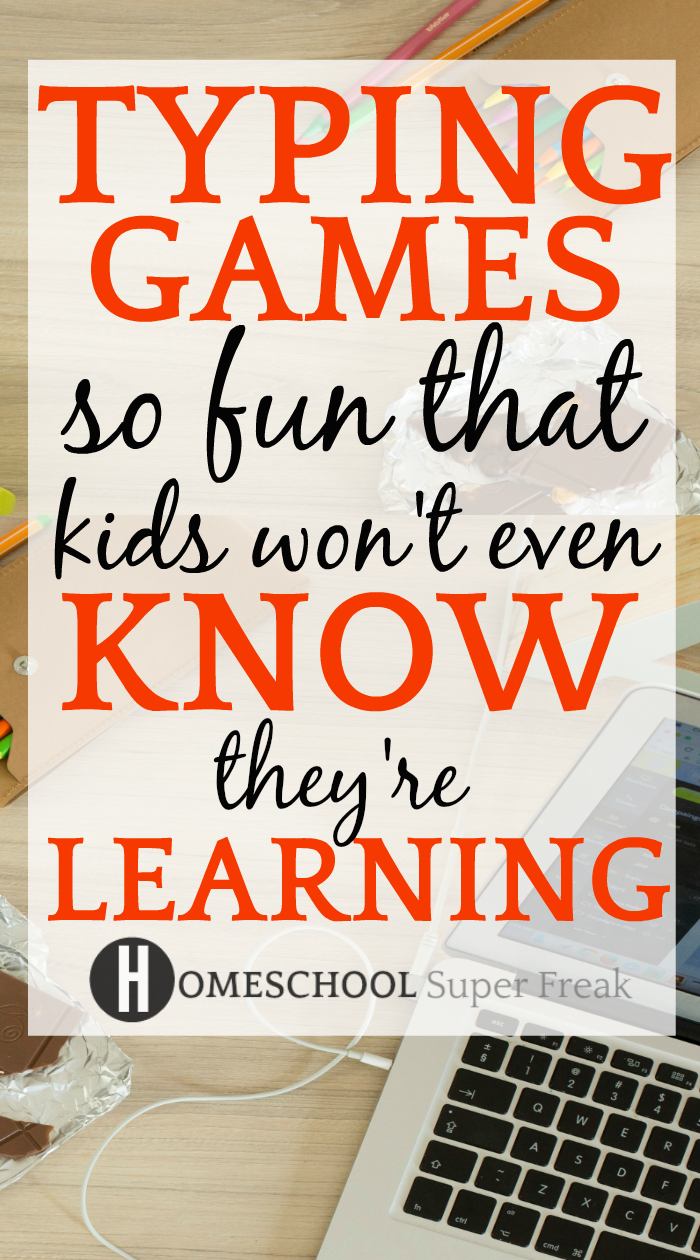 DISCLOSURE
: Affiliate links are used on this site and may be used in this post.