When people talk about problems with homeschooling or negative effects of homeschooling, one of the first things they often bring up is homeschool socialization and the social effects of homeschooling.
(Particularly, as one of the social disadvantages of homeschooling.)
Homeschooling and socialization issues may even be a concern of your own (or wondering "How do homeschoolers make friends?") if you're new to homeschooling or researching how to start homeschooling.
BUT . . .
Before you use homeschool socializing as one of the reasons not to homeschool, let's take a closer look . . .
Affiliate links are used on this site. As an Amazon Associate I earn from qualifying purchases. Read more in our DISCLOSURE.
So, what do people mean when they talk about homeschool socialization?
A Homeschool Socialization Definition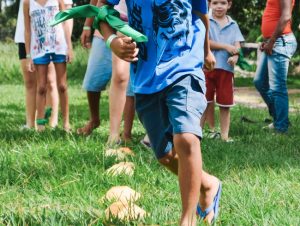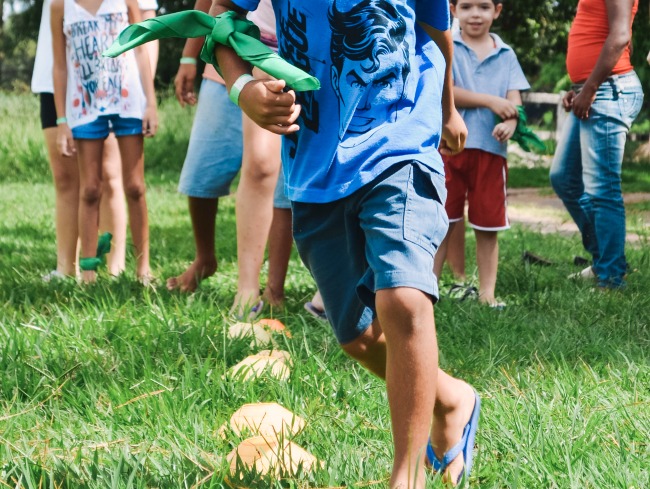 So, what do people really mean when they ask about homeschool socialization? When people make this comment, it's difficult to know if they really mean socialized or socialization. According to Dictionary.com, socialized means "to associate or mingle sociably with others," while socialization means "a continuing process whereby an individual acquires a personal identity and learns the norms, values, behavior, and social skills appropriate to his or her social position." I'm guessing that people really mean homeschool socialization, but both are relevant to the discussion of homeschooling. What I think people really mean is some form of "How will your child ever learn to interact with others?" And, the answer is that homeschool socialization occurs more naturally than you think!
Are Homeschoolers Socialized?
You may be surprised to know that many homeschoolers spend a great deal of time outside of the home interacting with others—including adults, other homeschoolers of all ages and stages, and also even traditionally schooled kids. If homeschooling parents are proactive, there are often many opportunities to get homeschoolers out and interacting, including park trips, playdates, homeschool group meetups, classes, sports activities, and so much more!
Honestly, "What about homeschool socialization?" used to be one of the top questions that homeschooling families hear, but that's changing a little as homeschooling becomes more mainstream and society understands homeschooling more.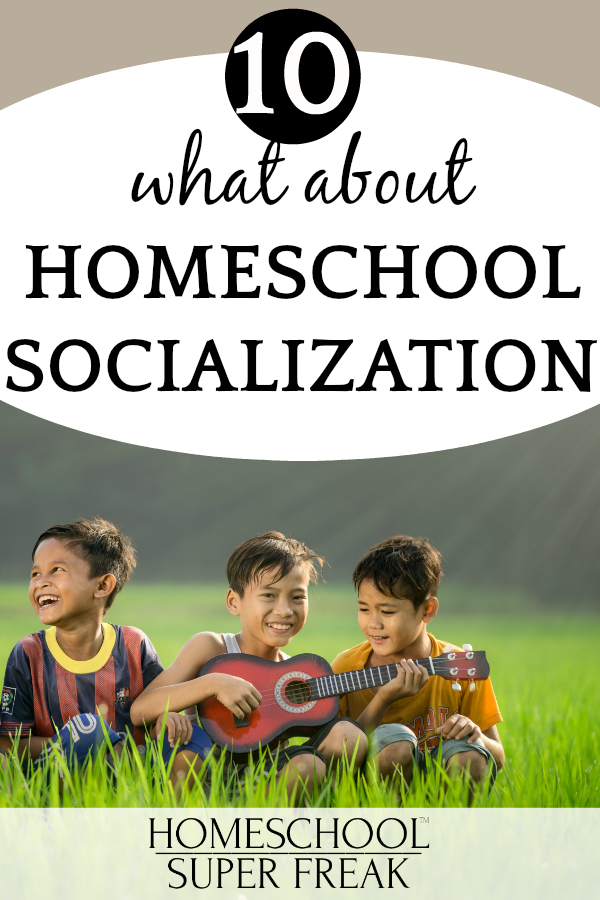 PIN TO SAVE FOR LATER
THIS IS PART 10 IN OUR SERIES FOR NEW HOMESCHOOLERS.
---
What About Homeschool Socialization: Home School vs Public School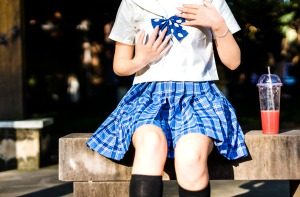 When discussing the homeschooling vs public school perspective, homeschooling & socialization comes up quite a bit, especially as part of the arguments against homeschooling.
Some people think that there are social disadvantages to homeschooling because they incorrectly overestimate public school socialization.
(Remember, for the majority of the day public school kids are sitting at their desks and not interacting with each other!)
---
But, really though, does homeschooling negatively affect social skills?
---
People may assume that homeschool isolation is a regular occurrence when, in fact, it is quite often the exact opposite.
Homeschooling a social child is simple because many homeschool families spend a great deal of time in outside classes, activities, meet-ups and other activities for homeschoolers that allow ample time for socializing.
However, homeschool parents do have to ensure that they are proactive in signing their homeschoolers up for classes, activities, and meet-ups outside the home.
(It doesn't have to be difficult or costly! It can be as simple as taking your homeschoolers to an active park where they can play with other kids a few times each week!)
So, homeschool socialization often falls very low on the list of potential homeschooling problems and homeschooling issues!
The social disadvantages of homeschooling are more of a socialization myth than a negative effect of homeschooling.
So, don't let it be one of your reasons not to homeschool or to think homeschooling is wrong until you learn more.
Homeschool socialization really doesn't have to be one of the potential problems with homeschooling.
READY TO LEARN MORE?
---
The Homeschool Socialization Myth : Why Homeschooling Is Great for Socialization
Homeschool socialization is such a common question that I named my book, It's Homeschooling, Not Solitary Confinement, based on the homeschool socialization myth.
The title of the book came from a funny homeschool socialization meme I made for our homeschool group.
Robin (from Batman and Robin) is asking the big, green Hulk, "But if you homeschool how will your kids get socialization?"
And the Hulk, fists clenched, is barking back, "It's homeschooling, not solitary confinement!"
YOU'VE GOT TO KEEP YOUR HOMESCHOOL HUMOR
And, it ended up being one of my favorite funny homeschool memes of all times: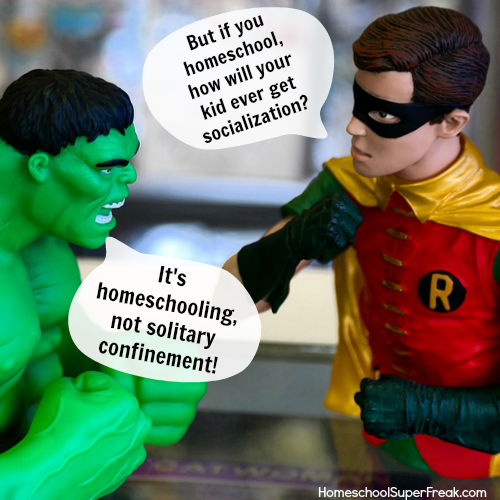 PIN TO SHARE
If you've been homeschooling for some time, you're probably chuckling a little at this right now.
If you're just now considering homeschooling, you'll get our collective eye roll soon enough because that panicked look from people and the question "How will you ever socialize your homeschool child?" is one of the most frequent questions that we get from those who don't understand homeschooling.
("It's homeschooling, not solitary confinement!" is one of my favorite and frequent retorts. You should try it, too!)
---
ALSO CHECK OUT:
---

PIN TO SAVE
---
Disadvantages of Homeschooling | Are There Negative Effects of Homeschooling on Socialization?
The negative effects of homeschooling on socialization often come from parent who don't remain proactive on finding outside the home activities for their children.
There are plenty of ways for your homeschooled kids to make friends, you just need to search them out.
(More on that in a bit!)
Also, because you're so busy focusing on the kids, homeschooling can sometimes be isolating for the homeschooling parents!
Homeschool Socialization [VIDEO]
Are there social benefits to homeschooling?
Now that we've covered that socialization really isn't one of the negative effects of homeschooling, it's only right that we look at the questions:
What are the social effects of homeschooling and are there social benefits of homeschooling?
And, do homeschoolers have friends?
To be honest, socialization was a big concern for me before I truly understood the homeschooling process.
How will I make sure that my social butterfly is being fulfilled and that she fits into society?
It weighed on my mind until I came to a full understanding that I control what I do in homeschooling and how my child learns, including when to be with other kids in group learning situations like play dates or classes outside of the home.
You have full control over your homeschool schedule!
(It's one of the biggest benefits of homeschooling!)
If you're like most homeschooling families, your kids will have a great deal of group learning opportunities and activities for homeschoolers outside of the home, too!
So, how do you socialize your homeschoolers?
---
Supplementing Your Homeschooling | Social Groups and Activities for Homeschoolers
So, you're probably wondering how to socialize homeschoolers?
The easy answer is that you just need to get your kids out and interacting with people of all ages.
(You know, like in real life.)
FOR REAL.
It really is that easy. No stress. No worry.
Just get out!
---
ALSO CHECK OUT :
---
We are blessed to live in an area that has ample opportunities for classes outside of the home.
The local library now offers a full schedule of different homeschool classes, from writing and math to art and foreign languages.
We also have several opportunities to join nature or farm schools that teach kids about wilderness, farm life, and being outside in nature.
You will probably have the same kind of opportunities in your area—no matter where you live (even if you have to drive to find them)!
Maybe your child isn't interested in farming, but maybe she is interested in cooking, or art, or architecture, or robotics.
As a homeschooling parent, it's your responsibility to match at-home learning and outside learning to your child's interests and your child's learning style.
---
How to Find Homeschool Programs, Homeschool Classes, and Homeschool Activities
As the homeschooling movement continues to grow, homeschool programs and homeschool classes are popping up all over the place.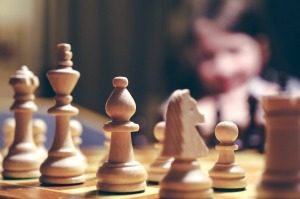 Homeschool Socialization Ideas: 8 Ways to Find Homeschool Programs
Check your local library
Join Facebook and search for homeschool groups (and then join them!)
Check with local churches
Ask local parks and nature centers
Review offerings from the YMCA or local gyms
Check with local museums, zoos, and other tourist destinations
Ask your homeschooling friends
Ask local businesses to add homeschooling programs or homeschool activities!
As a homeschooling parent, I have the freedom to supplement her learning as I see fit and so do you.
You have the freedom to create awesome homeschool socialization opportunities!
Don't forget to use it!
---
ALSO CHECK OUT THESE HOW TO HOMESCHOOL BLOGS:
As an Amazon Associate I earn from qualifying purchases. Please refer to our
DISCLOSURE