November is Native American Heritage Month and we have lessons, activities, crafts, and related resources on the history of Native Americans and present-day Native American cultures and Indigenous Peoples culture. Browse Native lesson plans, student activities, crafts and resources including a dramatizing folktale totem craft! Perfect for November Teaching Resources for Thanksgiving, too!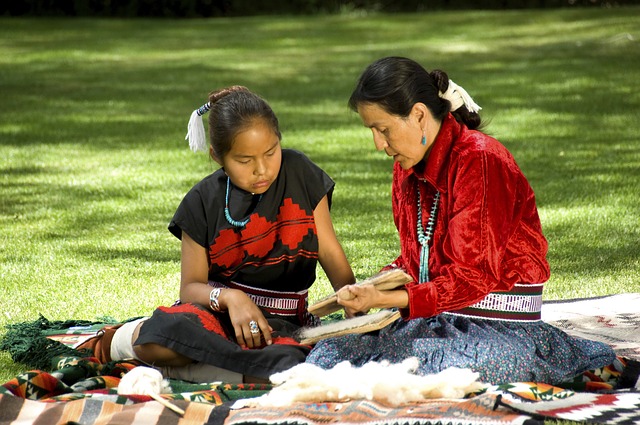 Did you know: Native American Heritage Month is also called National American Indian and Alaska Native Heritage Month?
November is Native American Heritage Month!
So, if you've been wondering "Is there a Native American History Month?" or "Is there an Indian History Month?" the answer is YES!
Affiliate links are used on this site. As an Amazon Associate I earn from qualifying purchases. Read more in our DISCLOSURE.
We have respectful lesson plans and activities that pay tribute to the rich ancestry and traditions of Native Americans, plus a fun totem pole project that are perfect for native american lesson plans for kindergarten, teaching native american history in elementary school, and high school.
You'll learn Native American heritage facts, Native American symbols, native american history and language. and so much more—enough to make a great history study unit!
REMEMBER: you don't need to wait until November and Native American Heritage Month!
Add any of these great native American culture activities throughout the year!
NATIVE AMERICAN HERITAGE MONTH FACTS
What Is Native American Heritage Month?
So, what is Native American Heritage Month all about and why do we celebrate it?
What does Native American heritage mean?
According to the National Congress of American Indians:
"Native American Heritage Month celebrates rich and diverse cultures, traditions, and histories and to acknowledge the important contributions of Native people.

Heritage Month is also an opportune time to educate the general public about tribes, to raise a general awareness about the unique challenges

Native people have faced both historically and in the present, and the ways in which tribal citizens have worked to conquer these challenges."
Native American Month is also called American Indian and Alaska Native Heritage Month.
When was the first Native American Heritage Month?
In 1990, a resolution was signed by President George H.W. Bush to create "National American Indian Heritage Month" in November, now referred to as Native American Heritage Month.
However, the idea started long before that.
According to PeoplesWorld.org:
"One early proponent of an American Indian Day was Dr. Arthur C. Parker, whose father was Seneca Indian.

He persuaded the Boy Scouts of America to set aside a day for the 'First Americans,' and for three years they adopted such a day.

In 1915, the annual Congress of the American Indian Association (which promoted unity among American Indians regardless of tribal affiliation), meeting in Lawrence, Kan., formally approved a plan concerning American Indian Day.

It directed its president, Rev. Sherman Coolidge, an Arapahoe, to call upon the country to observe such a day.

Coolidge issued a proclamation on Sept. 28, 1915, which declared the second Saturday of each May as American Indian Day and contained the first formal appeal for recognition of Indians as citizens…The first American Indian Day in a state was declared on the second Saturday in May 1916 by the governor of New York. Several states followed, celebrating the fourth Friday in September."
Why is November the Native American Month?
It is believed that Native American Month finally settled to the month of November due to the historical happenings for indigenous people during that month, especially Thanksgiving and the settling of Europeans in the future United States.
Why is Native American Heritage Month Important?
It's important to honor and celebrate the rich culture and history of Indigenous People who were the first people in America and their contributions to society. Additionally, it's important to understand the true history of Natives.
Affiliate links are used on this site. As an Amazon Associate I earn from qualifying purchases. Read more in our DISCLOSURE.
How to Teach and Celebrate Native American Heritage Month
Native American Facts and History
Before you begin your studies with traditional (or popular) crafts and information, review these ways to stay authentic and help dispel Native (Indigenous People) myths and stereotypes.
Be aware that some of the depictions that we grew up with as parents may really be disrespectful to the culture.
This is good to keep in mind when we're making crafts.
For example, a headdress may seem like a fun thing to make for kids, but they are traditionally pieces of honor and making them as a craft may be seen as disrespectful by the culture.
TIP: We grabbed a book called Indian Crafts and Lore from a library book sale.
It's dated and has some terms we no longer use (which actually provided great discussion points), but still has some great info on Native American history as well as cool crafts and projects.
Also, I always use dated material as an opportunity for discussion with my kid.
(NOTE: We will refer to Indigenous People as "Native American" during this post to stay consistent with the designation for the month.)
7 Ways to Celebrate Native American Heritage Month
[DON'T MISS HOW TO MAKE A TOTEM STORYTELLING PROJECT AFTER THIS SECTION!]
Teaching Native American History and Heritage Month Activities
1. Discuss the REAL Thanksgiving.
Although there is nothing wrong with the fun activities during your Thanksgiving learning, it's really important that we teach our children the real story of Thanksgiving.
When I was growing up, we were taught a very watered down version of the first Thanksgiving, including how the Native American Indians and the Pilgrims were all friends and shared the land and everything was awesome.
The end.
As we now know, that was not exactly the case.
What happened looked very little like the stereotypical "Indian" and Pilgrim figures we see in books and movies.
This can be a tough topic (especially for little ones), so use your own discretion about how much to reveal and when.
Search out videos and books on the real stories of the first Thanksgiving.
We read Squanto's Journey: The Story of the First Thanksgiving each year.
Also, refer to The Real Story of Thanksgiving, written by a teacher and Native American, to give you guidance.
If you're struggling with what is an age appropriate discussion, check this out.
---
DON'T MISS:
---
2. Teach Native American studies the right way.
Debbie Reese, a Native American and an educator, recommends the following ways to teach Native American studies:
• Cover contemporary Native Americans doing every day tasks, not just historical figures.
• Make unit studies on different tribes and don't just study Native Americans as a broad-sweeping generalization.
• Be clear about how different Native American clothing, lives, food, and what tools were used.
• Understand the real truth about Native American reservations history.
• Critique an image that shows a stereotypical version of a Native American to spark discussion.
• Don't make your studies just about the first Thanksgiving.
• Listen to authentic Native American music.
Use this site to direct you on some authentic Native American information.
---
ALSO CHECK OUT:
---
3. Understand the importance of Native American storytelling.
Storytelling is an important part of the Native culture and is often misrepresented in our society.
According to Reese:
"Many mainstream retellings of Native traditional stories are distorted to fit mainstream ideas of what those stories should be.

They are turned into Disney-like stories.

But traditional Native stories are told for a reason — just like bible stories.

An author would not retell Genesis, changing it to suit his or her idea for a plot.

Yet that is exactly what happens to our stories."
Native American storytelling is a really fun way to celebrate and honor Native American Heritage month (or any time you are studying the culture)!
Check out this resource on Native American storytelling, and also this resource on the CodeTalkers.
Here's a video of a Native American retelling of a legend that has been passed down through generations:
The Native American Turtle Story [VIDEO]
Watch The Turtle Story, a Native American Account of Earthquakes.
You can check out more Native American legends here.
Native American Totems
Totems are in some Native Americans regions, especially in the Pacific Northwest like Washington state and Alaska.
Totems often tell stories.
Native American Totem Animals & Their Meanings has a great discussion about totems and also descriptions of Native American symbols used on totems.
Don't Miss Our Totem Craft Project Below [Keep Scrolling]
4. Tackle Native American stereotypes.
Many of the images we present to our children (books, movies, and other media) are of historical Native Americans in feathered headdresses.
However, this is a stereotype that isn't quite factual.
The Native Americans across the country dress and live as differently (and, sometimes very similar) as everyone else all across the country.
Here's a lesson plan on Native American history, facts, and misconceptions that will help with these.
5. Don't just focus on historical Native Americans.
Provide some information on contemporary Native Americans to balance the picture.
The books Pueblo Storyteller
, Pueblo Boy: Growing Up in Two Worlds
, and Children of Clay: A Family of Pueblo Potters (We Are Still Here)
have been recommended by Native American educators.
6. Sample some authentic Native American food.
Did you know that there was probably no turkey at the first Thanksgiving?
(The fowl was probably more like duck or goose.)
No pumpkin pie either . . .
(Sorry.)
Go beyond what you think you know about Native American food from Thanksgiving lesson plans and check out some authentic Native American food.
You'll have fun making recipes and cooking with the kids!
Just be sure that the foods you are pairing with your studies are authentic to the tribe or region you're studying!
7. Have fun, but be clear and intentional about your Native American crafts and projects.
It's OK to make crafts and have fun with your Native American studies, but do so in a way that makes sense and honors the culture.
Educator Debbie Reese also weighs in on this:
"AVOID PRESENTING SACRED ACTIVITIES IN TRIVIAL WAYS.

In early childhood classrooms, for example, a popular activity involves children in making headbands with feathers, even though feathers are highly religious articles for some tribes.

By way of example, consider how a devout Catholic might feel about children making a chalice out of paper cups and glitter."
Instead, try:
(Just PLEASE keep them to authentic Native American crafts don't do the over-crafted Native American headdress!)
READ BOOKS ABOUT NATIVE AMERICAN HISTORY AND NATIVE AMERICAN CULTURE
---

Totem Pole Project | Native American Crafts
Recently my daughter made an amazing totem pole.
She was studying Alaska, which covered some information on Indigenous People for that area.
This piqued her interest and so she asked to learn more about Native culture and totem storytelling and more about Native American symbols.
---
This is one of the things I love most about homeschooling.
If you allow it, there is a natural process of learning that happens.
---
After my daughter studied Alaska, she started telling me about Native storytelling and then asked if she could make a totem craft.
And, I almost always say yes to her request to expand her learning on a topic.
(Because, I mean, duh.)
And, as an added bonus?
This happened to be right before Native American Heritage Month, so I kind of felt like I was WINNING on that homeschool day!
[DIRECTIONS FOR THE TOTEM POLE CRAFT AT THE BOTTOM. KEEP SCROLLING!]
Totem Pole History, Facts, and Symbols
Before you do the totem pole craft, make sure that you spend some time learning about authentic Native culture, Native American language, and especially totem storytelling.
(It's REALLY interesting!)
The Totem Pole [VIDEO]
Watch THE TOTEM POLE: AN INTERCULTURAL HISTORY.
What is a totem pole?
Totem poles are usually large trees (most often cedar) that are carved with animals or other symbols. They represent families, or regions, or clans.
How a Totem Pole Is Created [VIDEO]
Watch A Totem Story about how a totem is created.
What is the totem meaning?
Totems have different meanings based on who carved it (or who is displaying it).
For some, the totem definition is an event or specific time in history.
For others, it might tell a story.
Who uses totem poles?
In America, you may see indigenous people of Alaska or the Northwest Pacific with totems.
Initially there were only a few tribes or clans that used them, but then their use spread to other indigenous people.
For those who know totems, it may be easy to spot who created it.
Totems are specific to the regions, families, or clans who carve them.
What are totem pole symbols?
Most totem poles are carved and painted with totem animals.
The poles can also have mythological symbols or symbols of legends passed through the family history.
What is a totem pole animal?
Each animal on a totem pole has a different meaning.
A quick search online and we found this cool Native American Totem Animals & Their Meanings.
Use these animal totem meanings as a guide when creating your totem.
(And, did you know that every animal and every color has a special meaning and significance?)
Totem Pole Lessons and Activities
The craft below is fun, but it loses its learning value if you don't understand what is behind it.
Be sure to talk about the history and meanings before you start!
Here are some great resources for Native and totem pole information.
(These could even help you create a unit study before the craft!)
• Read more about What Is A Totem Pole?
• Follow along with a Totem Tale
story online:
TOTEM TALE STORY [VIDEO]
A short Native American unit study
Like I mentioned earlier, a few weeks before we did the Native American totem pole activity, we scored an awesome Native American book at a library book sale.
(It's dated, but still had some really interesting information.)
My daughter started reading through the book and found a great section on totem poles.
She then decided that she wanted to tell a story of her personality through animals, but your totem can be totally different!
Your totem can tell a story, represent a specific important event in your child's life, or anything else from their imagination!
Also, this Native American Totem Animals & Their Meanings really helped us understand the different meaning of animal symbols and she applied that new knowledge to her totem pole.
She made her totem with different sections of animals that represented a part of her personality.
It was really interesting to hear her explain it after it was finished and apply each animal and their meaning back to her personality!
Totem Poles for Kids | Make an Animal Totem Pole
DIRECTIONS FOR A NATIVE AMERICAN CRAFT FOR KIDS
You'll need:
• Paper towel tube, toilet paper tubes, or craft tubes
(the amount depends on how tall you want to make your totem)
• Paint
• Paint brushes
• Hot glue or tape (if needed, if you are making a taller totem)
• Paper and pencil
• A copy of the totem animal symbol meanings
• Small square piece of cardboard for base (optional)
Directions:
1. Review and discuss the totem animal symbols meanings. Encourage the kids to think about what kind of story they want their totem to tell. (You can even read books about totems before the craft.) If level appropriate, have them write their story.
2. Plan and draw the totem on paper. This will allow them to rearrange the animals or stories before they start painting.
3. Glue the craft tubes together. (Optional. If you are using a tall paper towel tube and you want this to be the height of the totem, you can skip this step.)
4. Paint the craft tubes with the animals of choice. Let dry completely.
5. Hot glue the bottom tube onto the piece of cardboard as a base. (Optional only if you need extra stability.)
6. Have your child tell your story of their totem pole!
CONTINUE NATIVE AMERICAN HERITAGE MONTH LEARNING
Totem Pole Books for Kids
Additional Sources: National Congress of American Indians, Library of Congress, Native American Timeline,
As an Amazon Associate I earn from qualifying purchases. Please refer to our
DISCLOSURE
STARTING HOME SCHOOL? CHECK OUT OUR HOW TO HOMESCHOOL GUIDE