Have you been searching for the best laptops for homeschool?
Searching for the best laptops for students and choosing the best computer for homeschool can make you crazy!
There are SO MANY options!
I mean, Is Chromebook for homeschool a good option?
Or, What things should I consider when buying a homeschool computer?
And, Are there any student computers discount (like, AT ALL)?
What is the best laptop for homeschooling?
So, what is the best laptop for a child who is homeschooling? These are some of the best rated laptops for students at discounted, affordable prices:
Samsung Chromebook 3

HP Stream Laptop

Dell ChromeBook 11-Intel Celeron
What is a Chromebook?
A Chromebook is a laptop that runs on Google's Chrome Operating System (OS) instead of a Windows or Mac operating system. Chromebooks are great student laptops, but the main thing to remember is that they are mostly built to be used when connected to the internet. Chromebooks are sold by a variety of brands like Samsung, Acer, ASUS, and more.
What is the best laptop for beginners?
If your homeschooler is just getting started with their own laptop, it is not necessary to buy a top of the line laptop (unless, you know, you really want to).
Any of the student laptops we've mentioned above are great, affordable laptops that will work well with home school.
✅This is one of the bestselling Chromebooks. If you can find it for less than $229, snatch it up because that's a great price! [
check the price and reviews here
]
Laptops and Notebooks for Students (Reviews)
When asking, What laptop should I buy for school? you'll definitely want to compare laptops.
One of the best ways to do this is to look at laptop reviews.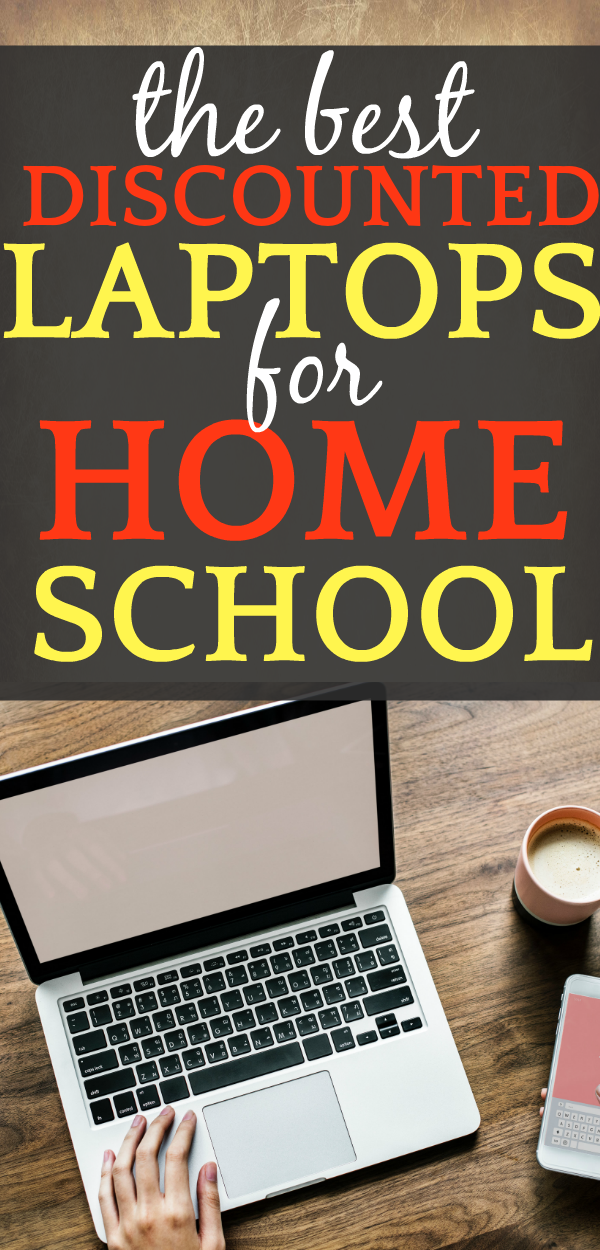 PIN TO SAVE FOR LATER
---
Who offers student discounts on laptops?
Wouldn't that be awesome if you could FINALLY get a break on your homeschool budget and get a cheap computer?
Well, we have some really great news because Microsoft has now defined homeschoolers as a "qualified educational user."
Why is this important?
Because now non-profit organizations like Notebooks For Students (NFS) can provide deep discounts on laptops and software to be used in homeschool!
About Notebooks for Students
Notebooks for Students (NFS) is a nonprofit organization who provides discounted laptops to students (including homeschoolers!) without having to jump through a bunch of hoops!
The program mission is based on four principles:
To provide affordable, dependable and powerful laptops for all students;

To provide a "headache free" environment for assistance, servicing and support for students;

To decrease costs as much as possible through low prices, free service shipping, and free warranty;

To create a program simply to beak even after each school year, NFS is a nonprofit and we do not generate profit at the student's expense.
NFS inventory is made up of laptops and computers from Dell, Apple, HP, Toshiba, and Lenovo.
Although most of the inventory through NFS is mostly refurbished—meaning they were used (by businesses or schools), but updated—the laptops are still backed by the Notebooks For Students four year warranty.
So, if you don't mind getting a used laptop, this might be a valid choice for your family. Just know, that the lifespan of a refurbished computer may not be the same as a new laptop.
FYI: Refurbished laptops are sometimes called "renewed" laptops.
Computer Discounts for Homeschool Groups or Co-ops!
Another great thing is that NFS will also work with groups to purchase multiple laptops at an even bigger discount.
That means if you're in a homeschool group or homeschool co-op, then you can purchase as a group and save even more!
Purchasing Best Laptops for Homeschool
Here's what NFS lists as requirements for purchasing as a homeschooler:
Please confirm Homeschool status by providing NFS any one of the following for each family;
Homeschool association membership card
Letter or form from school district or State
Letter or form from umbrella Homeschool
group or school
Affidavit, notice of intent or other form
In states that do not require documentation, draft a letter stating the State you reside in and that you homeschool. Sign and send in the letter.
Remember, the inventory changes often and quickly, so if you see something you're interested in you better grab it before it's gone!
FULL DISCLOSURE: I have not tried one of these laptops yet from NFS. This was just an awesome share. But, if you've purchased a laptop this way before, please leave your experience in the comments. I would love to hear how it is!
Do you need a laptop for homeschooling?
Lastly, you may be asking if you really need a laptop for homeschooling.
The answer will depend on your needs.
If you mainly homeschool or use the computer in one spot in your home, then a desktop computer may be better for you.
However, if your child likes to move around the house, work outside, and you want to be able to travel and still connect to studies, then a laptop is the better option.
---
CHECK OUT THESE RELATED HOMESCHOOL BLOG POSTS NEXT:
DISCLOSURE
: Affiliate links are used on this site and may be used in this post.