Want to breathe life back into your winter studies? Add some Mardi Gras activities for kids!
You may be wondering how to explain Mardi Gras to a child.
Some people shy away from the topic because they equate this holiday with the craziness of Bourbon Street during Mardi Gras, New Orleans.
However, there's so much more!
There are Mardi Gras traditions, Mardi Gras food (Hello! King Cake!), Mardi Gras Krewes, Mardi Gras costumes (and Mardi Gras beads), the Mardi Gras parade, and so many other fun Mardi Gras facts you can share with your kids and turn it into a learning opportunity!
---
DON'T MISS FREE PRINTABLES FOR KIDS:
THE MARDI GRAS WORKSHEET AT THE END OF THE POST!
---
Honestly, Mardi Gras activities make a perfect unit study topic!
What Is Mardi Gras?
What is the Mardi Gras meaning? Mardi Gras — also known as Fat Tuesday, Shrove Tuesday, and Carnival — marks the last day before the beginning of Lent. Although Mardi Gras has become a widely-accepted non-religious holiday, this day traditionally marked the last day before the period of fasting and repentance ("Lent") before Easter, which celebrates the resurrection of Jesus. Traditionally, people were not allowed to eat "rich foods" like butter, meats, and oils during Lent. So, the day before Lent started, many people would indulge in the things that were not allowed during the 40-day Lent period. The date of Mardi Gras is always 41 days before Easter, so the date varies each year.
Mardi Gras History [VIDEO]
---
MARDI GRAS FACTS:
Shrove Tuesday comes from the word "shrive" which means "the confession and absolution of sin."
---
Mardi Gras Facts
Here are some fun Mardi Gras facts and history for your studies and Mardi Gras activities for kids:
The very first Mardi Gras was celebrated in 1703 in Mobile, Alabama.
Mardi Gras New Orleans isn't the only Mardi Gras. It is celebrated all across Southern Louisiana, Alabama, and Florida, and has spread throughout the U.S. and world! (Carnivale is celebrated in other countries on the same day!)
"Carnival refers to the period of feasting and fun that begins on Jan. 6, The Feast of the Epiphany. Mardi Gras refers to Fat Tuesday, the final day of revelry before Ash Wednesday, when Lent begins."
Mardi Gras wasn't referred to as "Carnival" until 1781.
New Orleans floats are traditionally known as tableaux cars.
Mardi Gras "throws" (like beads) started in 1870.
The first beads were necklaces made of glass beads and thrown into the crowd.
The official colors of Mardi Gras are purple, green, and gold.
The official colors were set to honor the Russian Romanoff family, whose family colors were purple, green, and gold.
There are secret society social clubs called Krewes.
The Zulu Krewe hands out coveted hand decorated coconuts during the parade.
It is illegal to ride on a Mardi Gras float in New Orleans without wearing a mask.
A small baby figure is included in the traditional King Cake. The person who gets the baby is responsible for bringing the cake the following year.
Mardi Gras is celebrated on Fat Tuesday.
Fat Tuesday is also known as Shrove Tuesday.
Mardi Gras is also known as Pancake Day or Paczki Day.
[Source]
---
DISCLOSURE: Affiliate links are used on this site and may be used in this post.
Please refer to our DISCLOSURE STATEMENT.
---
Mardi Gras Traditions
Mardi Gras traditions include
King Cake with a small baby figurine placed inside.
Mardi Gras parades featuring different Mardi Gras Krewes and floats.
Elaborate Mardi Gras costumes and masks.
Beads and "throws" (or trinkets) that are handed out and thrown from floats.
Specific Mardi Gras colors (green, purple, and yellow).
Carnival pancakes and tossing pancakes with a coin in the hand for good luck.
Masquerade Ball (or the invitation-only Carnival Ball), which marks the end of Mardi Gras.
About Mardi Gras, New Orleans [VIDEO]
Mardi Gras Colors
As we mentioned earlier, the official colors of Mardi Gras are green, purple, and yellow.
The colors were assigned to celebrate the Russian Romanoff family, whose family colors were green, purple, and gold.
There are specific meanings for each of the Mardi Gras colors:
Green means Faith
Purple means Justice
Gold means Power
Mardi Gras Beads
Mardi Gras beads are often one of the first things people think about when talking about Mardi Gras.
These beads are used as "throws" that are tossed off of floats during the parade and handed out during the holiday.
The traditional beads are the same colors as the holiday colors (purple, gold, and green). However, today there are beads of all different shapes, sizes, and colors. Some of the beads even light up!
Today, there are also other trinkets given out during the parade, but beads remain the most popular "throw."
Mardi Gras Costumes and Masks
Mardi Gras costumes and masks started so that people who were not invited to the Carnival parties could participate by concealing their identities.
This allowed people who were of "lower class" to mingle with the "upper class" and attend parties that they normally wouldn't be invited to.
Most Mardi Gras costumes and masks are simple and follow a theme.
Others are very specific and include hundreds of feathers and intricate beading.
Make a Mardi Gras Mask! [VIDEO]
Mardi Gras Parade
Mardi Gras parades take place all over starting a couple of weeks before and running to Shrove Tuesday.
The parades include music, costumes, masks, and floats, where the Krewes toss "throws" like beads into the crowds.
People on floats are required to wear masks concealing their identities.
You can even view Mardi Gras parade schedules and route maps!
Mardi Gras Food
King Cake is probably one of the most popular Mardi Gras foods!
Mardi Gras food includes many rich and decadent items like
King Cake
Pancakes
Paczki
Red Beans & Rice
Gumbo
Jambalaya
Crawfish Boil
Shrimp & Grits
Etouffee
Dirty Rice
Beignets
Milk Punch
Ready to celebrate Mardi Gras?
Here are some great Mardi Gras activities, Mardi Gras crafts, and Mardi Gras worksheets and lessons to add to your homeschooling and Mardi Gras theme!
(These are also great Mardi Gras party ideas!)
Come back and tell us which are your favorites after you try out some of these Mardi Gras activities for the classroom!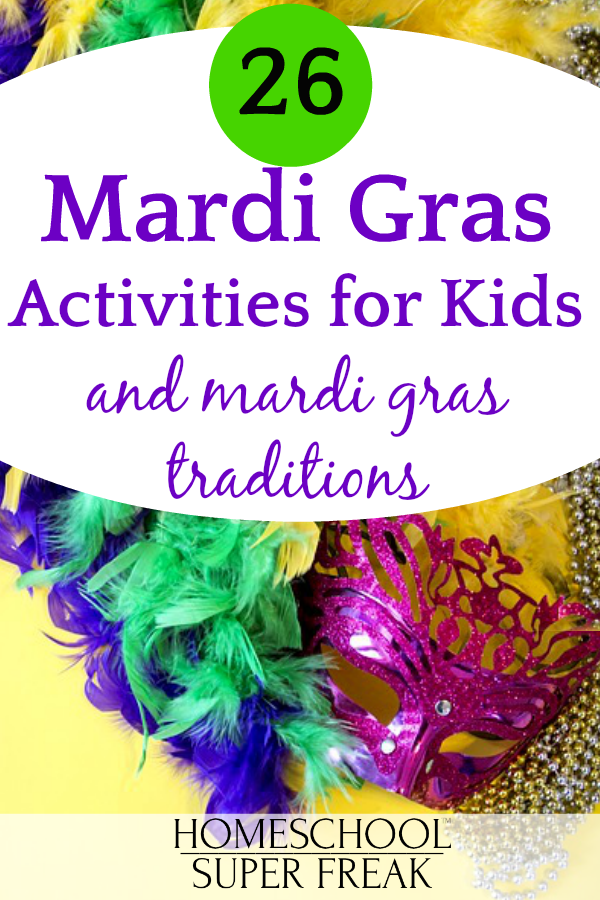 PIN TO SAVE!
---
26 Mardi Gras Activities for Kids
Learn About Mardi Gras History
Get the kiddos started with a little history of Mardi Gras from these online videos:
Celebrating Mardi Gras in New Orleans [VIDEO]
Learn About the "Mardi Gras Indians" [VIDEO]

According to LouisianaFolkLife.org:
The "Mardi Gras Indian" tribes of New Orleans are, in fact, the oldest cultural organizations surviving from the original African tribes which were brought into New Orleans during slavery days. The tribes are particularly noted for preserving African "dress art" and musical heritage in the New World.
Read an online story (and see pictures) of the "Mardi Gras Indians"
Watch videos on the "Mardi Gras Indians"
Learn the most popular Mardi Gras Indian song called Iko, Iko
Get Free Preschool Mardi Gras Printables and Mardi Gras Worksheets
If you're looking for some FREE preschool Mardi Gras printable lessons, this pack includes sounds, counting, coloring a Mardi Gras mask and more.
Make a Mini King Cake
A King Cake has been described as a cross between a coffee cake and a French pastry.
It is decorated in three different color icings that represent the Wise Men's jeweled crowns when they visited baby Jesus.
The colors are: purple to represent justice, green to represent faith, and gold to represent power.
Prizes like coins and beads were traditionally hidden in the King Cake.
Today, a small plastic baby is hidden in the cake.
Then, the person who gets the piece of cake with the baby gets to be king for the day and is supposed to host the party and make the King Cake for next year.
Learn how to make a mini King Cake  (and don't forget the plastic baby
 to go inside of the cake!)
Color a Mardi Gras Crown
Grab this free Mardi Gras crown coloring sheet printable  and talk about the meaning of the different colors (purple, green, yellow) of Mardi Gras.
Create Mardi Gras Masks
One of the most fun things about Mardi Gras is dressing up. So, have fun making your own masks!
You'll need:
Craft Masks

Mardi Gras Feathers

Purple Glitter

Green Glitter

Gold Glitter

Glue
Mardi Gras masks come in all different different decorations, so get creative!
Make Your Own Mardi Gras "Bead" Necklace
Beaded necklaces are a big deal at Mardi Gras. Here's a great alternative to buying beads — making your own Mardi Gras "bead" necklace!
Construct a Mini Mardi Gras Float
Floats are a huge part of annual Mardi Gras parades.
Watch this video about Mardi Gras World, where they make the Mardi Gras floats in New Orleans. (You can even visit there!)
Then, make your own Mardi Gras inspired float using a shoebox.
(Head to your local discount or party store before the project and grab some Mardi Gras themed items.)
Guess the Mardi Gras Item Game
This is a fun one for all ages. Make a Mardi Gras themed sensory bin, then get a blindfold and have each person see how many Mardi Gras items they can guess in 30 seconds.
The person who guesses the most gets to be Mardi Gras King or Queen for the day.
Make a King or Queen For a Day
Everyone wants to be King or Queen for a day, right?
Here's a cute free Mardi Gras printable that gives you a king or queen to decorate.
The kids can then write about what they would do if they were king or queen for a day.
Make a Mardi Gras Inspired Dish (or Meal)
Have little cooks?
Make a fun New Orleans or Mardi Gras inspired dish (or even an entire meal).
Here are some yummy recipes for inspiration:
Read Books About Mardi Gras
There are many great kids' books about Mardi Gras.
One of our favorite Mardi Gras books is Mimi's First Mardi Gras
.
It takes you through what happens on the day of Mardi Gras from the eyes of little Mimi. Mimi and her family get ready for a Mardi Gras party, pick costumes, talk about food, go to a parade, count their loot and more. (Pretty awesome illustrations, too.)
Also check out these other Mardi Gras books:
(There's also a Gaston Goes to Mardi Gras Coloring Book
.)
Mardi Gras Mystery (LOL Detective Club) (Volume 1)
Little Purple Mardi Gras Bead
The Night Before Mardi Gras
The King Cake Baby
---

Do you have any fun Mardi Gras stories, recipes, crafts, or traditions?
---
FREE PRINTABLES FOR KIDS : MARDI GRAS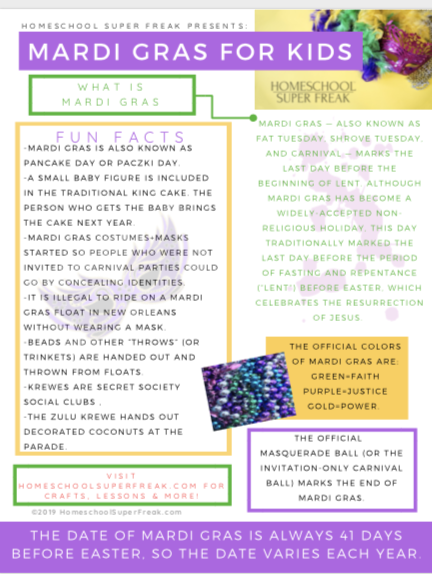 Grab your free Mardi Gras for Kids printable!
It's a Mardi Gras "CheatSheet" that you can refer back to at any time during your studies!
Enjoy!
---
MORE AWESOME HOMESCHOOL THEME LESSONS
DISCLOSURE
: Affiliate links are used on this site and may be used in this post.