Attention! Fun holidays alert! Create your own holiday ideas is a great homeschool activity or theme lesson! Use these 35 fun holidays list ideas to fill your calendar with fun holidays throughout the whole year!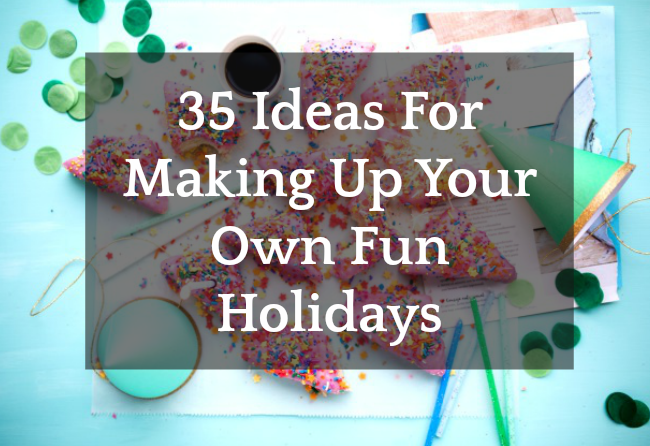 Did you know that March 26th is one of those special national days called Make Up Your Own Holiday Day!
(YES! It's a REAL THING! Add it to your holidays for kids!)
Affiliate links are used on this site. As an Amazon Associate I earn from qualifying purchases. Read more in our DISCLOSURE.
How cool is that?
(And, who doesn't love to celebrate fun wacky holidays, right?)
However, you don't have to wait until that day to make up your own and create fun holidays games and activities!
---
What Makes Up National Days?
A holiday is a day set aside by custom or by law on which normal activities are canceled or reduced so that the holiday can be observed. During designated national days and fun holidays, there are often events, celebrations, parades, or other kind of observances depending on the holiday.
---
Since homeschoolers are kinda awesome at marching to the beat of their own drums, this holiday is perfect for us!
And, homeschooling is an opportunity to customize an educational experience for our children and inspire creativity (which is an important component of learning!) with these amazing holidays for kids.
Likewise, this holiday can be a customized experience as well.
Just think of the possibilities!
Here's how you can add your own fun holidays to your homeschool learning or classroom!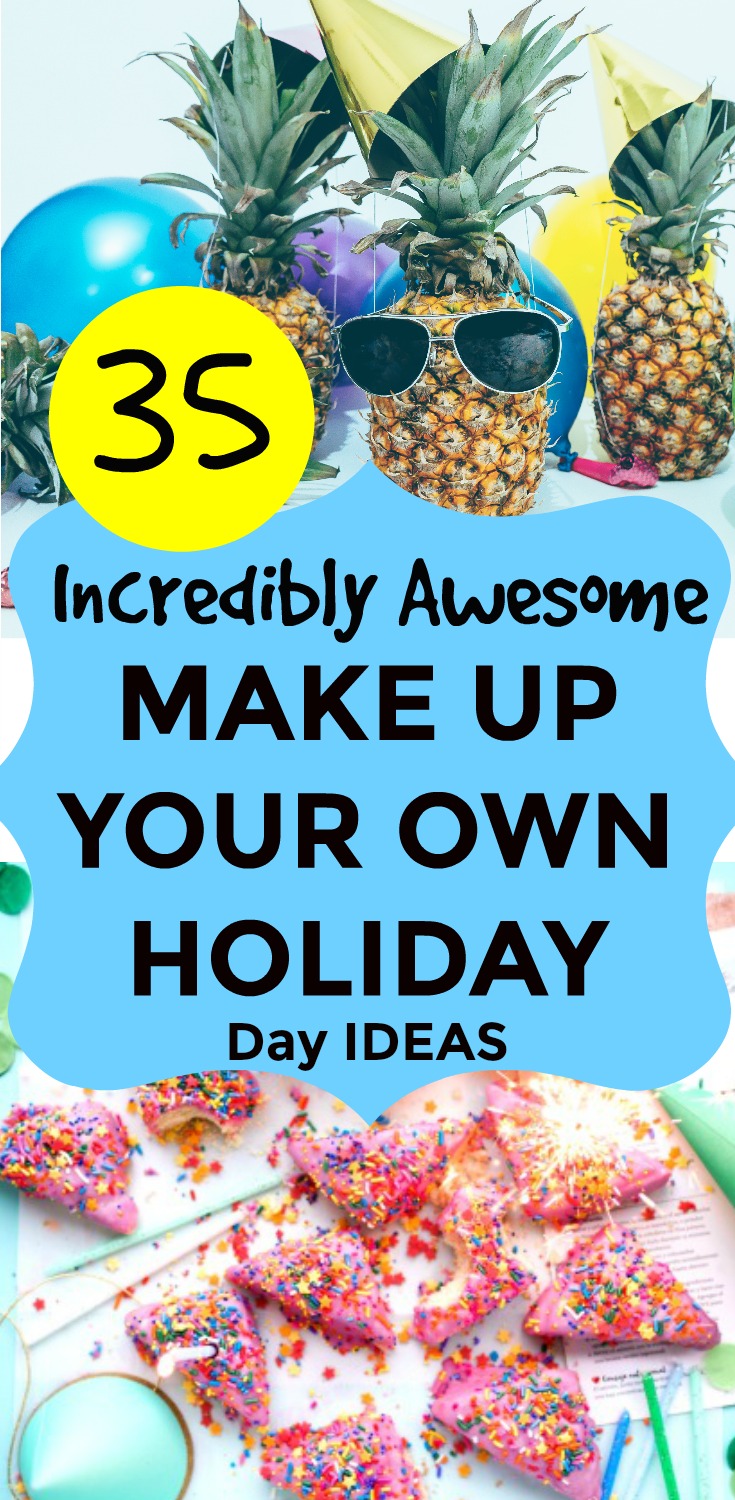 Here are create a holiday ideas to add to your learning!
35 Ideas on How to Create Your Own Fun Holidays
Here are a few suggestions to make March 26th extra special this year and help you make up your own fun holidays!
These are just ideas, so don't be afraid to get crazy with your own made up holidays!
Fun Holidays for Kids Ideas:
• Minecraft Day
• Backwards Day
• Fantastic Friends Day
• Baking Day
• Dance Party Day
• No Math Today Day
• We Love Our Pets Day
---
Fun Holidays Ideas: Serving Others
• Visit the Local Nursing Home Day
• Pick Up Trash in Our Community Day
• Make Cards for Cancer Patients Day
• Love a Librarian Day
• Volunteer at the Homeless Shelter Day
• Deliver Flowers to Our Favorite Neighbor Day
• Gather Stray Carts from the Parking Lot Day
GET MORE IDEAS FOR HELPING OTHERS
Fun Holidays Ideas: Wacky, Fun & Frivolous
• Try a New (Weird) Food Day
• Listen to Weird Music Day
• Ice Cream Sundaes for Breakfast Day
• Drive by Mom's Old High School Day
• Wear Your Sibling's Clothes Day
• Pretend Day
• Make Up Our Own Language Day
---

---
Fun Holidays Ideas: Just For Moms
• Mama Gets a Massage Day
• Nap Day
• Whisper Day
• Shopping Without Kids Day
• Mama Doesn't Need Another Holiday to Celebrate So We're Not Doing Anything Day (now that's special!)
---
Fun Holidays Ideas: Random Family Time
Here are some random funny made up holidays that your family may like:
• Purple Day
• Casserole Day
• Save Electricity Day
• Super Hero Day
• Game Day
• Put All the Laundry Away for Real This Time Day
---
NEED HELP NAMING YOUR HOLIDAY OR FOR AN IDEA? CHECK OUT THIS HOLIDAY CREATOR (NAME GENERATOR) AND HAVE SOME FUN!
---
Hosting Your Fun Holidays and Make Up Your Own Holiday Day Activities
For your fun holidays, you may want to include food and celebrations like special foods, decorations, or even presents.
Maybe you also create unique ceremonies or write a special song?
This is a chance to be super silly and have some fun or be super serious and reiterate values and standards.
Anything goes!
---
For homeschoolers, national holidays are an opportunity to celebrate our specialness and creativeness, especially Make Up Your Own Holiday Day!
Customize it to whatever your family wants/needs.
---
So, consider what your family needs right now during this season.
Does your family need to take the day off and just chill?
Or, do you need to kick things up a notch and spend the afternoon at the bowling alley?
Maybe you are trying to teach your children about other cultures, people who may be less fortunate, or hungry puppies?
This holiday can be used to do that – if you so choose.
Just as in homeschooling, there are no right or wrong answers—it's all flexible!
Enjoy your Make Up You Own Holiday national days by making the most of it – whatever that means to you and yours.
---
Contributor Angelene Woodard is a wife, mother, writer, and reluctant homeschooler who blogs about her frustrations and victories at www.unqualifiedmom.com where she encourages fellow Christians to embrace their weakness and accept His strength.
---
HOMESCHOOL BLOG POSTS: TRY THESE NEXT!
As an Amazon Associate I earn from qualifying purchases. Please refer to our
DISCLOSURE