Need family ideas for service projects or service projects for kids? These are great for a Thanksgiving service project, family Christmas projects, or any time to give back during the holiday season (and beyond)!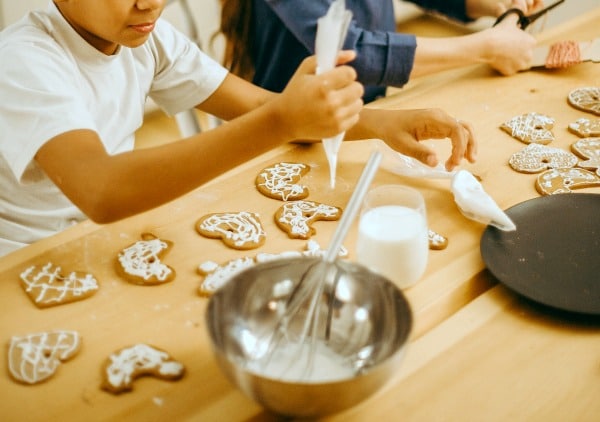 Looking for service project ideas for your family during the holidays (or, any time for your group or co-op or ideas for school service projects)?
Service projects for youth (and even service projects from home) are an important part of teaching your kids how to give back and create a lifelong interest in volunteering and serving the community.
But first:
Affiliate links are used on this site. As an Amazon Associate I earn from qualifying purchases. Read more in our DISCLOSURE.
What are service projects?
Service projects are volunteer actions, performed by individuals or a group, that benefit others.
Service projects examples:
Creating a food drive
Walking dogs at kennel
Donating socks to a local shelter
Raking leaves for elderly neighbors
Delivering meals for homebound
Building houses for those in need
Creating a community garden
Implementing a recycling program
(Don't miss our full list of 19 community service projects ideas later in the post. KEEP SCROLLING!)
What are the benefits of community service?
Service projects, community service and volunteering:
Help build self-esteem.
Improve confidence.
Give a sense of purpose.
Spread love and kindness.
Create a sense of community.
Teach empathy.
Help to eliminate stress.
Create a network of like-minded people.
Improve skills (and help to develop new ones!).
Help to understand social responsibility.
Make you happier!
---
ALSO CHECK OUT:
---
Volunteering for Kids: The Giving Manger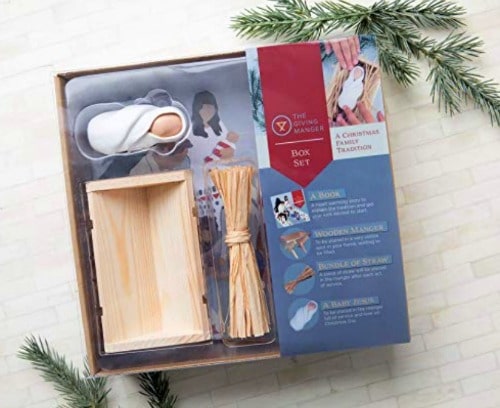 If you're looking for a way to get your family involved in multiple projects counting down to Christmas, you may enjoy The Giving Manger.
The Giving Manger comes with a manger, "straw," a baby Jesus and a booklet.
You count down to Christmas (like an Advent calendar) by performing a kind deed.
Each time a deed is performed, you place a piece of "straw" into the manger, building a bed for baby Jesus.
On Christmas day, you place the baby Jesus!
If you're looking for a version for younger kids, there's also one called Miracle in a Manger.
Here's how it works (from the set):
With our beautifully illustrated book, daily "activity" cards and the sweet angel who brings straw each day for the baby Jesus' manger, Miracle in a Manger is the December countdown to the birth of our Savior, Jesus Christ.

The Angel Message (activity) cards will consist of a Bible verse that corresponds with the story of the birth of Jesus.

On each card will be a list of activities for your little one to participate in.

If they do one or even all the activities, the next morning when the Angel brings a new message he will also bring a soft strand of hay to place in the manger.

Then on Christmas morning not only will your little one receive their material Christmas presents but the BEST gift of all, the TRUE meaning of Christmas.

The doll that was an Angel is simply transformed into baby Jesus by removing his halo and wings, wrapping him in a blanket and placing him in the manger full of soft straw.
If you want a non-religious option or something that you can do all year long, try the Sneaky Card Game: Play It Forward.
From the game:
Your mission, should you choose to accept it: become a secret agent of joy, spreading art and intrigue to an unsuspecting public.

Inside each box is an interactive scavenger hunt that will inspire creativity and reward audacity.

Take a selfie with a stranger, create a collaborative doodle, become a flash mob of one.

Complete each objective and then pass the card along to an unwitting accomplice, who now becomes part of the game!

The fun is ever-expanding, but it all starts with you – Play it forward!
OK!
Here are great ideas for service projects for teens all the way down to tots!
Get the whole family involved in giving back!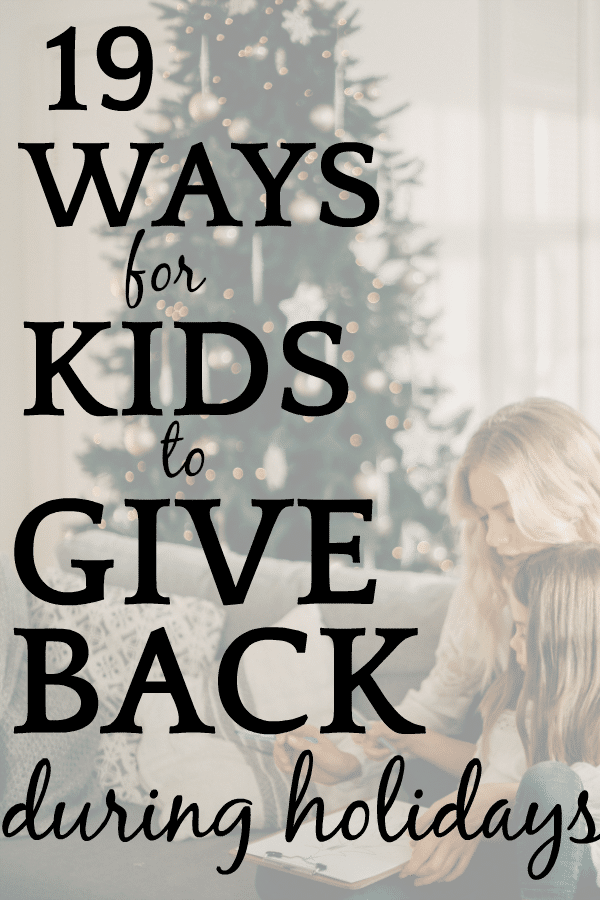 What can kids do to give back?
Here are ideas for community service projects.
Although we've focused on holiday volunteering, these ideas for service learning projects are great for any time of the year!
19 Holiday Charity Ideas
Here are good ideas for service projects:
Collect new children's books and give to kids at a shelter.
Have a cookies and craft night for the kids at a shelter.
Adopt a family from an Angel Tree OR host an angel tree with your group!
Visit a nursing home and make holiday crafts with the residents.
Make a freezer meals for an elderly neighbor or someone who is homebound.
Collect donations for a local animal shelter.
Spend time with animals at a local shelter.
Surprise a teacher, Sunday school teacher, or mentor with a coffee or smoothie gift card and a note letting them know why they're so special to you.
Have a sock drive for kids in need.
Donate scarves and mittens to a local shelter.
Collect new board games to give to kids in need.
Create holiday cards for kids in a children's hospital.
Offer to rake leaves, shovel snow, or do yard work for an elderly neighbor.
Create a Little Free Library so everyone, no matter how much or how little money they have, has access to books!
Make bird feeders for a local park, schools, or your own yards!
Hand out blessing bags with hand warmers, gloves, socks, snack bars, etc. to give to the homeless community in your area.
Collect food donations for shelters and soup kitchens. The holidays and cold weather see a spike in people using their resources. And, if they allow kids, sign up to help with meals during the holidays!
Do you have have a way that you give back during the holidays? Leave it in the comments so we can add it to our list!
As an Amazon Associate I earn from qualifying purchases. Please refer to our
DISCLOSURE
STARTING HOME SCHOOL? CHECK OUT OUR HOW TO HOMESCHOOL GUIDE