Looking for a DIY advent calendar for kids? A DIY Advent calendar is a great way to countdown to Christmas and help celebrate the holidays. We'll cover the history of advent, ideas for DIY advent calendars, advent calendar for kids, advent calendar filler ideas and other fun stuff for advent during Christmas. We have DIY advent calendar for toddlers to teens and beyond!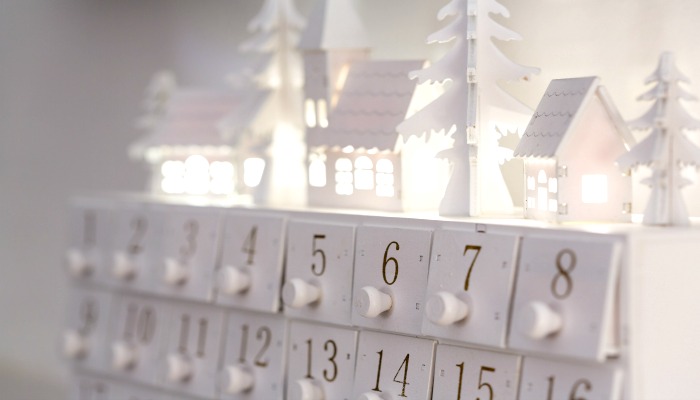 But, before we get to the DIY Advent calendar ideas. . .
Affiliate links are used on this site. As an Amazon Associate I earn from qualifying purchases. Read more in our DISCLOSURE.
What's An Advent Calendar?
An Advent calendar is used to count the days until Christmas, or the days of "Advent."
What is the purpose of an Advent calendar?
The advent calendar counts up (or down) to Christmas, or the birth of Jesus.
However, today the Advent calendar is used by Christians and secular families as a countdown to Christmas using treats.
So, what is the story behind Advent and what does the advent calendar represent?
Let's take a closer look at an Advent definition and the history of advent calendars before we get to the how to make an advent calendar.
ADVENT CALENDAR HISTORY
Did you know that the history of advent dates back to the early 1900s?
According to GotQuestions.org:
At first, the days preceding Christmas were marked off from December 1 with chalk on believers' doors.

Then in Germany in the late 19th century the mother of a child named Gerhard Lang made her son an Advent Calendar comprised of 24 tiny sweets stuck onto cardboard.

Lang never forgot the excitement he felt when he was given his Advent calendar at the beginning of each December, and how it reminded him every day that the greatest celebration of the whole year was approaching ever nearer.

As an adult he went into partnership with his friend Reichhold and opened a printing office.

In 1908, they produced what is thought to be the first-ever printed Advent Calendar with a small colored picture for each day in Advent.

Later on, at the beginning of the 20th century, they hit on the idea of making the pictures into little shuttered windows for the children to open day by day in order to heighten their sense of expectation.
Why do they call it an Advent calendar?
Advent represents the four Sundays before Christmas, or the day Jesus was born.
Do Advent calendars count down or up?
If you are making a DIY advent calendar, you may be confused on whether Advent calendars count up or down.
Whether Advent calendars count up or down will depend up on the calendar you are using.
The point is to count the days until Christmas.
However, some calendars will start with Day 25 and count down to Day 1 (which is Christmas).
Other advent calendars count up, starting on December 1 and corresponding to the dates until Christmas eve on December 24 or Christmas Day on December 25.
So, if you're making an advent calendar, it's completely up to you if you want to count up or down!
Do Advent calendars have 24 or 25 days?
Most Advent calendars have 24 days and end on Christmas Eve (starting on December 1st and ending on December 24th).
However, you can also end your last Advent day on Christmas Day. In that case, you will need your calendar to have 25 days worth of treats.
While we're here, we should also mention another Advent countdown tradition . . .
What are the 4 themes of Advent?
In the Lutheran religion, they also light an Advent wreath that is comprised of four candles.
Although it is predominantly a Lutheran practice, many others have adopted the Advent wreath as part of their Advent practices.
What does each day of Advent mean?
Some families light one candle each Sunday until Christmas using an advent wreath.
MercyHome.org explains:
The wreath and candles are full of symbolism tied to the Christmas season.

The wreath itself, which is made of various evergreens, signifies continuous life.

The circle of the wreath, which has no beginning or end, symbolizes the eternity of God, the immortality of the soul, and the everlasting life we find in Christ.
What are advent candles meaning?
There is special meaning for each day and candle that is lit.
MercyHome.org goes on:
The four candles represent the four weeks of Advent, and one candle is lit each Sunday.

Three of the candles are purple because the color violet is a liturgical color that signifies a time of prayer, penance, and sacrifice.
Advent candle meanings:
First Candle (purple): for Hope. It represents the coming Messiah.
Second Candle (purple): for Faith. It signifies Mary and Joseph's journey to Bethlehem and is sometimes called the Bethlehem Candle.
Third Candle (pink): for Joy.
Fourth Candle (purple): for Peace.
DISCLOSURE: Affiliate links are used on this site and may be used in this post.
DIY Advent Calendar Kit
Before we get to the homemade advent calendar, let's talk about what to do if you want an easier route.
First, check out these DIY advent calendar kits that come in a kit so you have everything you need.
You may also like these popular Advent calendars that come preassembled and all you have to do is open them up!
Advent Calendar Filler Ideas (Including Non Candy Advent Calendar Ideas)
You may be wondering what to put in an advent calendar?
You can fill your own advent calendar with anything that interests your family (including
Advent calendar contents ideas can be a theme, like chocolate or Lego bricks
However, you can fill your advent calendar with any trinkets or treats that your family will enjoy.
37 Advent Calendar Filler Ideas:
Chocolate
Pieces of candy
Lego bricks or miniature figures
Different tea bags/flavors
Beads and elastic
Personal messages
Perfume samples
Make up
Socks
Lip balm
Gift cards and coupons (to local attractions)
Jokes
Scavenger hunt clues (and then hide the item in the house)
Bracelet charm
Bracelet
Necklace
Necklace charms
Craft supplies
Magnets
Buttons, pins, and patches for backpacks
Money
Ornaments
Maps to something in the house
Tattoos
Bandaids in different characters/colors
Bouncy balls
Balloons
Hair ties/clips
Rocks or gems
Bath bomb
Flash drive
Erasers or pencil toppers
Key chains
Clay
How to Make a DIY Advent Calendar
25 Days of Christmas Activities for Kids
If you're looking for unique and creative advent calendar ideas this year, consider making your own advent calendar.
It's a great holiday project to do with the kids (and, of course, you have to fill it when they're not looking!).
Plus, make these once and they are a reusable advent calendar for years to come! Just fill them with different items each year.
DIY Advent Calendar Idea #1. Christmas Crackers Advent Calendar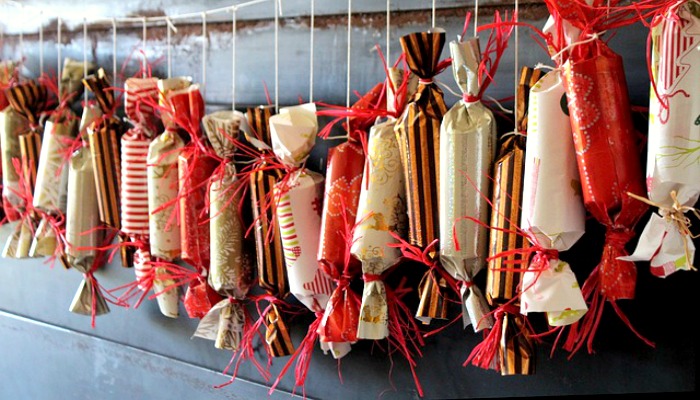 Who doesn't love Christmas crackers?
(I don't even know if that's the "official" name, but that's what we call them.)
They are fun to open (with a POP!) and then have tiny toys and trinkets in them.
Just buy Christmas crackers
and then number them 1 to 24.
Then, hang them with some festive twine from the mantel, stair railing, or on the Christmas tree.
Be aware, though, that most Christmas crackers in a package come with the same things in them.
If you want to vary the contents of your crackers for each day of advent, try making your own Christmas crackers
and then packing them with your own advent fillers.
DIY Advent Calendar Idea #2. Train Advent Calendar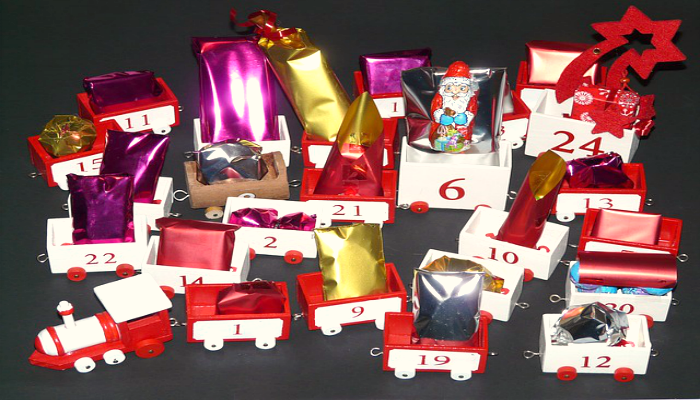 If you have a train lover in your family, then this is the perfect advent calendar idea.
And, it's a really cute DIY advent calendar of wood that you can reuse every year!
(Bonus points for being a super cute addition to your mantel!)
Get some unpainted train cars
and have fun decorating (don't forget to add the countdown numbers!).
Then, fill them with advent goodies (or tie them to the top or sit them behind the car).
It's another adorable advent calendar you can reuse every year.
(Be sure to paint the year you made it on the bottom so it can be a family hand-me-down!)
DIY Advent Calendar Idea #3. Mini Stocking Advent Calendar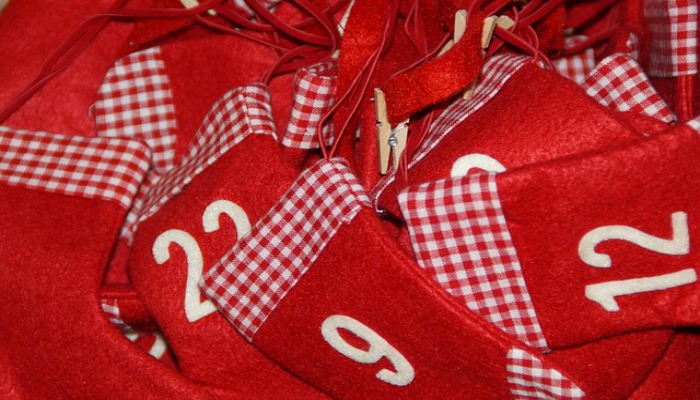 This is a simple but functional DIY advent calendar: get mini felt stockings and felt stick-on numbers
.
Place the numbers (1-24) on the stockings and fill them with toys, chocolates, or favors.
You can string the stockings on a ribbon to hang up or use them as tree decorations.
DIY Advent Calendar Idea #4. Jar Advent Calendar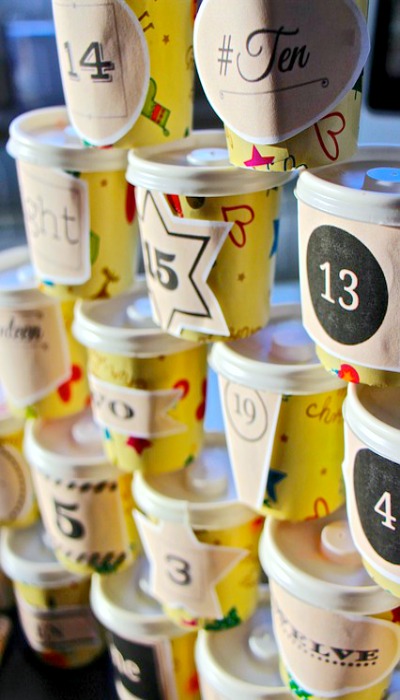 I like this advent calendar because you can do it from things you probably have around your house.
If you have a bunch of dried up clay in containers (like we do), then ditch the clay and use the containers for your new advent calendar. (Just wash and dry the containers first.)
Then, wrap the containers in festive contact paper or wrapping paper and number the fronts.
(I love how they numbered these containers in all different fonts and numbers and even spelled out the day on some of them.)
If you need containers, check out these jars for an advent calendar.
DIY Advent Calendar Idea #5. Burlap Bag Advent Calendar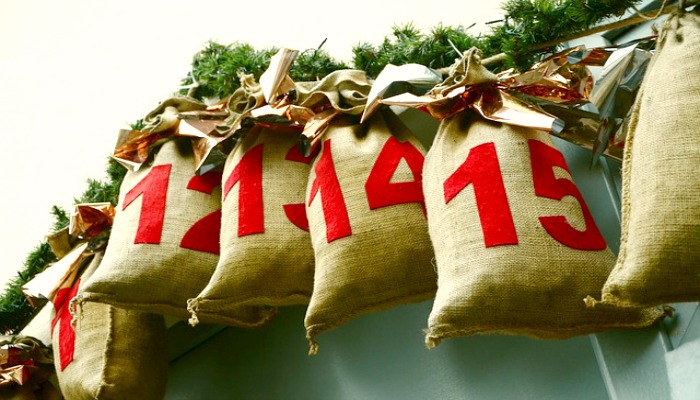 Isn't this advent calendar beautiful?
I love it because you can use it each year and it doubles as a decoration!
To make this advent calendar, you'll need:
You can tie the bags to a wreath, garland, the stairs, or even on the tree! (Or, use clothespins to clip them wherever you want!)
DIY Advent Calendar Idea #6. Envelope Advent Calendar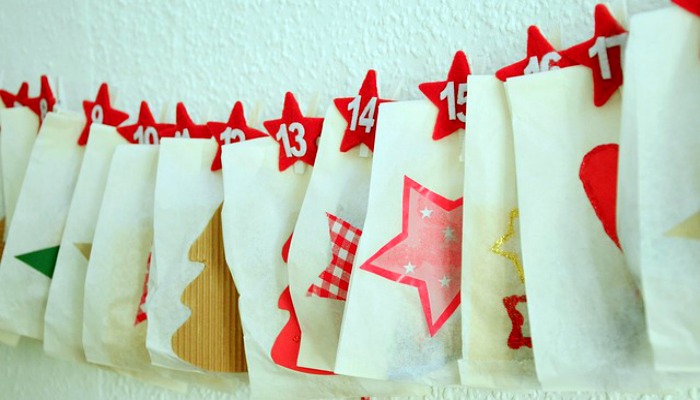 These little DIY advent calendar bags are a great to do as a family craft project.
Start with an envelope—any size or style, like mini glassine paper bags
or natural Kraft paper bags.
If you use glassine or vellum, remember to wrap the goodies you put in the bags because you'll be able to see them!
If you don't want to use cellophane or paper envelopes, try these cute muslin craft bags
.
Then, decorate the fronts with paint, crayons, or cutouts.
To make the star clasps shown here, stick (or glue) red felt stars
onto mini craft clothespins
.
(Don't forget the felt stick-on numbers
!)
You can then clip the bags onto twine, ribbon, garland on a mantel or stair case, or the Christmas tree.
DIY Advent Calendar Idea #7. Mini Bin Advent Calendar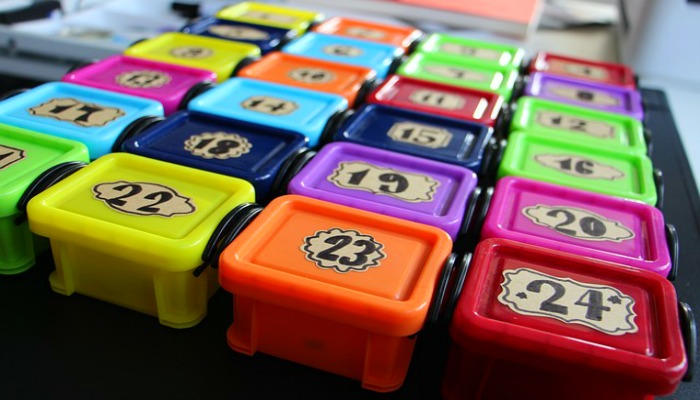 This is a fun, modern take on the advent calendar.
Use mini food storage containers
(those rectangular plastic baby food containers work really well!).
I like these because they are long and deep, which means they can fit advent toys or candy of different sizes.
The kids can have fun painting or decorating the outside and then adding the countdown numbers to the top.
All that will be left to do then is for you to fill them up with treats!
DIY Advent Calendar Idea #8. Easy Advent Calendar Using Gift Bags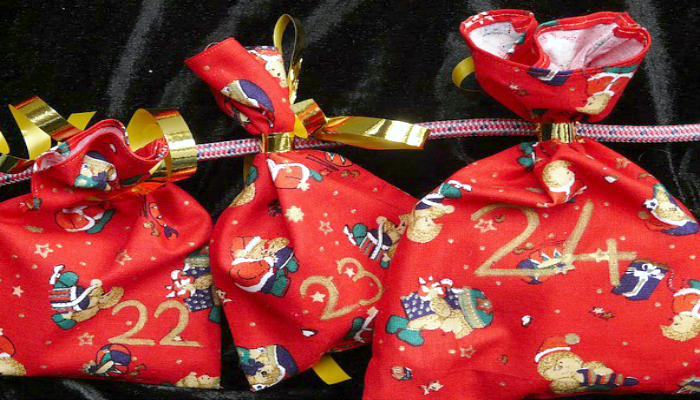 If you're running tight on time (or low on motivation), then you can make a simple advent calendar out of Christmas favor bags and ribbon.
Just write the numbers on front with a festive marker!
You can also have the kids decorate white paper bags to use for the calendar:
DIY Advent Calendar Idea #9. Wrapped Package Advent Calendar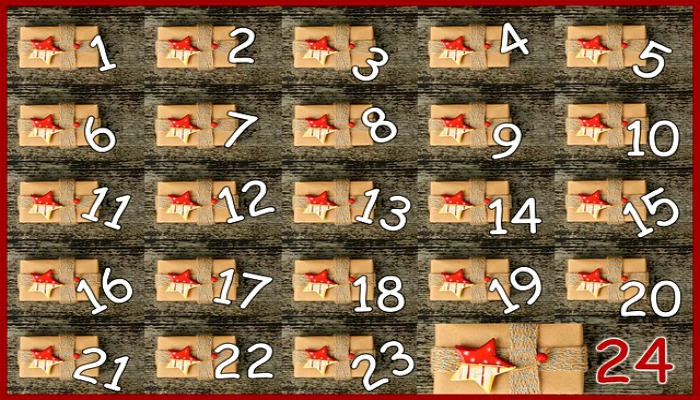 This is another easy advent calendar, but it's so beautiful!
Get small gift boxes—I like these favor boxes
because you don't need to wrap them.
You can just decorate with the twine and use the included tag.
Either write the countdown numbers directly, write them on fun tags, or use wooden numbers or other festive decorations.
(Don't forget to put your goodies into the boxes before you wrap them!)
You can also make the gift for the last day a bigger or more expensive gift.
DIY Advent Calendar Idea #10. Book Countdown Advent Calendar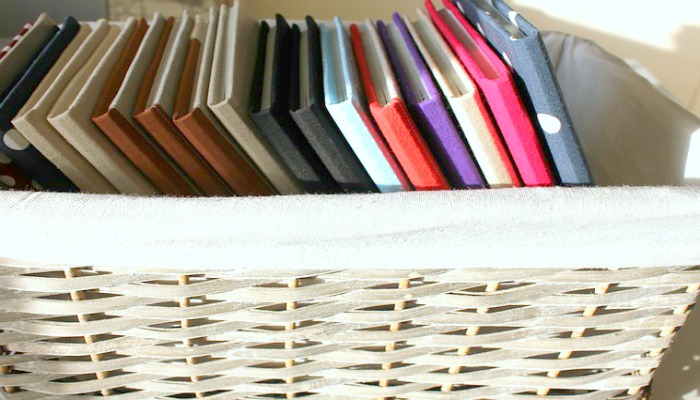 A friend of mine told me about this advent calendar a couple of years ago and each year I say I'm going to do it . . . and then I forget!
Make an advent countdown calendar of children's books!
Here's what you do:
Wrap 24 books in wrapping paper (or place fun book covers over them) and each night your kids can unwrap one for the bedtime story that night.
As you can imagine, this type of calendar can get pricey.
My friend actually wraps books that they already have and she said her son is still super excited.
(Dig in the back of your shelves for books your kids may have forgotten about!)
I think I'm going to hit up the thrift store (our thrift store has 69-cent kid books) and find some for this project.
Then, at the end, we'll have 24 great new additions to our home library (and also to pair up with our theme recipes!).
DIY Advent Calendar Idea #11. Heart Fabric Countdown Calendar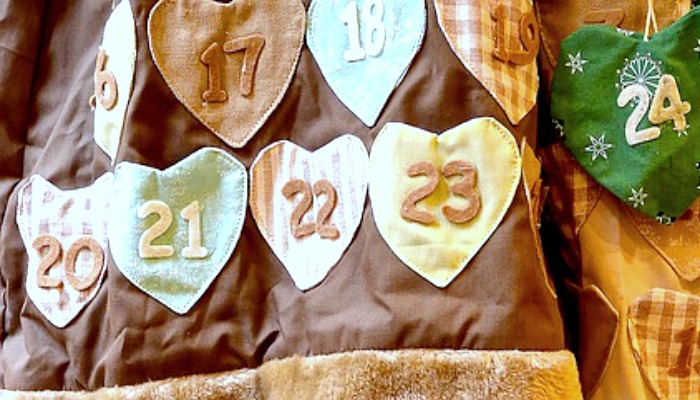 If you're a little more crafty (and have a little more time), try this fabric heart countdown calendar.
Sew fabric hearts onto a piece of fabric and then use the stick-on felt numbers
for the countdown.
(Don't forget to leave the top of your heart open so you can put the advent toys in them!)
DIY Advent Calendar Idea #12. Advent Calendar Templates
You can also make your own advent calendar from templates.
If you want to print out your own advent calendar to make, here's a great list of advent calendar templates.
DIY Advent Calendar Idea #13. Online Advent Calendars
Are you less DIY and more a techy type?
There are some really fun online advent calendars you can do on your computer, phones, or tablets.
Just search "online advent calendars [your device type]."
My daughter had a lot of fun with one last year (and there's no glitter to clean up after).
As an Amazon Associate I earn from qualifying purchases. Please refer to our
DISCLOSURE
STARTING HOME SCHOOL? CHECK OUT OUR HOW TO HOMESCHOOL GUIDE