Chinese New Year, is also called Lunar New Year and also as Spring Festival (since it's celebrated in Spring). We have Chinese new year history, traditions, free Chinese New Year printables, Chinese New Year facts for kids, Chinese New Year kids activities and even Chinese New Year food and more! It's so much fun to study Chinese New Year for kids!
OK, listen up because one of the most fun activities you can add to your studies is Chinese New Year for kids.
Affiliate links are used on this site. As an Amazon Associate I earn from qualifying purchases. Read more in our DISCLOSURE.
(Also called Lunar New Year Activities.)
It's not just about the Chinese New Year animals (but that is an awesome part of this topic), but it's also about cool Chinese New Year traditions, Chinese New Year food, and even the colorful Chinese New Year decorations during this celebration!
(One year we made an awesome Chinese New Year dragon for our sister site. Oh YES. WE. DID.)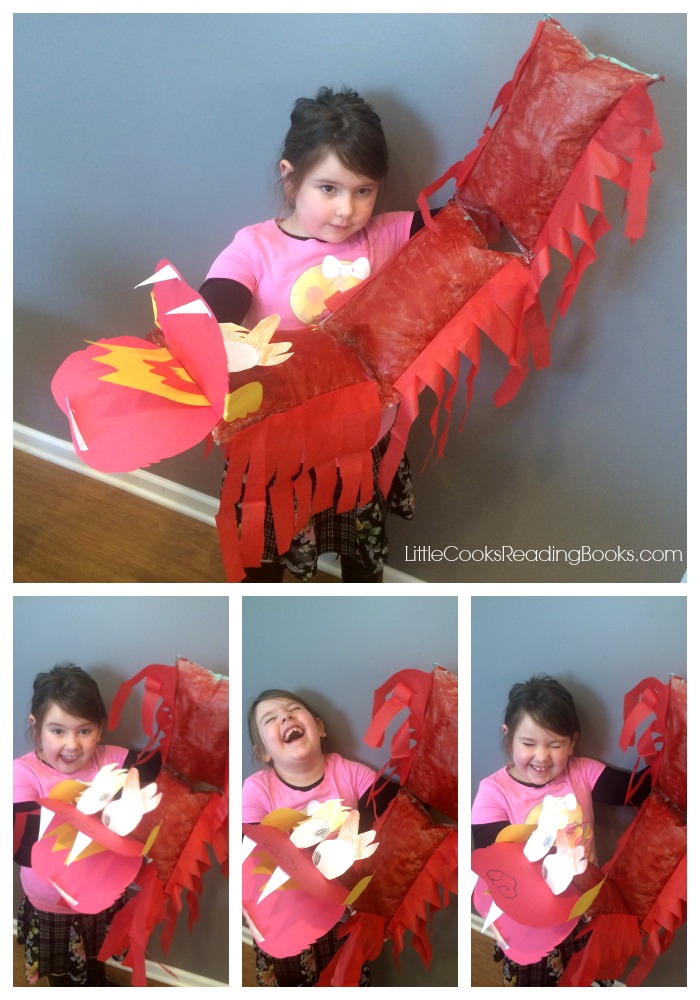 PIN TO SAVE
And, it's always fun to learn more about another culture and their traditions and celebrations!
(Right?)
Let's take a closer look at Chinese New Year for kids.
---
DON'T MISS THE FREE PRINTABLE FOR KIDS AT THE END OF THIS POST!
---
Chinese New Year History
What is Chinese New Year and why is Chinese New Year important?
"According to tales and legends, the beginning of Chinese New Year started with the fight against a mythical beast called the 'Year.'

The 'Year' looked like an ox with the head of a lion, and was believed to inhabit the sea. On the night of New Year's Eve, the 'Year' would come out to harm animals, people, and their properties.

Eventually, people discovered that the 'Year' feared the color red, fire, and loud sounds.

Therefore, for self-protection, people formed the habits of posting red Dui Lian in front of their houses, launching fireworks, and hanging lanterns at year end."
The exact date of the beginning of the Chinese New Year is unclear and there is some dispute about this.
Some reports put it going back as far as 1766 BC.
DISCLOSURE: Affiliate links are used on this site and may be used in this post.
Please refer to our DISCLOSURE STATEMENT.
When Is Chinese New Year? | The Chinese New Year Calendar
So, when is Chinese New Year? Chinese New Year coincides with the first full moon of the new year. This happens somewhere between the end of January and February. The Chinese New Year dates change each year based on the timing of the full moon. The Chinese New Year festivities end on the date of the full moon.
---
In 2019, the Chinese New Year begins on Tuesday, February 5, and ends on Tuesday, February 19, 2019.
---
Each day of the festival has specific activities and traditions.
Also, the end of Chinese New Year is celebrated with the Festival of Lanterns and falls on the 15th day "of the first lunar month."
About the Chinese Lantern Festival [VIDEO]
---
22 Fun Chinese New Year Facts
The Chinese New Year is also called "Spring Festival."
The festival is the longest Chinese holiday, clocking in at 15-16 days.
Dates vary each year for Chinese New Year and is based on the first full moon.
Chinese New Year originally signified a time to pray to gods for a successful planting and harvest season.
A monster named Nian is a myth that surrounds the Chinese New Year. According to the myth, a boy scared off the monster with firecrackers and everyone celebrated.
Red is used in decorations because it is also thought to scare away monsters (like Nian).
People buy new red clothes to start fresh and bring good luck.
It is tradition to spend the first 5 days of the festival with your family and families can only go out after the end of those days.
All stores in China are closed for at least the first five days of the festival.
During the first five days, people do not sweep or throw out trash because they don't want to "sweep away" or "throw out" good luck.
People are not allowed to shower on New Year's Day because they don't want to "wash away" good luck!
The day before the Spring Festival, people spend time cleaning so that they can "sweep away" bad luck and make room for good luck.
Children receive money in red envelopes in hopes of transferring "fortune" from the elders to the children.
People traditionally ate dumplings every single day during the festival, for every meal. However, in modern times most people just eat them for the New Year's Eve dinner.
The Chinese New Year desserts each have special meanings.
There are strict etiquette rules for the New Year's Eve dinner, which includes where people sit, how they hold wine glasses, and how toasts are made.
People have a real (normal) birth date and a Spring Festival nominal age because everyone"grows" one year older on Spring Festival.
The most fireworks in the world are set off during Chinese New Year.
Chinese New Year ends with the Festival of Lanterns.
Festival of Lanterns is also called Shangyuan Festival ("first first festival") or Yuan Xiao ("first night festival").
Many light lanterns as a superstition to signify adding more children to the family.
Happy New Year in Chinese is "

xin nian kuai le

"
---
Chinese New Year Animals
Every year, the Chinese New Year is assigned a zodiac animal.
There are 12 zodiac animals total, but one animal is assigned each year for the entire year.
---
2019 is "Year of the Pig" which is a symbol of luck, overall good fortune, wealth, honesty, and general prosperity.
---
The Chinese believe that the animal for the year you are born transfers their positive traits onto you.
How Are Chinese New Year Animals Determined?
According to The Sun, "The animals were separated into two categories – yin and yang – depending on whether they have an odd or even number of claws, toes or hooves. They were then arranged into an alternating yin and yang sequence."
---
DID YOU KNOW:
Chinese Zodiac animals also make up a "Chinese clock" and can be used to tell time?
---
Chinese New Year Dragon
You've probably seen the awesome dancing Chinese New Year dragon, right?
Chinese New Year dragons are an important part of the culture.
What does the Chinese New Year dragon symbolize?
The Chinese New Year dragon stands for power, strength, and luck. The dragon also is a "potent symbol of auspicious power" like typhoons, rain, and floods. The Chinese use the dragon during New Year celebrations and other festivals as a way to drive away evil spirits and bring good luck to the community.
---
Chinese New Year Food
When creating Chinese New Year For kids activities, you have to include food!
(Cooking is a great way to learn!)
Food is one of the best (and most fun) ways to learn about a new culture!
Chinese New Year food often has symbolism associated with them.
For example:
Fish means an increase in prosperity.
Dumplings mean wealth.
Noodles mean happiness and longevity.
Sweet rice balls mean family togetherness.
There are also specific rules and ways to place and eat the food. For example, when eating fish:
The head should be placed toward distinguished guests or elders, representing respect.
Diners can enjoy the fish only after the one who faces the fish head eats first.
The fish shouldn't be moved. The two people who face the head and tail of fish should drink together, as this is considered to have a lucky meaning.
Traditional Chinese New Year food includes:
nian gao (rice cake named after the festival)
tang yuan (sweet rice balls)

Turnip cake

Chinese New Year Dumpling

Chinese New Year Fish (whole)

Spring Rolls

Good Fortune Fruit (especially Mandarin oranges)

Long Noodles

Mustard Greens

Whole Chicken or Duck (with head and feet still attached)

Eight Treasures Rice
---
•DON'T FORGET ABOUT YOUR FREE PRINTABLE AFTER THIS SECTION!•
---
27 Chinese New Year For Kids Activities, Crafts, Lessons, and Projects + Free Printable!
Now that we've covered all the background of Chinese New Year, it's time to have fun with some of these Chinese New Year lesson plans, Chinese New Year crafts, and other projects that make a great unit study!
Watch a video about Chinese New Year (below)
---
Free Printables for Kids: Chinese New Year
Here's a great free printable for kids!
Think of it as a Chinese New Year "cheatsheet" that you can refer to anytime during your studies!
Click here or on the image below to get the Chinese New Year for kids worksheet.
---

DO YOU STUDY OR CELEBRATE CHINESE NEW YEAR?
DO YOU HAVE SOME FAVORITE ACTIVITIES OR FOODS THAT WE LEFT OFF THE LIST?
WILL YOU LEAVE THEM IN THE COMMENTS SO WE CAN ADD THEM TO THE POST?
---
WANT MORE FUN THEME LESSONS? TRY THESE NEXT!
You may also like these theme lessons:
As an Amazon Associate I earn from qualifying purchases. Please refer to our
DISCLOSURE