Anytime the weather is nice, we find ourselves moving more and more to outdoor classrooms and learning spaces.
We're lucky to have a great covered back deck that we've lined with outdoor curtains. In the Spring, Summer (and even fall), it allows us to stay out there and work even when there is a gentle, warm rain.
But, I've been looking for some more great ideas for outdoor classrooms and outdoor classroom activity ideas.
Why?
Yikes.
We've definitely been guilty of this during some head-down, hermit times of homeschooling.
However, incorporating nature and the outdoors into your learning is super important.
---
DISCLOSURE: Affiliate links are used on this site and may be used in this post.
Please refer to our DISCLOSURE STATEMENT.
---
Outdoor Natural Classroom Ideas | Benefits of Being Outside
Not only can being outside improve mood, it can also help with a variety of factors.
ChildMind.org states, "most of the studies agree that kids who play outside are smarter, happier, more attentive, and less anxious than kids who spend more time indoors."
---
8 MAJOR Benefits of Spending Time Outdoors and in Nature for Kids:
Improves sensory skills
Helps kids stay healthier
Increases attention spans
Improves memory
Sun exposure to Vitamin D helps many body processes
Helps foster creativity
Helps develop executive function skills like planning, troubleshooting, prioritizing, multitasking and more
Fosters an appreciation of nature
---
So, creating outdoor classrooms or learning space (no matter where you live) is a must!
Need some ways to get your outdoor classrooms started?
Check out these awesome ideas and get started ASAP!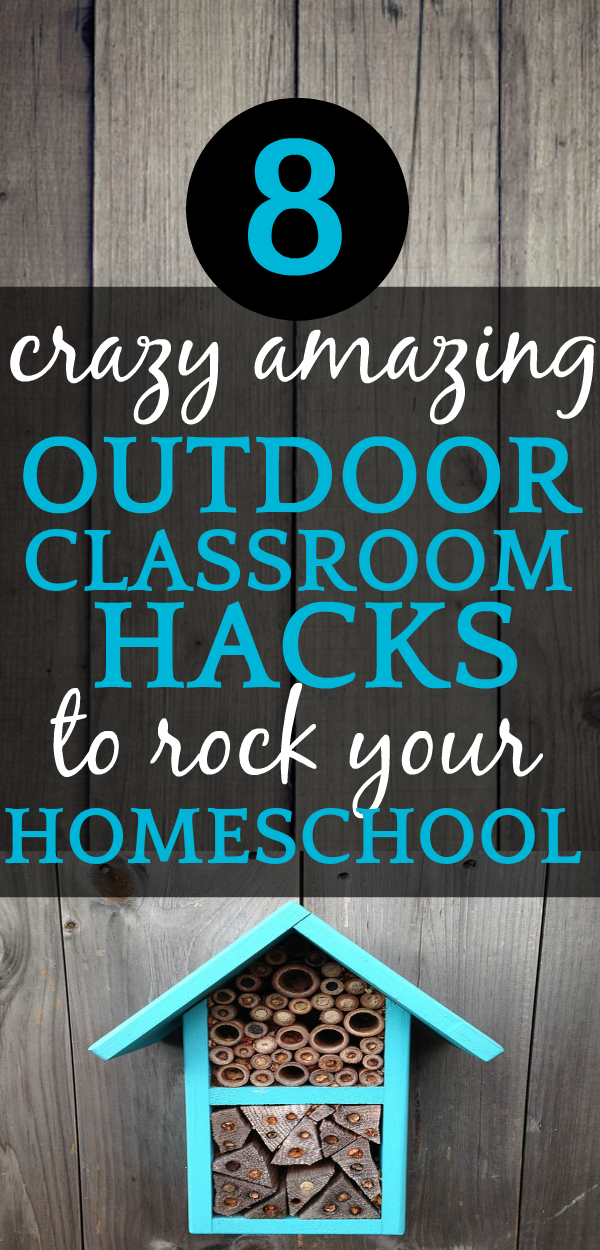 PIN TO SAVE
8 CRAZY AMAZING Outdoor Classrooms and Nature Learning Space Ideas to Rock Your Homeschooling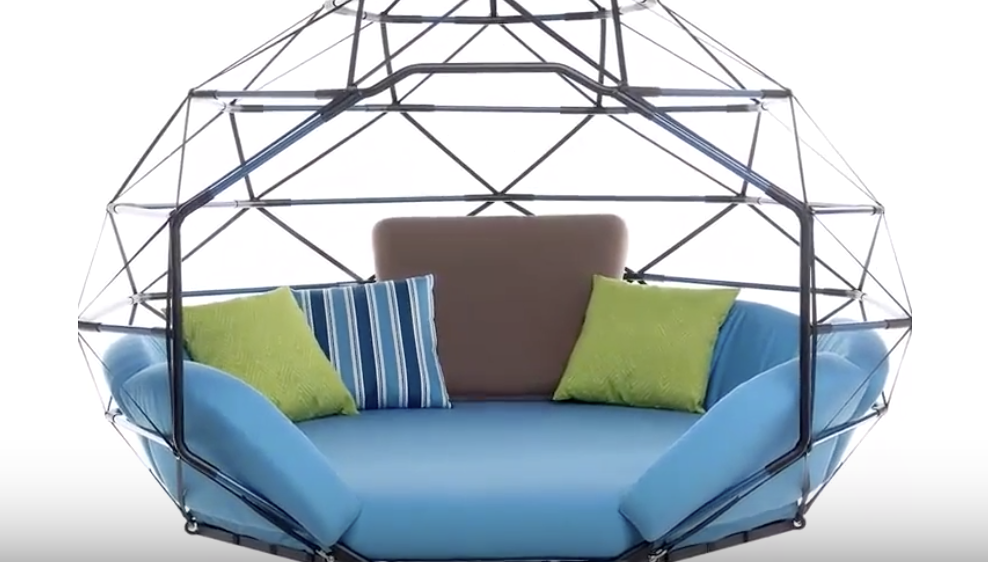 Creating Outdoor Classrooms #1: Start with Amazing Outdoor Classroom Furniture.
OK.
I'm just going to put it right out there as the number one thing all of us need in an outdoor learning space:
This Kodama Zome Hanging Lounge.
It's everything I dream about for a hammock/reading/learning/hanging space for outdoor classrooms.
Kodama Zome Hanging Lounge for Outdoor Classrooms [VIDEO]

(I. KNOW. RIGHT?)
Unfortunately . . .
. . . it comes with a hefty price tag ($5,400 gulp), so while you're saving those Benjamins to get one, check out the more affordable options that still work great for outdoor classrooms:
Sorbus Hammock Chair Macrame Swing

HearthSong SkyCurve Platform Swing
You'll also have fun with these outdoor classroom furniture additions:
You'll also want to shield them from the sun some of the time.
Try one of these pop-up canopy tents (that you can store away when not in use).
Don't worry about furniture, just spread a couple of blankets and outdoor pillows underneath and they'll rearrange how they want to use it for learning or hanging out.
Remember, you're creating FUN learning spaces to get your kids outside and in nature.
It doesn't need to be perfectly matched or make complete sense to you!
If you give kids outdoor classrooms, they'll pick (or make) they're own favorite learning spaces— whether it be to read, work on their laptop, or play!
---

Creating Outdoor Classrooms #2: Make Some Noise with an Outdoor Musical Wall
That's why adding a musical wall to your outdoor learning space is one of the best ideas ever.
Children who study music tend to have larger vocabularies and more advanced reading skills . . .
. . . so why not take it outside, too?
So build a music wall, just attach some musical instruments and noisemakers to a fence or piece of plywood.
If you don't want to create an entire music wall, just provide some musical instruments for outside.
Our favorites are musical instrument kits that can be packed away after use.
(But, really, go for the wall if you can.)
You can make a quick musical wall by grabbing an affordable trellis and using zip-ties to secure the musical instruments against it.
With the trellis, you can move it around the yard to different locations.
(And, BONUS, it's great for a balcony if you don't have a yard!)

Creating Outdoor Classrooms #3: Add a Barefoot Sensory Path.
Not only is this sensory path beautiful and functional, but it is also a great sensory learning tool to add to your outdoor learning space or garden.
It works like this:
You create a stepping stone or part of a path with different materials.
Maybe one stepping stone is smooth.
Another stepping stone is bumpy with small pebbles.
Another stepping stone or section has grass.
And so on . . .
You can get creative with the type of materials you use in the path, just mix it up for different sensory effects.
Play At Home Teacher has a really great example of a cool sensory path over on Pinterest.
You could also add a sensory play tent
 that you can move around your outdoor space!
SUPER FUN!
---

Creating Outdoor Classrooms #4: Include Nature Discovery Centers.
Discovery is one of the best parts of moving your learning outdoors!
And, an outdoor learning space wouldn't be complete without some nature discovery centers!
Have fun by including some nature discovery centers in your outdoor classrooms like:
Don't be grossed out, but things like a  "bug hotel" or a bat house because they are a great ways for kids to learn about the outdoors, insects, animals, and biodiversity.
If you don't want to buy a bug house or bee house, you can easily build them using cheap wood pallets
 of any size that will affordably help you make one large or small.
HOW TO MAKE A BUG HOTEL [VIDEO]
Did you know building a bat house to attract bats can help reduce mosquitos in your yard?
Click To Tweet
---

Creating Outdoor Classrooms #5: Plant a Garden.
A garden provides so many learning opportunities!
14 Benefits of Gardening with Kids:
Engages senses.
Allows them to

practice fine motor skills.

Teaches them responsibility.
Allows them to learn about nutrition and healthy eating.
Provides examples of the cycles of life.
Promotes calm moods.
Helps kids understand where food comes from.
Introduces science.
Incorporates family time and working together.
Creates a better connection with nature.
Helps them to understand the importance of plant life for humans, animals, and insects.
Bridges into learning about animals and insects.
Helps with executive skills like planning and prioritizing.
If you don't have a yard and can't plant a garden, don't worry!
You can easily plant a container garden on your balcony, patio, or deck and enjoy the same benefits.
HOW TO PLANT A SIMPLE CONTAINER GARDEN [VIDEO]
TIP: Research NATIVE PLANTS for your area and be sure to plant some of those to help the insect and wildlife found in your area!
---

Creating Outdoor Classrooms #6: Add a Water,  Sand, or Mud Table.
What would outdoor learning be without a little water or sand or mud?
(It's fun to get dirty, y'all!) 
My best childhood friend and I used to spend countless summer hours making mud pies when we were kids. Then, we would create a store or a restaurant and "sell" them.
Incorporating a mud pie kitchen and/or water and sand table
 into your outdoor space will encourage creative and imaginary play.
Did you know that mud helps boost a child's immune system?
Click To Tweet

You can buy a water table or sand table, or make your own!
HOW TO MAKE A SAND AND WATER TABLE FOR KIDS [VIDEO]
---

Creating Outdoor Classrooms #7: Create an Outdoor Obstacle Course!
(Us, too!)
Even if you don't, obstacle courses and climbing walls are all the rage right now!
And, even kids are getting into the action.
Adding some obstacle courses to your learning area is not only fun, but helps encourage exercise, practicing gross motor skills, and MORE (without them even knowing!).
You can create an awesome outdoor classroom obstacle course, but it doesn't really have to be hard. Add some big logs, rocks, ropes from tree limbs, etc. to make some fun obstacle course options.
If you can't do anything big, bulky, or permanent, try a pool noodle obstacle course!
HOW TO MAKE A POOL NOODLE OBSTACLE COURSE [VIDEO]
---

Creating Outdoor Classrooms #8: Offer Outdoor Art Centers.
Art centers are great outdoor classroom additions because they appeal to a variety of ages, stages, levels, and interests.
You don't have to confine art to the a canvas and easel indoors!
Incorporating one of these cute art centers or outdoor chalk boards to your outdoor learning area will give your budding artists plenty of inspiration from nature!
More Ideas for Outdoor Classroom Art Centers:
Get a indoor/outdoor Plexiglass Art Easel
Hang twine or laundry line with clothes pins to hang drying art
Paint a wall, part of a fence, or piece of wood with chalkboard paint and provide chalk
Make an easy

nature weaving loom

Provide large flat paving rocks, paint brushes, and buckets of water. They can paint the rocks and then when it dries they can start over again!
Hang an old white sheet or table cloth from the clothes line. Fill spray bottles with liquid watercolors and spray away to create some abstract art on the sheet!
---

Do you have a great outdoor learning space or outdoor classroom ideas?
---
READ THIS NEXT FOR MORE GREAT CLASSROOM & HOME IDEAS