QUICK QUESTION: Do you have a children's survival kit?
(You many have also heard them called emergency preparedness kit, 72-hour bags, or bug out bags instead of a kids survival kit.)
ANOTHER QUICK QUESTION: Do you know why it's important to assemble a children's survival kit ASAP?
We're going to cover both of those and more, so READ ON . . .
---
Whenever the weather shifts (especially during the times like hurricane or tornado or snow season), we find ourselves watching a lot of the The Weather Channel.
Affiliate links are used on this site. As an Amazon Associate I earn from qualifying purchases. Read more in our DISCLOSURE.
This also leads to discussions about weather and emergency preparedness during our homeschool studies.
(Weather books really help during this time!)
Not long ago, I revealed to my daughter that we have emergency bag kits for each of us just in case we have to evacuate our house during an emergency.
I also confessed that we haven't updated them in about four years (gross, I know), so we put that on our homeschool schedule to take care as part of our emergency preparedness lesson plans.
And then, right after that discussion, something really weird happened . . .
[READ THE STORY BELOW!]
---
Why Does Your Family Need 'Bug Out Bags' (or a Children's Survival Kit)?
---
About an hour after I talked to my daughter about getting our backpacks updated, I received an emergency text for our area.
It was letting me know that there had been an emergency evacuation for a toxic spill near our house and they were sending out notifications that the houses near there may need to be evacuated.
(We didn't have to, thank goodness.)
It was a reminder that emergencies can happen any time for many different reasons  — cut gas lines, chemical spills, weather issues, fires, and so much more (but I'm pretty sure not a zombie apocalypse!).
It was also the validation that I needed to get better prepared and get our emergency backpacks cleaned out and updated (and, keep on top of it!).
If you're not familiar with family emergency kits, let's start at the beginning . . .
---
DISCLOSURE: Affiliate links are used on this site and may be used in this post.
Please refer to our DISCLOSURE STATEMENT.
---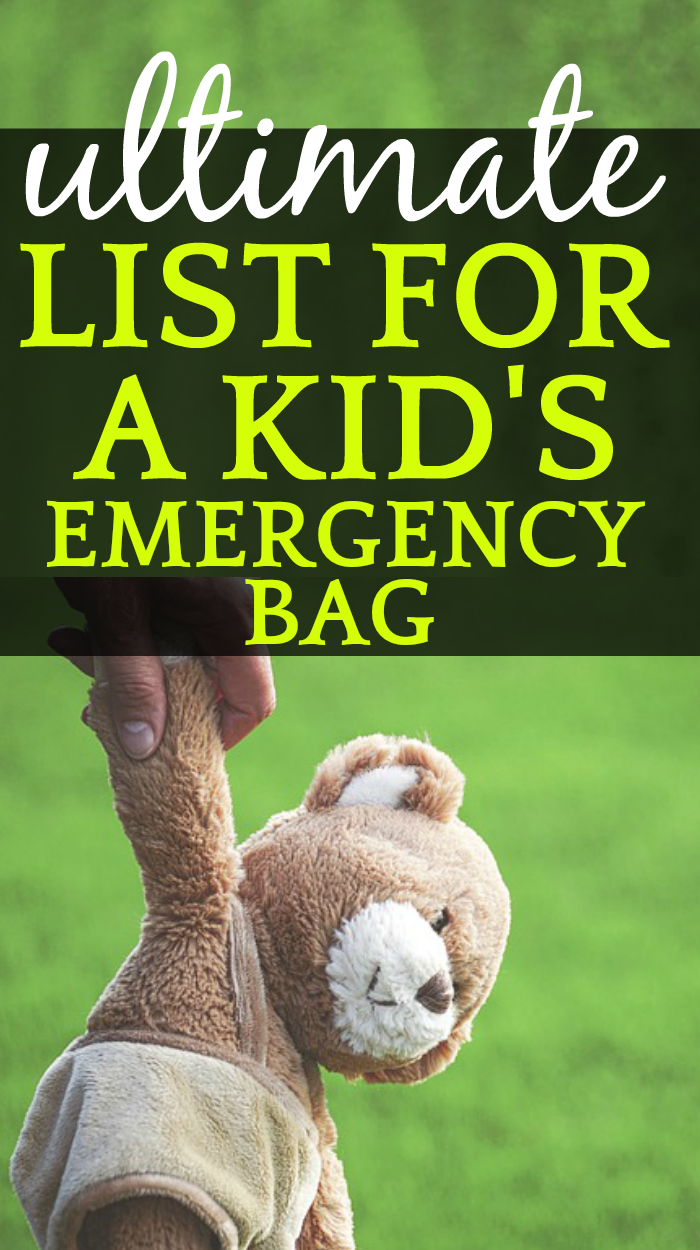 PIN TO SAVE FOR LATER
---
What Are 'Bug Out Bags' (or Children's Survival Kit)?
---
Emergency evacuation bags are sometimes called "bug out bags," thought to be named after the "'bail-out bag' emergency kit many military aviators carry."
Everyone in your entire family each needs to have their own emergency bag, preferably in backpack form
 in the event that you have to quickly leave your home and are unable to use your car and must walk to shelter.
Plus, even preschoolers can carry a backpack comfortably (provided that the bags are not too heavy) for their children's survival kit.
The Federal Emergency Management Agency (FEMA) recommends that you prepare your family for 72-hours of emergency.
Think time with no power, no access to food/grocery stores/emergency help, etc.
You can buy emergency bags already pre-packed (like this one), or you can pack your own emergency bag.
We prefer to pack our own and we'll talk about why and how you can pack your own family and children's survival kit in the next section.
---
Survival Kit List
---
WHAT WE DO FOR EMERGENCY SURVIVAL KITS
In our house, we prefer to pack our own emergency bag because we like to customize them with exactly what we need.
This way can be more costly, but you can buy the basics (food, water, socks, etc.) and then slowly add the more expensive items (weather radio, etc.) over time.
Another reason I like to pack our own bags is because I think kids especially need specific and familiar items during an emergency.
---
Kids will need comfort during any emergency and their own items provide that.
---
If your child has a special blanket or stuffed animal that comforts them, consider buying a duplicate and putting it in their emergency kit just in case you have to leave the house quickly and your child doesn't have a chance to grab the other one.
Also, put a surprise or two in your bag to present to the child when you get to the shelter, hotel, or the place where you land.
---
SURVIVAL BAG TIP:
Choose a different colored backpack for each child so that they can easily spot and grab their own bag in an emergency.
---
72-Hour Bags | GO BAG LIST
Some people prepare emergency bags for a situation where our lives as we know it change completely.
They think about if we no longer have access to food, power, emergency services, etc. ever again.
---
However, for this prepping post, we are going to talk about packing a bag for a 72-hour emergency (and assume you will have access to food, power, and help after that).
---
Don't be afraid to discuss emergencies with your kids and get them involved in packing their own bags.
Explaining everything as you pack it ("This is how you use a whistle in an emergency or if you are in danger. We're hanging it on the front of your bag.") will make your children more comfortable if they ever have to use their bag.
---
SURVIVAL BAG TIP:
Be sure to place everything, even clothing, in plastic, closable (like Ziploc) bags to protect them against rain and other elements. Also, store your emergency backpacks in a place where you can easily grab them and go.
---
PIN TO SAVE
---
GO BAG LIST
16 MUST-HAVE Items When Packing 72-Hour Emergency 'Grab-and-Go' Bags for Kids
(And Reasons Why You Need These Items)
---
In this section, we'll cover exactly what you need to put in your children's emergency bags (and even give you reasons why!)
We're focusing on children's survival kits, but most of these recommendations are good for adult preparedness kits, too.
Children's Survival Kit for Emergencies Item #1: Backpack (waterproof)
The first thing you will need is a waterproof backpack.
It will be tempting to scrimp on a backpack, especially if you have a larger family and it can start to get costly to buy one for every member of your family.
But do not buy cheaper backpacks.
Remember, you may have to walk/hike to your safety point and you don't want cheap backpacks to rip or break on the way!
Buy a good, hiking backpack for each of your children's appropriate size.
---
A backpack and a sleeping bag are the top two things for your children's survival kit.
Once you have those two things, you can start adding the other items, but let's focus on the sleeping bag in this section.
A sleeping bag may be another area where you want to save money, but I'll caution you against that, too.
In an emergency, you have no idea where you might end up — you may be sleeping on the floor in a huge stadium acting as a shelter or maybe even in your car or outdoors or a relative's floor in their house.
You want a good, all-season sleeping bag to help protect your family and keep them warm during emergency situations.
You'll also need a sleeping bag that rolls up tight and can be placed in a bag that can be attached to the bottom of the hiking backpack.
---
Children's Survival Kit for Emergencies #3: Non-Perishable Food
Food is important for the obvious reason (nourishment), but remember that food can be comforting during stressful times (especially for kids).
Here are some of the things we pack in our 72-hour bag.
Pick from the list and place them in a plastic zip bag to protect them from water.
You will need enough for around three days.
• Tuna packs
(We like the Starkist Tuna Creations
 because they have a variety of flavors so everyone can pick their own favorites. Also, they have a pretty long shelf life.)
• Beef jerky
• Dried fruit packages
• Single serve almond butter
We like Justin's Nut Butter Natural Classic Almond Butter Squeeze Packs
.
• Suckers/hard candies/Ring Pops 
Special treats will be important as comfort items during emergencies, but don't pack anything that can easily melt like chocolate.
• Granola/protein bars
• Raisins
Even if you don't drink this normally, these small packs are easy to carry, can be added to water, and are a treat.
• Gummy snacks/fruit roll ups
• Squeeze fruit
• Powdered Milk Single Serve Packets
These are easy to carry for the little ones and can be added to water.
• Hot chocolate packs and/or tea bags
You may not have access to hot water or being able to heat water, so only pack a couple of these.
---
EMERGENCY BAG TIP:
I know that cracker packs are a popular choice for emergency bags, but I try to avoid foods that can easy crush.
---
Children's Survival Kit for Emergencies #4: Water
Water is a hard one for your emergency bag because:
It's necessary above everything else, and
It's super heavy and bulky to carry in a backpack.
We like these emergency water pouches
 because you can pack a couple of these and they're
easy to carry in backpacks (especially for kids because bottled waters can get heavy or hard to pack).
These pouches also have long shelf lives, so you can store them for a while without having to replace them.
It is recommended that you have at least one gallon of water per person, per day for all uses — cooking, drinking, and hygiene.
(And don't forget about your furry family members!)
However, we are helping you pack a 72-hour bag with the thoughts that you will have help or access to more food/water after the 72 hours.
---
Children's Survival Kit for Emergencies #5: Copies of identification (your identification and the child's identification)
Including copies of your identification and your child's identification is important for your pack.
Remember, you might be away from your house for a while and you might not be able to get back to get paperwork and information.
Your backpack paperwork should include:
your name and address
your child's name and address
emergency contact phone numbers
child's vaccination and allergy records
photo identification
copies of your driver's license
copies of your passport
copies of your insurance cards
If you need an identification for your homeschooled child, check out Homeschool Buyers Co-op where you can print one for free.
Put a copy of all the paperwork in each backpack. That way if one backpack is lost or destroyed, you will still have the information in another pack.
---
EMERGENCY BAG TIP:
Be sure to place your paperwork in a plastic bag to protect them from moisture.
---
Emergency thermal blankets are a good addition to a survival bag because they are compact, add no additional weight, but provide extra warmth (even under your sleeping bag).
They can help protect you from rain, snow, and other moisture.
You can also spread the blankets on wet or cold floors or ground before you sit down!
---
Children's Survival Kit for Emergencies #7: One change of clothes
We buy sweat pants, sweat shirts, and t-shirts and keep them in the bag at all times (we don't wear them at other times).
For kids, consider buying a size larger clothing for the bag.
You can always roll up pants or sleeves, but too tight clothes won't work.
(Especially if you're like me and forget to update your bag regularly. Oops!)
Your clothes for a 72-hour bag should also include three changes of underwear and three changes of good socks (like wool hiking socks).
(Clearly these needs change if you have a baby or a little one who is potty training.)
---
EMERGENCY BAG TIP:
(This video will BLOW YOUR MIND!)
---
Children's Survival Kit for Emergencies #8: Cash
For each kid's bag, place $10 in ones and one dollar in quarters.
You never know what money you may need in an emergency and people may not be able to break larger bills.
Plus, if vending machines are available in a shelter, your kids could be able to buy something with dollars or quarters.
Children's Survival Kit for Emergencies #9: Flashlight
We like head lamp flashlights
 that you wear on your head and adjust for all head sizes.
We brought these to the beach with us one year (for our daughter to play outside) and we got hit by a storm and the electricity went out and these were great.
You can walk around and see in the dark, but your hands stay free.
(Don't forget extra batteries!)
Children's Survival Kit for Emergencies #10: Phones/Tablets/Chargers
Don't forget to take your phones and tablets, as well as the chargers.
In some instances, you may be evacuating to a shelter with power, so you'll want a way to communicate, play games, and charge your devices.
We have a couple of solar-powered chargers that we use frequently.
Don't forget the earbuds/headphones!
If you have devices, you'll want your earbuds (headphones). Plus, they can help drown out others if a shelter is really noisy.
Children's Survival Kit for Emergencies #11: Toothbrush kit and hygiene kit (travel shampoo, soap, and wash cloth)
Be prepared by packing your own hygiene items for each child.
Don't forget the wash cloth or hand towel, which can be used as a napkin, to wash with, or emergency compress, if needed.
Children's Survival Kit for Emergencies #12: Antibacterial wipes
Antibacterial wipes are helpful because not only can they work to keep you clean if there is a shortage of water or no place to shower/bathe, but they can also be used for toilet paper in a pinch.
You can even get the individual packs (like the ones you see in restaurants sometimes).
Children's Survival Kit for Emergencies #13: Emergency whistle
Emergency whistles are good in case your child gets lost or is in danger.
Give them the whistle, discuss how/when to use it, and let them practice.
They'll have a blast!
Be sure to tie it to the outside of the backpack so that it can be easily accessed.
Children's Survival Kit for Emergencies #14: Children's Acetaminophen and Ibuprofen
Remember, during an emergency you may not have access to stores and medication.
Packing Acetaminophen and Ibuprofen is helpful because they can be taken together during extreme fevers.
Also, be sure to pack any regular medication your kids take (or put them in a place near the bags that can be easily grabbed on the way out during an emergency).
Children's Survival Kit for Emergencies #15: Other Quiet Toys
Be sure to pack something that keep the kids occupied (and distracted!) at a shelter or in a strange place or if the lights go out for an extended period of time.
We like those those on the go coloring/activity/sticker packs
 because it has crayons, coloring pages, and stickers in a self-contained pack for easy carrying in a backpack.
Other quiet toys that are easy to pack include:
deck of cards
pair of dice (for made up games)
small packs of Lego blocks
small puzzle packs
coloring sheets/paper/crayons
You might have to occupy your kids for a few days without power (in a strange place).
So in each bag, include a small/thin book, paper, crayons/pencils, and a quiet toy.
Children's Survival Kit for Emergencies #16: Favorite blanket or stuffed animal
Comfort items are a must to help keep kids calm.
Be sure that you have duplicates of a favorite blanket, stuffed animal or whatever, that you can put in the backpack.
Also, you might one to include one new (unseen) surprise item in the children's survival kit. It might be another good distraction during trying times.
---
THOSE ARE THE MOST IMPORTANT (MUST HAVE) ITEMS TO PACK FOR YOUR CHILDREN'S SURVIVAL KIT.
IN THE NEXT SECTION, WE'LL HAVE MORE RECOMMENDATIONS THAT WILL COVER YOUR FAMILY FOR A LONGER, EXTENDED EMERGENCY.
---
ADDITIONAL EMERGENCY SURVIVAL KIT LIST ITEMS
Light (throw away) rain ponchos are great because there's a lot of room for kids to grow into them.
Also, they are lightweight and easy to carry, so they won't add extra weight to a backpack.
• Hat and gloves
No matter where you live, you'll still want to include hats/caps and gloves that will protect your kids against any kind of moisture, sun, and elements, and help keep them warm (even when they sleep).
• Sunglasses
It may seem weird to include sunglasses in a child's emergency bag, but you may be walking in the sun or outside for extended periods of time.
Sunglasses will help protect your child's eyes and make walking outside more bearable.
---
EMERGENCY BAG TIP
Review your bag every six months (not the four year rotation that I'm on) and replace food that has expired and update clothing sizes or styles for the season.
---
• Matches
OK, this may seem like a weird child's emergency bag, but it's an important item.
Even if your child is not old enough to use matches, I think it is still important to pack some in their bag.
What if the matches from your bag get destroyed?
If you're worried about them, tuck them away somewhere that your kid probably wont find them in the bag.
---
EMERGENCY BAG TIP:
BE SURE TO PLACE YOUR MATCHES IN A WATERPROOF MATCH CASE OR IN A PLASTIC BAG.
---
I put optional on this for a kid's bag, but it is a must-have for at least one of the bags in your family.
I recommend the ones that are a weather radio and a regular AM/FM radio so you can hear news, too.
(Remember, you need a back-up for your mobile phone. Cellular towers may not alway work or may be jammed during emergency situations and you need another way to get emergency information!)
Also, look for the emergency radios that you can crank to charge or can be solar charged.
Be sure that it has a charging port for your phones or devices (in some cases, you may have to get a convertor, so test it out with your devices before an emergency).
Our emergency crank weather radio also has a flashlight on the front!
• Walkie talkies (optional)
Again, I put optional for a child's survival kit, but it's important for the adult bags to have walkie talkies and extra batteries.
Walkie talkies can be helpful and fun during an emergency.
If cell towers are down and your family has to split up (think: using different bathrooms in a shelter), it would be helpful to be able to keep in touch with them.
• Mess kit
Again, you have no idea what will be accessible to your family during an emergency, so it's helpful to carry your own plate/utensils.
I like this one
 because you can even use the little cup to drink out of and it all stores away neatly.
• Hand warmers
No matter where you live (warm or cold climate), if there's no electricity and you're wet, you're going to be cold.
So grab some of those hand warmers
 and foot or toe warmers
 warmers for each of your bags.
• Sunscreen and bug spray
Bug spray isn't just for outdoors.
If you are sheltered in a large building with many others for an extended period of time, ants and other bugs may start to come in because of the food and waste.
Protect yourself by packing some bug spray. Those individual bug spray wipes are a perfect solution!
• Glow Sticks
Glow sticks aren't just for parties!
I know this seems like a weird item, but if you lose power glow sticks light up an area fairly well and are much safer than candles.
Also, if you have to walk somewhere in the dark, hanging glow sticks on each of your backpacks will help you keep track of each other.
Another way you can use glow sticks is to put them along the floor and create a visible walk way during a power outage.
Be sure to include a small travel first aid kit in one of the backpacks.
I also like to add some fun, character bandaids to the children's packs.
It might make the kids smile in stressful situations!
---
• CONCLUSION •
CHILDREN'S SURVIVAL KIT
After you fill the backpacks, put them on the kids to make sure that they aren't too heavy for each child.
Let your kids have some time to practice walking around with them on.
If the bags are too heavy, you'll have to rearrange and decide what can be left out and what is a must-have.
Now, let's recap:
Get a waterproof backpack
Be sure the sleeping bag can fit in a bag that can be tied to the bottom of the child's backpack
Don't forget to include photo IDs and other important paperwork
Don't include crackers or other food that can be crushed easily
Put some cash in each bag
Learn how to roll your clothes so that they take up less room in the bag!
Include headlamp flashlights to keep your hands free
Emergency whistles help keep your kids safer
Solar powered chargers can be life savers
Be sure to include quiet games and comfort items
---

Do you have emergency bags for your family?
What tips do you have that we missed?
Leave them in the comments so we can add them to our list?