I remember celebrating Arbor Day when I was in school.
Every year, we would plant a tree outside of the school and then spend time reading and learning about trees and planting and the environment.
I was always excited for that day!
(Not only did it mean a break in the middle of the day to go outside, but we got to do some cool crafts and activities, too!)
The holiday is a great learning opportunity and Arbor Day activities are so much fun, but it seems like one of those national days that gets overlooked.
Affiliate links are used on this site. As an Amazon Associate I earn from qualifying purchases. Read more in our DISCLOSURE.
So, remember to make it a point to put it on your annual calendar so you can include it in your learning!
OK.
Before we get into all the fun activities and crafts, let's learn more about the holiday.
Shall we?
(I'll admit, I don't ever remember learning about how Arbor Day started and why! Really interesting history!)
What Is Arbor Day and Why Is It important?
What Is Arbor Day?
Arbor Day is an annual holiday to encourage the planting of trees and create awareness about the importance of trees. Arbor Day was first observed in 1872 after J. Sterling Morton founded the day in Nebraska to encourage others to set aside a specific day to plant trees and help the environment.
Check out this cool interactive book about the history of Arbor Day!
---
DON'T MISS OUR FREE PRINTABLE TREE SCAVENGER HUNT AT THE BOTTOM OF THE POST!
[KEEP SCROLLING!]
---
When Is Arbor Day?
Arbor Day was originally designated on founder J. Sterling Morton's birthday on April 22 and then later moved to the last Friday in April. However, today, many states celebrate it at different times based on the climate for their area. ArborDay.org has a cool clickable map where you can see when Arbor Day is celebrated for your state. Arbor Day is also celebrated all over the world!
---
TRY THIS NEXT:
---
Are Earth Day and Arbor Day the Same Thing?
Earth Day and Arbor Day are both annual events initially celebrated on April 22. However, the Arbor Day date now varies based on location, but is generally on the last Friday of April for many states. Earth Day is a global movement that focuses on protecting and preserving the earth. Arbor Day focuses mainly on planting trees and their impact on the environment. Although the holidays have different history and origins, they both focus on the environment.
---
DISCLOSURE: Affiliate links are used on this site and may be used in this post.
---

TAP & PIN TO SAVE FOR LATER
---
17 Fun (and Meaningful!) Arbor Day Activities for Kids
Having fun with Arbor Day is all about getting out and about—learning about trees, planting trees, and being around trees!
We recommend printing out the resources, grabbing some of the Arbor Day books and resources mentioned here, and heading to the backyard or out to the park.
Don't forget to print our your Tree Scavenger Hunt (free printable below) before you go!
Here are some fun ways to celebrate the holiday, while also learning and helping the environment:
Download a

comprehensive Arbor Day fact sheet

to use with your studies.
Learn about

the benefits of trees with these interactive slides

.
Watch a the following video to learn more about trees:

Take a Jr. Arborist quiz

to see if you get all the badges!
Become a "mayor" of your own area and

sign an "official" proclamation

about Arbor Day and tree preservation.
Learn how to identify trees using fun resources.
Our favorite is this

Fandex Family Field Guides for Trees

. It's easy to throw in a backpack and the cards are bound together so you just "fan" them out and look up the info.
Learn about

how Native Americans used trees for survival

.
Do a

photosynthesis science project

. [VIDEO]
Go on a tree scavenger hunt. (Get your free printable scavenger hunt after this section.)
Clean up around trees in a public park.

Do tree and bark rubbings

, but don't injure or destroy the tree or bark!

Make leaf crafts

, but be sure to only use the ones that have fallen from the tree already!
DON'T FORGET ABOUT YOUR FREE PRINTABLE BELOW!
---

Do you do anything special for Arbor Day?
I'd love to hear your ideas in the comments below (scroll down)!
---
FREE PRINTABLE FOR KIDS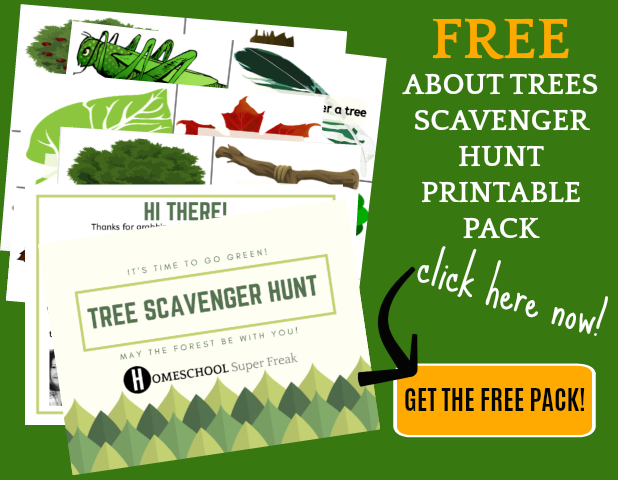 As an Amazon Associate I earn from qualifying purchases. Please refer to our
DISCLOSURE