If you're looking for ways to learn all about earth with earth facts and incorporate more mindful activities, adding some Earth Day activities for kids (and even preschoolers!) is a great way to do that!
But, before we get to the fun Earth Day activities projects for students, let's start with:
What Is Earth Day?
Earth Day started in 1970 and is celebrated on April 22 each year to educate people on the actions we need to take to protect the earth and how to support the environment. People all over the world use April 22 as a way to show support for environmental protection. Each year there is a different theme for Earth day. For example, the theme of Earth Day in 2018 was "End Plastic Pollution." There are events and activities organized by different groups to support the day.
Affiliate links are used on this site. As an Amazon Associate I earn from qualifying purchases. Read more in our DISCLOSURE.
What Is World Earth Day? [VIDEO]
Earth Day reminds people to treat the earth and environment in a respectful way.
Watch this cute kids' science video.
It's about this special day and helping the earth and environment:
What do we do on Earth Day?
Here are 10 awesome ideas for Earth Day to celebrate and support the environment:
Learn about environmental issues for your area and discuss how you can get involved to help improve them. (

Go here to check!

)
Go to an Earth Day fair to learn more.
Place a bee house in a garden of native plants to support plants for your area.
Walk or bike for the day instead of driving to reduce emissions.
Do a community service environmental project. (Need ideas?

Go here

!)
Make sure you recycle!
Plant a tree to help with oxygen in the air. Make sure that it is a native tree to your area or it could pose a threat to your local environment.
Plant a butterfly garden of milkweed, pansies, and goldenrod.
Install a bird feeder in your yard or on your balcony. Be sure to also include a bird bath or a small saucer of water!
Take a walk and clean up litter in your area!
We have more amazing ideas later in the post!
---
DON'T MISS YOUR FREE EARTH DAY PRINTABLE AT THE END OF THIS POST!
[KEEP SCROLLING!]
---
16 Earth Day Activities for Kids: Lesson Plans, Crafts & More
If you're looking for Earth Day activities for kids and lesson plans, as well as fun and creative ways to celebrate the environment, check these out!
There are 16+ (we keep adding more!) different ideas through these different categories!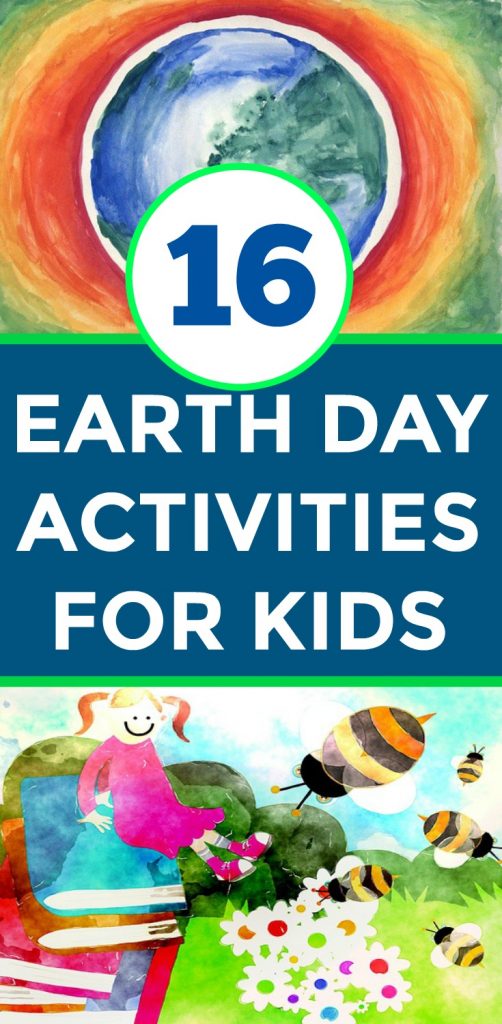 PIN TO SAVE FOR LATER
---
Earth Day Activities for Kids Idea #1: Get Earth Day Lesson Plans
EarthDay.org has free lessons plans organized for grade levels K through 12 and teaches kids about the climate.
Also check out these lessons:
Celebrate Earth Day (grades 5-8)
Endangered Ecosystems (K-12)
Green Curricula and Environmental Learning Activities
Conserving Water through Art! (K-4)
Healthy Earth, Sick Earth (K-5)
Comparing Light Bulbs (K-8)
Build a Pizza Box Solar Oven (K-12)
---
Earth Day Activities for Kids Idea #2: Read The Story of Climate Change Interactive Book
Download The Story of Climate Change, a free interactive textbook for grades 5 through 8, from iTunes.
The Earth Day Network describes the book as:
"The Story of Climate Change is the first interactive iTextbook for middle school students. It is a new, active way of learning through multimedia to connect students beyond pages and vocabulary words into the practical applications of climate science. Each of the iTextbook's six chapters includes informative videos, fun interactive resources, critical thinking activities, as well as review and discussion questions to reinforce unit concepts. Keep students in tune with the latest climate science and research."
---
Earth Day Activities for Kids Idea #3: Decorate Bags for Stores
The Earth Day Groceries Project is a great way to get the local stores involved (especially if you have a homeschool group or a troop or co-op).
First, you get a store to provide brown bags to you.
Then, the kids decorate them with Earth Day pictures and messages and return them to the store to be used to bag customers' groceries on Earth Day.
(Cool, right?)
---
Earth Day Activities for Kids Idea #4: Make Biodegradable Plant Pots [VIDEO]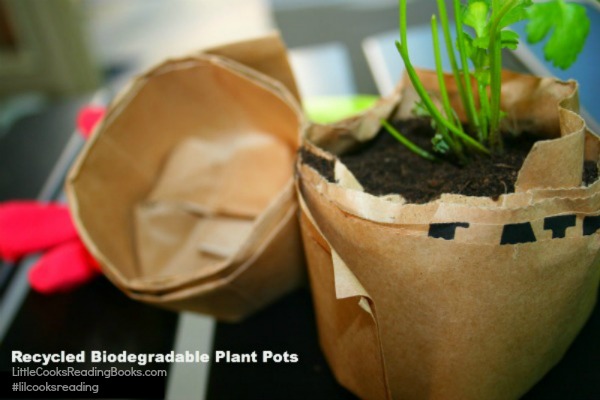 Planting seeds is a fun and educational way to talk about Earth Day!
We made these biodegradable planting pots when my daughter was around 4 year old and had a lot of fun with them.
You can see the video we made about them (just for laughs if for nothing else!):

These cute biodegradable pots are a perfect project for the day because you are using recycled materials to make the pot and then they can be planted right into the ground when your plants are ready!
---
Earth Day Activities for Kids Idea #5. Bake Earth Day Cookies and Cupcakes
Baking projects are always fun, right?
These super cute cupcakes from Bird on a Cake are perfect for Earth Day!
Check out the full details on how to make them HERE.
If you can, shop from local markets who are environmentally conscious for the supplies!
I also LOVE these Earth Day cookies (and they seem SUPER simple!).
---
Earth Day Activities for Kids Idea #6: Discuss the How Long Until It's Gone? Chart
This How Long Until It's Gone? chart covers estimated decomposition rates of things thrown into our waterways.
It's a crazy eye-opener as well as a conversation starter covering how long it takes for every day items to decompose like:
• A cigarette butt takes 1-5 years to decompose!
• Disposable diapers take 450 years to decompose!
A couple of years ago, we went to a turtle rescue center in Florida and they had decompensation rates of different items all along the walkway to see the turtles and my daughter STILL talks about it.
It's pretty powerful (and shocking)!
---
Earth Day Activities for Kids Idea #7: Host an Earth Day Scavenger Hunt
Get the kids outside and moving with this fun scavenger hunt!
I love this scavenger hunt because not only does it get the kids outside and exploring nature, but it also provides opportunities for discussion.
(If the weather is uncooperative, try out this online scavenger hunt.)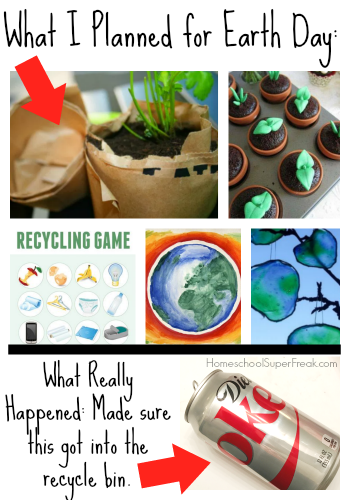 PIN TO SHARE A LAUGH
---
Earth Day Activities for Kids Idea #8: Play a Recycling Game
A fun way to help the environment is to play a recycling game.
This recycling game gets the kids outside and also helps them understand the importance of recycling.
(If you want to help prep the kids before they head out, have them play this online recycling game.)
Another "game" you can play is to pick up trash in your local park.
(Be sure that everyone wears work gloves!)
Take different bags for different items–trash, plastic recyclables, glass, etc.
You'll be getting exercise, learning about recycling, and helping the environment: perfect Earth Day activities for kids!
---
Earth Day Activities for Kids Idea #9: Make a Stained Glass Earth
If you're ready to get crafty, try out this recycled tissue paper stained glass earth:
---
FREE EARTH DAY PRINTABLE
Get a free Earth Day printable for kids. Click Here or on the image below to get the printable!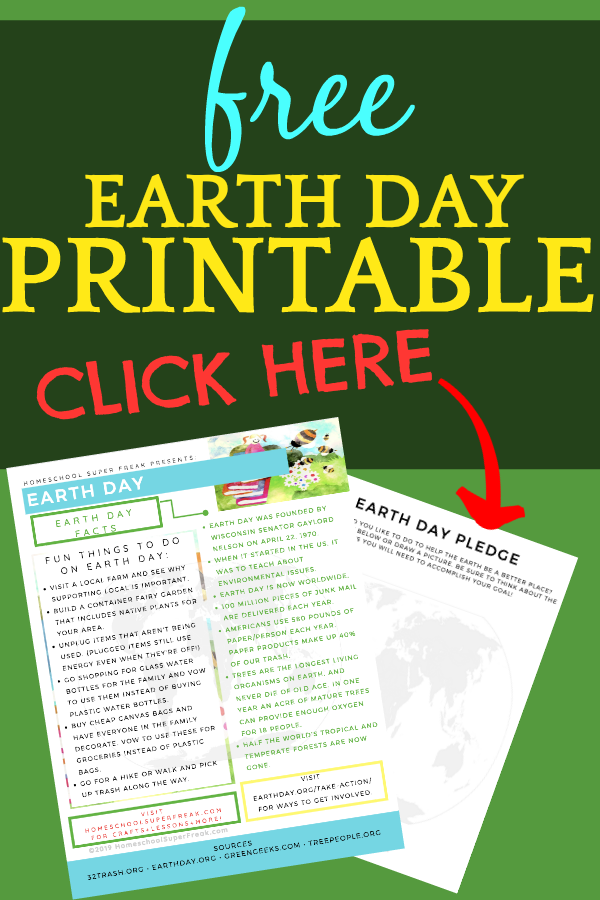 ---

WHAT FUN EARTH DAY ACTIVITIES FOR KIDS IDEAS DO YOU HAVE?
LEAVE THEM IN THE COMMENTS SO I CAN ADD THEM TO THE LIST!
---
HOMESCHOOL BLOG POSTS : TRY THESE NEXT
As an Amazon Associate I earn from qualifying purchases. Please refer to our
DISCLOSURE