Need bee day activities for World Bee Day or bee theme ideas? Whether you're looking for spring bee activities for elementary or middle school and up, toddler or preschool honey bee games and activities, bee-themed lessons, or looking for summer camp ideas for bee art or craft ideas, you'll find something on this huge list of fun ideas with bees!
Best Bee Day Activities And Ideas For Kids
We have a huge list of activities about bees — from toddler bee themes to free preschool bee activities all the way through elementary bee lessons and high school bee activity ideas for all ages of busy bees!
How To Celebrate Bee Day With Fun Kids Activities
How do you celebrate World Bee Day?
Plant a bee garden: Teach kids about the importance of bee-friendly flowers and plants and plant a bee garden together.
Do the waggle dance of honey bee!
Learn about the importance of bees and do some save the bees activities.
Build a bee house: Create a bee hotel or house using simple materials such as bamboo, sticks, and cardboard. This provides shelter for bees to lay their eggs and rest.
Play the pollination game: Fly from one flower to the next, with kids carrying "pollen" on their hands to illustrate how pollination works. (See link below.)
Make a bee bath near a bee flower garden.
Go on a bee hunt: Go on a nature walk and count the number of bees you can find. Take pictures and work on identify the bee types together.
Make bee masks: Cut out bee shapes from paper plates and decorate them with paint, markers, or other materials. Add a piece of elastic to wear them as masks.
Read Bee books: Read bee-related books to learn more about their behavior and importance in our ecosystem.
Watch a bee movie: Watch a family-friendly movie about bees, such as "Bee Movie" or "Maya the Bee."
Play Bee trivia: Create a bee trivia game with questions about bee behavior, anatomy, and importance in the ecosystem. Great for middle school bee lesson plans or high school bee themed ideas.
Make Bee-theme snacks: Make bee-shaped snacks, such as sandwiches cut into bee shapes or honeycomb cereal.
Do a bee anatomy lesson: Teach kids about the different parts of a bee's body and how they function.
Have a honey tasting: Taste different types of honey from around the world.
Sing Bee-themed songs: Sing bee-themed songs together, such as "The Bee Song" or "The Beehive and the Anthill."
Make other bee-friendly crafts: Create bee-friendly crafts such as seed bombs with bee-friendly flower seeds, or making beeswax candles.
Search online for Bee Day events near me, World Bee Day 2023 activities, or bee activities in my town and attend one!
Keep scrolling for the full list of kid-friendly activities for bee days and hands-on activities about bees, including where you can download free bee activity sheets for summer themes and spring lessons!
Affiliate links are used on this site. As an Amazon Associate I earn from qualifying purchases. Read more in our DISCLOSURE.
Is there a day to celebrate bees?
There are actually several designated bee days! World Bee Day, or Bumblebee Day, is May 20th and What is World Honey Bee Day / National Honey Bee Day is the third Saturday in August each year. Both are days to educate about pollinators and their importance in the world, our ecosystems, and our food security.
2023 Bee Days
World Bee Day is Saturday, May 20, 2023.
National Honey Bee Day is Saturday, August 19, 2023.
National Pollinator Week is June 19th-25th, 2023.
What is the theme of the year for World Bee Day?
Each year, there is a theme of World Bee Day. In 2023, the theme is "Bee engaged in pollinator-friendly agricultural production." It's fun to know the theme when you're creating activities on bees for kids!
What can toddlers do on bee day?
Bumble bee activities for toddlers:
Play with bee felts
Do a bee movement activity and mimic how bees fly
Do buzzing bee finger painting activity
Play with a bee themed sensory bin for little hands
Have an outdoor bee-themed scavenger hunt
Make bees and honeycomb with play dough and

these

Have fun with Bumblebee bowling
Do a bee puzzle
Color some bee-themed coloring pages
Do a buzzing bee fine motor activity with bee colored pompoms and scoops
Play a Bumblebee balloon game
Have bee book story time and read the

Busy Bee finger puppet book
But what about bee activity for preschool ideas?
Bee Activities For Preschoolers / Bee Activities For Kindergarten
Fun bumble bee preschool activities and beehive activities for preschoolers:
Make a dandelion bee

for fun bee crafts (one of my favorite bees for preschool projects!)
Do the Bee dance! Teach kids about the famous "waggle dance" that bees use to communicate the location of flowers. Have them create their own bee dance.
Play with a beehive sensory bin for a bees activity
Make a bumblebee craft with paper plates and make a DIY honeybee preschool craft
Play with buzzing bee finger puppets
Create a bee-themed counting activity
Do honeycomb painting with bubble wrap
Play a beehive and bee shape matching game
Make preschool handprint bee art project
Have a bee costume party or dress like a bee play trunk of clothes
Do a bee-themed letter recognition activity (B is Bee)
Play this honey bees preschool

sorting game

Make honey slime for sensory play
Play games about bees (see below for the bees game instructions)
Create a Beehive and bee color matching game

Grab these cute bees

for beehive crafts for preschoolers
Play with Honeycomb-shaped building blocks
Do a Bee-themed fine motor activity with tweezers and pom-poms to practice motor skills
Read

Honey Bees Busy Day

and other books about bees for preschoolers
Watch the

Bee Movie

and make some bee theme snacks for a bee project for preschoolers / bees activities for kindergarten
If you have fun bees activity for preschoolers / bee activities kindergarten, let us know and we'll add them to our bee fun! Keep scrolling for honey bee activities for preschoolers ideas and things to do with bees for older kids!
Bee Pollination Activity Pack: Looking for Pollination for Kids Printables +Worksheets?
CLICK HERE to check out our POPULAR BEE POLLINATOR PACK!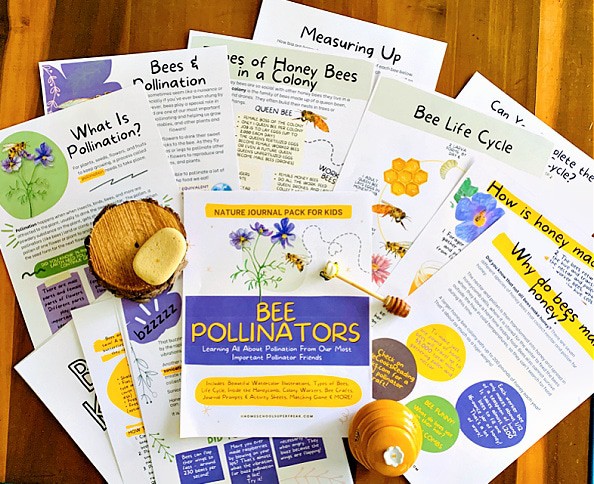 You'll get:
• 18 pages of pollination learning and activities talking about is pollination necessary in fun and engaging ways
• Beautiful watercolor illustrations AND real images
• Pollination meaning & facts
• Why pollination is important / are pollinators important
• Pollination process (and where pollination occurs / how pollinators work)
• Types of Bees + Colony Workers (can plants pollinate without bees)
• Life Cycle
• Inside the Honeycomb
• Bee Crafts (how much pollination are bees responsible for)
• Journal Prompts & Activity Sheets
• Matching Game
• & MORE – fun bee activities for preschool and up!
Want to use this printable pack with a classroom or group? CLICK HERE INSTEAD.
What can kids do to help bees?
Plant a bee-friendly garden: Children can help bees by planting flowers that are rich in nectar and pollen. Some great options include lavender, sunflowers, and wildflowers. (Great for bee projects for preschoolers through high school! All ages love this for honeybee activities!)
Make a bee bath: Fill a shallow dish with water and add a few stones for bees to rest on while they drink. Bees need water just like humans do, and this will help them stay hydrated. (One of my favorite honey bee crafts ideas for kids!)
Learn about using pesticides: Pesticides can be harmful to bees and other beneficial insects. Help kids understanding the benefits of using natural methods to control pests in the garden.
Build a bee house: Children can create a simple bee house using materials such as bamboo or hollow reeds. Place it in a sunny spot in the garden to provide a safe place for bees to nest. (Fun for bee activities preschool and up!)
Learn about bees: Educate your child about the importance of bees and their role in pollination. Read books or watch documentaries together to learn more about the importance of bees in food production and beyond.
Support local honey producers: Buying honey from local producers can help support bee populations in your area. Plus, it's fun to visit local beekeepers and learn hands-on about bees!
Talk about reducing your carbon footprint: Bees are impacted by climate change and what we use in the world. Learn about ways to reduce carbon footprint by walking or biking instead of driving, and by conserving energy at home.
Spread the word: Host a bee event with your local homeschool group, youth group, or at the library! Talk to friends and family about the importance of bees and how they can help. Word of mouth can be a powerful tool in spreading awareness!
These are all great ideas for how to celebrate World Bee Day, too!
What Is The Bee Game For Children?
The bee game for children is a fun and interactive game that helps children learn about the life cycle of bees and the importance of pollination.
The game is typically played in a group and can be adapted for different age groups and understanding of the bee cycle. It's fun to go along with busy bees crafts, too! Definitely add this to your bee themed games!
How To Play The Bee Game With Kids
Choose one player to be the queen bee and another player to be the beekeeper. The rest of the players will be worker bees.
The worker bees start at one end of the playing area and the queen bee and beekeeper start at the other end.
Each worker bee should visit a "flower" and get a small object to carry, like as a pom-pom or a beanbag. These objects represent pollen.
The goal of the game is for the worker bees to carry their "pollen" to the queen bee and then return to their starting point before they get tagged by the beekeeper. The beekeeper can tag the worker bees to slow them down. If they get tagged, they have to go back to the pollen flower and get a new pollen.
Once a worker bee reaches the queen bee, they can drop off their pollen and receive a small prize, such as a sticker or a piece of candy.
The game continues until all of the worker bees have successfully delivered their pollen to the queen bee.
Through playing this game, children can learn about the importance of bees in pollination, the roles of different types of bees in a colony, and the life cycle of bees. Additionally, the game can help develop gross motor skills, teamwork, and social skills.
Keep scrolling for more ideas on how do we celebrate World Bee Day and have fun with bee themed lessons and bee kids activities (even bees kindergarten ideas!).
How Do You Teach Kids About Bees?
Resources and activities for bee lessons, bee days, and fun with bees! Great for learning about bees for preschoolers and up!
Activities for Exploring Bees for Kids:
Get a

printable pack on bee life cycle

and more honeybee activity information
Make beeswax candles or

DIY beeswax ornaments

for bee themed crafts

Play the pollinator game

– this is great for pollinator activities for youth of all ages, even pollination activity for kindergarten, preschool, or toddlers activities!
Bee coloring sheets: Print out bee coloring sheets and have kids color and decorate them.
Bake a beehive cake in the shape of a bee hive and decorate it with fondant bees and flowers

with this fun kit

.
Learn about the different type of bees and not just honey bee activity! (see below)
Make recipes with honey (or look up things to do with honey) for busy bees honey projects
Watch a video on the

waggle bee dance

to better understand bees activities (and then do your own fun bee dance activity!)
Create some Bee Kind chalk art / bee art
Make a bubble wrap beehive (bubble wrap beehive craft where you paint bubble wrap to look like a bee hive)
Have fun with a Beehive piñata or bee pinata! Fill it with bee-themed treats, such as honey sticks, flower shaped candy,

bee bracelets like these

, and gummy bees.

Download

a free bee activity book.
Learn all about beekeeping from

PennState University

Get free bee printables

on working with bees (bees worksheets kindergarten and up)

Download a free printable teacher's guide

on the Honey Bee's Life

Take virtual field trips as Climate Action Heroes

, which includes being a Pollinator Patrol

Get a free lesson

on bees that live underground

Download a free pollinator toolkit

for pollinator week
Visit a honey bee garden farm near you to learn about honey bees activities
Children's Books About Bees
Add in some bee literacy activities with these fun kids books on bees!
Kids Bee Books:
Types Of Bees For Kids To Learn
Did you know that there are over 20,000 species of bees in the world! It's impossible to list them all here, but here are some of the most common types of bees to learn about with kids. All bees can pollinate, but some contribute more to the pollination process.
If you're looking for bee lessons for older kids, like bee activities for middle school to high school, try learning about kinds of bees!
Common Bee Types
Honey Bees – the most well-known type of bee, known for producing honey and playing a crucial role in pollination.
Bumble Bees – larger than honey bees, with a fuzzy body and black and yellow stripes. They are also important pollinators.
Carpenter Bees – large, solitary bees with shiny black or blue bodies that often nest in wood. These types of bees but can sometimes cause damage to wooden structures.
Sweat Bees – small, colorful bees that are attracted to human sweat. They are generally not aggressive, but will sting you.
Mason Bees – solitary bees that nest in holes or crevices. They are called mason bees because they use mud (or products like mud) to make their nests.
Mining Bees – solitary bees that nest in the ground and are generally not aggressive.
Leafcutter Bees – solitary bees that cut circular pieces of leaves to line their nests.
MORE FUN SUMMER ACTIVITIES: FREE Summer Coloring Pages For Kids and Free Summer Printables Pack
Have fun with these bee day activities!
As an Amazon Associate I earn from qualifying purchases. Please refer to our
DISCLOSURE
STARTING HOME SCHOOL? CHECK OUT OUR HOW TO HOMESCHOOL GUIDE