Have you heard of the new movie about dolls or caught the UglyDolls movie yet (or the trailer)?
Those ugly dolls are so cute that they inspired our own DIY UglyDolls plush!
And, YOU GUYS, it's such an easy craft project that even your littles can do it!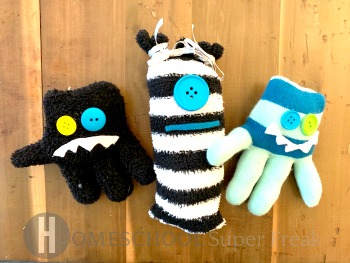 But, before we get to this easy no sew craft,  here's a little more about the movie . . .
UglyDolls Movie
In case you haven't heard of it, UglyDolls is an animated movie about—wait for it—UGLY DOLLS.
The dolls live in Uglyville, where being strange, weird, and different is celebrated.
(How awesome, right?!)
From the movie synopsis:
After traveling to the other side of a mountain, Moxy and her UglyDoll friends discover Perfection — a town where more conventional dolls receive training before entering the real world to find the love of a child. Soon, the UglyDolls learn what it means to be different — ultimately realizing that they don't have to be perfect to be amazing.
UglyDolls Trailer
Now, let's get to the super cute ugly doll project! (Cute ugly dolls, y'all!)
DISCLOSURE: Affiliate links are used on this site and may be used in this post. 
HOW TO MAKE YOUR OWN UGLY DOLLS
Of all the craft ideas, this is one of my absolute favorites that we've done because not only are the monsters soooo cute, but it's easy enough for all ages and stages.
(And, even if you can't sew you can still make these!)
You can make your ugly dolls look just like the ones in the move, but we decided to create own very own versions of UglyDolls.
We used old toe socks and gloves that we had around the house, but you can easily make a visit to the thrift store and find both of these for cheap (or pick up a pack of them).
---
CRAFT TIP: Get the longer toe socks (and not the ankle ones). The top (long) part of the sock will be the doll's body. (So ankle socks won't work that well.)
---
Although I love how our black ugly doll turned out (he's my fav), I really loved using socks and gloves with designs. I think those gave personality to each one!
(Wait. Is that weird?!)
(Anyway . . .)
So, don't be afraid to use socks or gloves with crazy designs, too!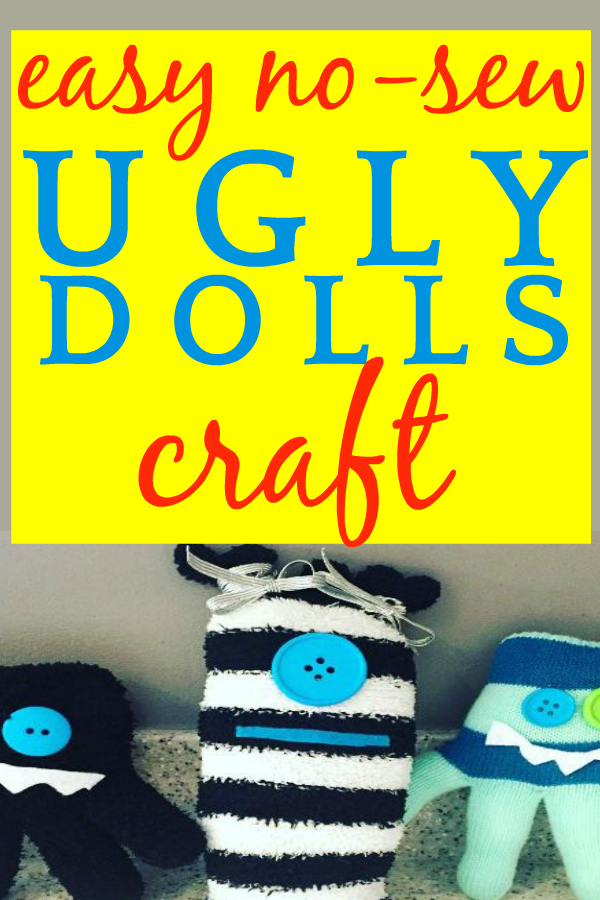 PIN TO SAVE
---
No-Sew Ugly Dolls
You'll Need:
Fuzzy gloves or fuzzy toe socks (colors of choice or to match the dolls in the movie)–we used both
Brightly colored buttons of different sizes and colors
Felt (colors of choice)
Ribbons, twine, or other items to decorate your dolls
Hot glue or 

fabric fusion adhesive
To Make Your Ugly Doll:
Stuff the sock/glove. Open the glove or toe sock and stuff with the craft filling. Be sure to push the filling all the way into each finger or toe area so that it's full. Continue filling the glove or sock. You want each glove or sock to be completely full of filling–basically as much as you can fit in them. (The filling will break down as they are played with.)
"Sew" the opening. Fold the opening of the glove or sock inward and glue the opening shut. (You fold it inward first so that you don't have a huge "edge" sticking up for the head or bottom—if you're using socks).
Add eyes. First, before you glue the eyes you need to flip your gloves or socks the right way. For gloves, the fingers will be pointing down (because they are the doll's arms and legs). For the toe socks, I recommend pointing the toes up because they make really fun ears or pigtails. (However, your toe sock ugly doll can have the toes at the bottom for feet and the straight part at the top. It's up to you!) Now, choose which buttons to add for eyes. If you are using two eyes, I suggest choosing buttons of different sizes. It really gives them a fun "ugly doll" look. Now, glue the eyes into place—wherever you want them on your doll! Just remember to leave room for a mouth if you want your doll to have one.
Make the mouth. Cut a mouth out of the felt. We made some of our mouths into smile shapes and then turned them upside down for a more monster-y face for the others. We just free-handed our mouths by cutting them into different shapes and we even left some as straight mouths (and they looked cute, too!).
Add decorative items (optional). Finish out your ugly dolls by adding bows, bowties or anything else you think is fun. We added bows to some of the sock "toes" and it made it look like our ugly dolls had cute little pigtails.
That's it!
Super simple, right?
We would love to see your ugly dolls!
Come on over to our Facebook page and share a picture of them!
---
 Also Check Out These Theme Lessons: