Not long ago a friend of mine posted about how to read a book.
And it made me very sad.
She posted something like this:
"Looking for suggestions on chapter books for my son. The teacher told him that the graphic novels that he loves to read aren't appropriate for his level."
And, my heart sank a little.
What really happened that day was not a teacher moving a child along in their reading skills (because the teachers have to follow certain rules and meet certain standards).
What really happened that day was society told a child that what he loved to read wasn't good enough.
And, this can be devastating for a kid, especially when they're learning how to read or are generally uninterested in reading (or even hate reading).
DISCLOSURE: Affiliate links are used on this site and may be used in this post.
Please refer to our DISCLOSURE STATEMENT.
I think this tugs so hard at my heart because I had a non-reader.
Early on, my daughter had no interest in reading, despite being read to every single day.
Even after learning how to read, she just wasn't interested in sitting down and reading books on her own.
(I have no idea how that happened, but that's for a different post.)
This all changed when we moved to a different area and got a library card for the new library. It is a smaller, less intimidating library and has a fantastic children's area.
As I watched her look through the sections, she pulled from the picture books (which would be considered well below her level).
Then, she pulled some from the ("level-appropriate") chapter books.
And then, I watched her discover graphic novels.
And on that day, it was like I could see the switch flip to ON in her head.
She was hooked on reading.
She would devour books (of all levels and types) and then ask to go back to the library in the same week.
And, it happened over and over and over again.
She found an online book app and asked if we could sign up.
(We did.)
And, she read books of all types and levels on her iPad.
---
READ THIS NEXT :
---
Right before my eyes, I watched my daughter become a reader. All because I never made rules about how to read and I ditched the fundamentals of reading that everyone says you must do.
And, guess what else is happening?
In my decision not to direct how to read, my daughter has naturally advanced herself along in reading, even picking some adult level books that interest her (and were topic appropriate).
Now, without fail, every time we go to the library, she also still finds picture books to check out . . .
. . . and some don't even have words (or only have a few words
).
And, I allow it because I never want to tell my daughter not to be interested in a book because it's "beneath her reading level."
---
Here's an idea:
How about we stop telling children to read at their "grade level" and start allowing them read what they love so they can develop a lifelong love of reading?
---
It seems like we're always with teaching our kids how to read faster or how to read a book effectively that it's all just become so . . . clinical.
We've forgotten to model for our children how to read a story and just enjoy it.
(It's called a story book for a reason. We're supposed to enjoy the story and not attach a bunch of measurements to it!)
I fear that living in a society of do this, not that is crushing our kids' natural love of learning.
When we take away something they love to use for learning and replace it with something we think they should use for learning, we are telling them that they aren't good enough. We are telling kids that what they're interested in isn't good enough.
And, we're effectively crushing their natural interest in learning … and this especially happens in our society when teaching kids how to read.
I'm not talking about first learning to read (although that counts, too).
I'm talking about teaching our kids how to read — as in what they choose to read.
Why can't a fourth grader read graphic novels as part of her reading?
Or, why can't she read picture books because she enjoys stories with fabulous illustrations?
Why can't we teach with picture books during her homeschooling, even if they are "below her learning level"?
The truth is: we can use whatever books interest her.
It's less about how to read faster and more about how to enjoy reading.
All kids can and should be able to choose what they want to read without fear that they aren't at their "grade" level or "learning level."
(And, we are, of course, talking about topic appropriate books. I'm certainly not suggesting your seven year old reads Danielle Steele.)
---
READ THIS NEXT:
---
So, what to do when my child hates reading?
Or, how to get your child interested in reading?
(Don't even worry about how to get your child to love reading yet. You just want to first get them interested!)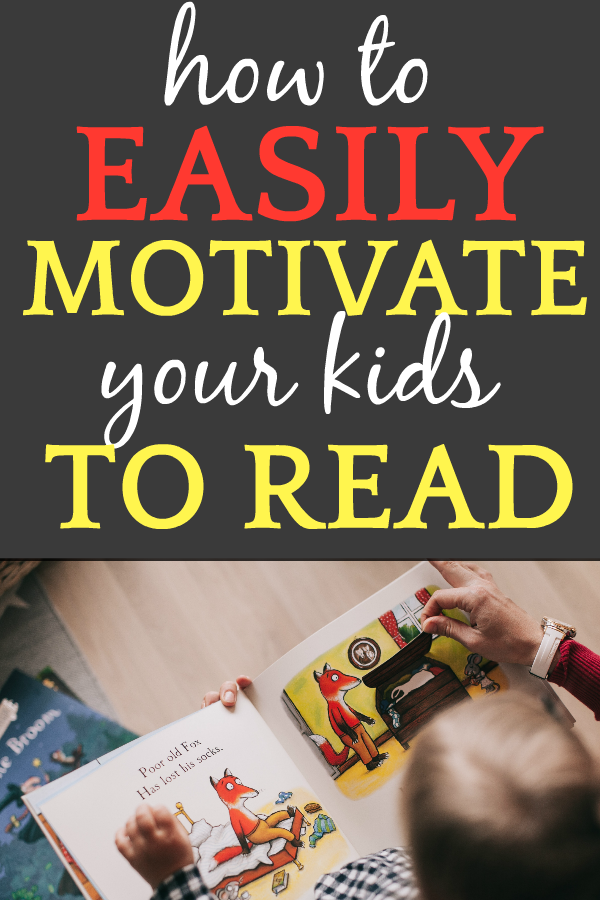 PIN TO SAVE
---
How To Motivate Your Child to Read
Allow your children the freedom to choose what they want to read . . . even if it is below (or above) their level.
Get your child a library card.
Visit the library regularly!
Sign up for a library (or community) program where your kid gets to practice his or her reading skills by reading to a dog. (Yep! It's really a thing!)
Don't be afraid to suggest or introduce books that you think your child may like, but don't push them to read them.
Make a book into a theme lesson where you cook, do crafts, or explore the places from the book.
Create an awesome reading corner, nook, space, or hideaway in your house. (Start with a super fun rug!)
Have books available throughout your house.
Let your child see you reading.
Read together (no matter the age), where you take turns reading aloud or discussing a picture book.
Give your child a budget and let them buy cheap kids books that interest them from thrift stores or used bookstores.
Read at bedtime. Not only will it help your kid with reading, it's also a great way to spend time together and wind down.
Look up words that they have problems pronouncing or if they don't know the definition.
Create a READING TREE with a tree wall decal and add a "leaf" with the book name, author, and date read each time your child reads a book. It will give your child a sense of accomplishment to see everything they've read by the end of the year (or summer or whatever).
Ask your child to tell you about the book he or she just read. It will help them with their understanding of timelines and their communication skills.
Have your child create some art based on the book.
If your kid loves coding, let him/her code something that represents the book. (

Try Scratch

, a free and easy coding program!)
Let your child pick out books he/she loved to donate to a shelter or for kids in need.
Set reading goals and map them on a graph or add stickers to a chart when goals are met.

Create a reward program (or reward store)

for reading goals.
Get them a tablet or e-reader and get them reading books online (especially if they're more into technology than books!).
How do you get better at reading? | How to Make Reading a Confidence Booster [VIDEO]
Best Picture Books for Children
Again, I can't stress this enough:
Please don't discount the learning power of picture books (or anything else your child wants to read).
Picture books that inspire creative imagining is learning.
Whether it's wordless picture books, classic children's books, or silly, popular children's books, your child can learn from them . . . no matter his or her age!
(And, PS? You don't have to like them. I ::eyeroll:: internally at a TON of stuff my daughter reads and finds amusing!)
Reading a picture book about a topic that inspires interest in chapter books for kids is learning.
Reading graphic novels that may also pique an interest in drawing is learning.
Naturally progressing yourself to different levels and topics is learning.
Give them room to learn.
The rest will follow.
I promise.
And, please, for the love of all that is good, please stop telling children that they can't read a book because "it's not at their level."
Children's Books List
Looking for some new favorite children's books?
Here are a few books my kid loves.
Maybe your kid will, too!
---
HOMESCHOOL BLOG POSTS: READ THESE NEXT