Not long ago, I posted about Nintendo Labo on social media.
Since then, I've received some follow-up questions so I decided to do a Nintendo Labo Review.
Nintendo Labo: How It All Started
A few months ago, I started to notice something weird about my daughter.
It was like she became possessed. All I heard (87,722 times each day) was, "Mommy, have you heard about the Nintendo Labo?"
"Mommy, did you know that the Nintendo Labo is coming out?"
"Hey mommy! Guess what is Nintendo switch Labo. . . "
"Hey mommy, wouldn't it be cool if we had a Nintendo Labo?"
"Mommy, Nintendo.Labo.NintedoLabo.NINENTENDOLABONINENTDOLABONINTENDOLABO."
And so it went until I was absolutely insane and she was forbidden to say the "N.L." words to me again.
(So, yeah, pretty funny that I'm doing a Nintendo Labo review now, huh?)
---
DISCLOSURE: Affiliate links are used on this site and may be used in this post.
Please refer to our DISCLOSURE STATEMENT.
---
What's a Nintendo Labo?
---
If you haven't heard about it, 
Nintendo Labo
 is a kind of an add on for the Nintendo Switch
 gaming console.
I say "kind of" because it's hard to describe unless you've experienced it.
Someone asked me, "Is the Nintendo Labo just cardboard?" and I was like, "Yeeeeeees, but noooooo. Not really. Kind of . . ."
(Helpful, right?)
I'll be the first to admit, I didn't really get it when my daughter was explaining it (87,722 times each day).
Maybe it was because I was tuning her out, or maybe it's just because I'm  . . . old.
It wasn't until we got our Nintendo Labo Variety Kit
 and I saw it all working together that a lightbulb went off in my head.
---
Nintendo Labo Review: Think of the Nintendo Labo like one of those monthly subscription craft boxes, except for your Nintendo Switch and way, way cooler.
---
The Variety Kit is a series of (very heavy duty) cardboard templates that you punch out, build, and decorate.
(I joked that we spent all this money on a Switch only for her to play with a cardboard box.)
Then, you use your Nintendo Switch console or controller with each cardboard creation for a different game or experience.
(They're called Toy-Cons, short for Toy Consoles. Yes, I was corrected 417 times by my daughter.)
---
READ THIS NEXT :
---

PIN TO SAVE FOR LATER
---
Included in the Nintendo Labo Variety Kit:
Toy-Con RC Car
"The Toy-Con RC Car is powered by vibrations in the Joy-Con controllers and can even follow a path of magnetic tape by using the IR motion camera in the right Joy-Con controller."
Toy-Con Fishing Rod
"Build a working rod, then go fishing on your Nintendo Switch."
Toy-Con House
"Play with a mysterious (and cute!) little pet in this custom home. You can earn treats for your pet by playing mini-games, then you can touch the screen to feed these treats to your pet to see it change its color or pattern!"
(The house has been my daughter's favorite so far!)
Toy-Con Motorbike
Build a simulated motorcycle and "you can rev the throttle by twisting the right handle, just like the real thing!"
Toy-Con Piano
"The Toy-Con Piano can be used to play simple songs or even to create and record more complex compositions, making it fun for amateurs and accomplished musicians alike."
[Descriptions from the Nintendo website.]
I have to admit that it is pretty cool.
There was some serious engineering that went into making cardboard simulate things like a piano and fishing pole.
Nintendo Labo Price | How Much Is the Nintendo Labo?
I know, one of the first things people wonder is, "How much does Nintendo Labo cost?"
I think the Nintendo Labo  (Variety Kit) falls in the mid-price for a robust tech game (considering that Lego kits can cost as much or even more
).
I was actually happier with the price (and pleasantly surprised) after I understood and saw all of the things that you could do with the Labo.
(As of this writing, my kid had it for three weeks and she's played, programmed, created, and decorated with it almost every single day.)
---
If you already have the Nintendo Switch and have a kid who loves to create, then this is a great addition for your switch.
---
(Aside: If you're looking for a gaming console, we've been really happy with the Nintendo Switch and the portability. You can play it at home as a console, but also pop it out and make it about the size of Nintendo 3DS
 and take it with you wherever you want.)
Nintendo Labo Educational Value
So, how does the Nintendo Labo review on the educational side?
I think pretty well!
A cool thing about the Labo is that not only can you assemble, create, and decorate the Labo creations, but you also have the ability to customize the software (games) that come with it to give the Toy-Cons your own instructions.
You just use technology and basic coding skills and all the instructions are provided with the kit.
(My daughter created her own fish on the fishing game in no time with zero help from me.)
Nintendo Labo Review on Educational Value:
Aside from the obvious technology educational value (just because it's a Switch), the Kits also cover STEM learning (STEAM learning) like:
• Coding
• Mechanics/building/motor skills
• Creative free play
• Problem solving
• Reasoning
• Art/creating
• Following instructions
And so much more!
What age is Nintendo Labo for?
There were some parts that my daughter (age 10) found difficult or confusing.
Instead of jumping in to help her out, I just encouraged her to figure it out.
And, eventually she did!
So the age for Nintendo Labo varies . . . and, it's not just age, it's learning level for your kids.
Some kids may need more assistance and others kids may be more independent and can figure out the Labo.
Also, I need to point out that several of the games get your kids up and moving around (the fishing game, the motorcycle game). So, it's not just sedentary tech game play.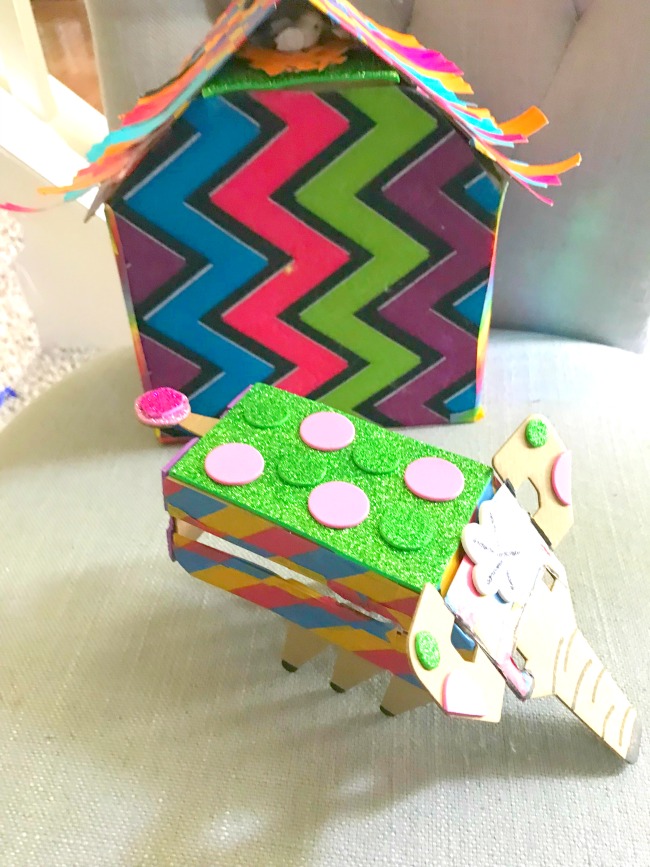 The Nintendo Labo Games
The games that came with the Nintendo Labo were . . . OK.
They were pretty basic, but entertaining.
My daughter still enjoyed playing with them, but she definitely had more fun creating the Toy-Cons and figuring out how everything works then playing the actual games.
(This is her nature, anyway, so that might be more about my kid than the games.)
I, on the other hand, was amazed at how seamlessly a piece of cardboard worked with a piece of tech.
For example, the "fishing pole" is a few telescoping pieces of cardboard, but the reel clicks when you turn it, just like a real fishing pole, and you "cast" into the game console and "fish."
And, you can even create your own crazy fish that appears in the game!
(My daughter had a lot of fun with that one.)
Nintendo Labo Add-Ons
If your kid loves to create and decorate, you probably want to grab the Nintendo Labo Customization Set
 for a little extra.
It's a small decoration kit that comes with:
2 – Stencil sheets
2 – sticker sheets
2 – tape rolls
(And, it saved me a trip to the craft store for $49 worth of Washi Tape
.)
Here's the house that my daughter decorated and also an elephant.
She used a combination of the Labo Customization Set and also markers, stickers, and tape (and other items) that we had at home.
(The Switch parts are inserted into these things for play.)
Nintendo Labo Robot Kit and Other Kits
There is also another kit, the Nintendo Labo Robot Kit
.
We don't have this kit yet, but if we get it then I'll do another Nintendo Labo review just for the Robot Kit.
I don't have any knowledge of other kits, but it looks like the video shows some things that are not included in the other kits yet and that you can't make yourself.
So, that leads me (or, my daughter) to believe that there are more kits forthcoming.
We'll keep our eyes out and post about it if there are other cool new releases for Nintendo Labo.
Overall, how does the Nintendo Labo review?
I'll leave it to my daughter's words:
"The Nintendo Labo is pretty darn cool."
My daughter has definitely gotten our money's worth out of this toy.
We will probably try out any new releases, also.
However, if you don't already have a Nintendo Switch, then I'm not sure it's worth buying one just for the kits.
---

Do you try the Nintendo Labo kits?
What did you think?
Also, if you have any questions, leave them in the comments.
I'm happy to give you HONEST feedback.