Add The Hate U Give book and movie lesson plans and project based learning to your critical consciousness studies through writing prompts, diversity discussions, movie guide, lessons learned, teaching guide for Race and Racism, Injustice, Activism, Living multiple identities, Code-Switching, Gang culture, Community and Family differences, and the question, "What does The Hate U Give teach you?" Here are 59 ways to learn with the novel and the movie using watch, read, write, and think.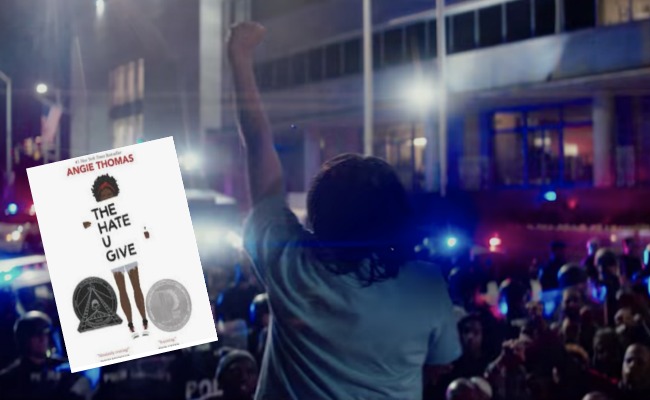 Sometimes, the most important learning takes place when we are pushed out of our comfort zones and tackle the tough topics, just like those in The Hate U Give.
Affiliate links are used on this site. As an Amazon Associate I earn from qualifying purchases. Read more in our DISCLOSURE.
Sometimes learning isn't about fun crafts and awesome theme lessons and resources and light, funny reads.
Nope.
Sometimes you have to go deeper into developing critical consciousness and a better understanding of bigger issues with our learning.
A good way to do this is with project based learning with The Hate U Give lesson plan.
What is The Hate U Give?
The Hate U Give
is a young adult novel by author Angie Thomas (and also now a movie).
It covers race relations from the viewpoint of a young African American girl living in two different worlds who is thrust into a tragedy and forced to take a stand.
In 2018, it was made into a movie.
DISCLOSURE: Affiliate links are used on this site and may be used in this post.
Please refer to our DISCLOSURE STATEMENT.
The Hate U Give Book Summary
The Hate U Give book, that the movie is based on, is about an African-American girl named Starr Carter who feels like she exists in two different worlds as two different people–in her black neighborhood and also in her rich (predominantly white) private school.
One night, Starr and her friend Khalil (also African American) leave a party and are pulled over by a white police officer.
The officer ends up shooting Khalil and Starr is the only witness to it.
Starr and her family and friends then navigate the different experiences created by this tragedy.
There is also The Hate U Give audiobook, if you prefer that option.
(FYI: If you start a free Audible trial, you can get two free audio books right now!)
The Hate U Give Book Review
Here's what the School Library Journal had to say about the book:
After Starr and her childhood friend Khalil, both black, leave a party together, they are pulled over by a white police officer, who kills Khalil.

The sole witness to the homicide, Starr must testify before a grand jury that will decide whether to indict the cop, and she's terrified, especially as emotions run high.

By turns frightened, discouraged, enraged, and impassioned, Starr is authentically adolescent in her reactions.

Inhabiting two vastly different spheres—her poor, predominantly black neighborhood, Garden Heights, where gangs are a fact of life, and her rich, mostly white private school—causes strain, and Thomas perceptively illustrates how the personal is political:

Starr is disturbed by the racism of her white friend Hailey, who writes Khalil off as a drug dealer, and Starr's father is torn between his desire to support Garden Heights and his need to move his family to a safer environment.
The book was inspired by the Black Lives Matter movement and also Tupac Shakur.
Also, the book is a William C. Morris Award Winner, a National Book Award Longlist, a Printz Honor Book, a Coretta Scott King Honor Book, and also a #1 New York Times Bestseller.
---
Before Reading or Watching The Hate U Give:
The Hate U Give covers mature content and the book is recommended for Grades 8 and up. You know your children best, so use your judgment for age and maturity level.
---
What is the conflict in The Hate U Give?
The conflict in Hate U Give lies within the main character, Starr, as she tries to become brave enough to speak up for her friend, Khalil. The other major conflict is between the characters experiencing racism and brutality, especially from the police force.
The Hate U Give Movie

The book has now been made into a movie!
(The Hate U Give full movie is now available to watch online, too!)
I love when you can read a book, then watch the movie, and compare and contrast for an additional learning activities!
The Hate U Give Movie Trailer
Here's the trailer for the movie:
The Hate U Give Cast
The Hate U Give movie main cast of characters include:
Amandla Stenberg as Starr Carter
Regina Hall as Lisa Carter (Starr's mother)
Russell Hornsby as Maverick "Big Mav" Carter (Starr's father)
KJ Apa as Chris (Starr's boyfriend)
Algee Smith as Khalil (Starr's childhood best friend)
Lamar Johnson as Seven Carter (Starr's half-brother)
TJ Wright as Sekani (Starr's younger brother)
Sabrina Carpenter as Hailey (Starr's friend)
Megan Lawless as Maya (Starr's friend)
Dominique Fishback as King (a gangster)
(Rapper) Common as Carlos (Starr's uncle and a police officer)
Issa Rae as April Ofrah, an activist
The Hate U Give Lessons, Activities, and Projects
The Hate U Give (book and movie) covers topics and issues like:
Race and Racism
Injustice
Activism
Living multiple identities
Code-Switching
Gang culture
Community
Family
Police brutality
The Black Panther Party
Tupac Shakur
Black Lives Matter Movement
Importance of speaking up (or, consequences of not speaking up)
And SO MUCH MORE.
There are a lot of discussion topics for The Hate U Give lessons learned.
(Feeling uncomfortable yet? Yeah, these are tough–but IMPORTANT–topics to discuss with your tweens and teens!)
Like I mentioned earlier, this isn't going to be a warm and fuzzy theme lesson.
However, that shouldn't make you shy away from these kinds of topics with your older kids.
It's so important to open a dialogue on different issues, even if they make you (or the kids) uncomfortable!
Here are some ways that you can incorporate The Hate U Give book and/or the movie into your learning…
---
59 Ways to Incorporate The Hate U Give (Book and Movie) Into Learning Lessons for Class
The Hate U Give Book and Movie Companion Lessons, Worksheets, and Activities
Read the book and watch the movie
Learn more about the book's author, Angie Thomas
Get discussion questions for the book
Read an interview with the author about the book
Review the literary elements of the book
Get a synopsis of all the characters
Watch an animated synopsis video of the book
Get a glossary of terms for the book
Review and discuss some themes covered in the book
Review and discuss important quotes from the book
Understand the symbols, allegory, and motifs of the book
Discuss metaphors and similes from the book
Talk about the irony in the book
Review the imagery in the book
Grab some essay questions (and answers) for book
Take quizzes to test your knowledge of the book: Quiz 1, Quiz 2, Quiz 3, Quiz 4
---
Black Lives Matter Lessons
Learn more about the Black Lives Matter movement
Watch a TED talk video with the founders of Black Lives Matter [VIDEO BELOW]
Watch the video, Black Lives Matter, explained [VIDEO]
Understand more about police brutality and black lives matter
Complete a lesson on Black Lives Matter
Get Black Lives Matter resources for all different age levels
---
Code-Switching Lessons
Watch a video discussion on Code-Switching [VIDEO]
Watch a TEDx video, The Cost of Code-Switching [VIDEO]
Complete a lesson on Code-Switching
Get another comprehensive lesson on Code-Switching
Do a lesson plan on Exploring Languages and multicultural differences
---
Multiculturalism, Diversity, Racism, and Race Relations
Learn how to talk about race relations with a class or group
Read, Race Talk: Engaging Young People in Conversations about Race and Racism
Read and discuss, Why Are All the Black Kids Sitting Together in the Cafeteria?: And Other Conversations About Race
(affiliate link)
Complete a lesson on race and racism
Complete a lesson plan on the Biblical response to racism
Do the activity, Circles of My Multicultural Self
Complete some Diversity Awareness Quizzes
Learn about The History of Other Hate Symbols
Get a lesson plan on the history of race relations in the United States
---
LESSONS: Family, Family Traditions, and Ancestry
Complete a lesson plan on family and friendship in quilts
Reflect on your own individual background and culture
---
LESSONS: Activism for Kids
Complete a lesson plan on Defining Activism
Get The Power to Change the World: A Teaching Unit on Student Activism in History and Today
Learn 5 ways youth can make a difference
Watch three videos on BULLYING & BIAS RIGHTS & ACTIVISM
Complete a lesson plan on Resistance 101: A Lesson on Social Justice Activists and Strategies
Get a Youth's Activist Toolkit
Complete a lesson plan on The Rise of Community Activism
Learn how to get teens involved in making a difference
Read 5 Ways To Inspire Teenagers To Take A Step Towards Community Service
Get 50 Community Service Ideas for Teens
---
Tupac Shukar and THUGLIFE
The author was inspired by Tupac Shukar and THUGLIFE, so incorporating some information on the musician and his philosophies into these lesson plans is imperative.
However, be aware that there may be some language with the readings, music, and videos (which, personally, I think is another door to open for discussion, no matter how you feel about it).
Read, Here's How Tupac Inspired The Hate U Give
Watch Tupac explain THUGLIFE (WARNING: Language) [VIDEO BELOW]
Read, 8 Ways Tupac Shakur Changed the World
Learn how to add hip-hop music to inspire learning
Read The Rose That Grew From Concrete
(affiliate link)
Read the poem by Tupac and do a lesson on The Rose That Grew From Concrete
Clearly there are many, many more examples of ways you can incorporate the lessons and topics from book and movie into your learning.
However, these are a good starting place that will allow you to pick and choose some of the things you want to cover more deeply.
As an Amazon Associate I earn from qualifying purchases. Please refer to our
DISCLOSURE