Looking for Wonder the movie and book lesson plans? We have 47 Wonder lesson plans, worksheets, writing assignments and writing prompts, Choose Kind activities, study guides, We're All Wonders mini book, I Am A Wonder Because, anti-bullying lessons, a precepts project, and MORE that are great paired with the novel by RJ Palacio and teaching with movies.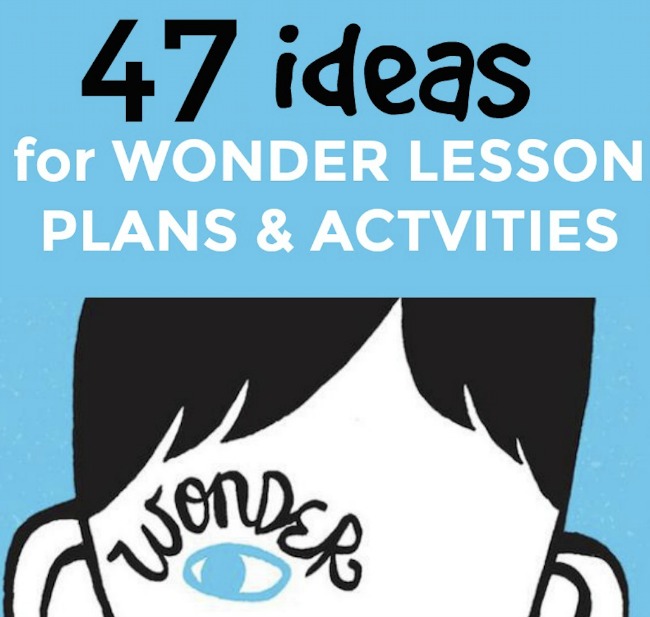 Pairing up the book and movie Wonder with some Wonder lesson plans is awesome way to add fun to your learning!
Reading a book and then watching the movie as a homeschooling project allows us to compare and contrast (which did one you liked better), as well as opens a deeper discussion on the topic matter.
And, the Wonder movie discussion questions (and the book) provides a range of topics (plenty to keep you busy)!
We plan on doing this with the Wonder movie
, reading the book, and then using some awesome Wonder lesson plans and activities to supplement our learning.
DISCLOSURE: Affiliate links are used on this site and may be used in this post.
Please refer to our DISCLOSURE STATEMENT.
(We'll get into the free wonder activities later in the post! SO KEEP SCROLLING!)
Wonder Novel By RJ Palacio: Summary

Wonder
is a children's novel by author RJ Palacio.
(Isn't that Wonder book cover fantastic?)
The lead character in Wonder, Auggie Pullman, is "an ordinary boy with an extraordinary face."
Auggie is born with a rare condition called mandibulofacial dysostosis, or Treacher Collins Syndrome.
The distorted facial features prevented Auggie from attending traditional school and he has been homeschooled instead.
But, in fifth grade, Auggie enrolls in public school.
Along with being the new kid, Auggie also encounters different situations due to his condition, including a rumor that touching Auggie will give you the "plague."
The book switches from Auggie's point of view to different perspectives, including Auggie's sister and different friends, and the things that they are dealing with along with Auggie.
While dealing with extraordinary circumstances, Auggie wants nothing more than to be treated as ordinary.
Learn More About Treacher Collins Syndrome [VIDEO]
Interested in learning more about the condition, what causes treacher collins syndrome, and is there a treatment for treacher collins syndrome?
Check out this real-life Treacher Collins Syndrome wonder!

Wonder Movie Trailer [VIDEO]
If you haven't seen the Wonder movie yet, grab a tissue because just the Wonder movie trailer will stab you right in the heart!
Both the Wonder book and Wonder movie provide fantastic study tools that cover so many different topics: bullying, differences, kindness, relationships, and more.
Here are some great ways (47 ways actually!) to incorporate both the Wonder book and Wonder movie into your studies for some fun Wonder lesson plans and activities learning.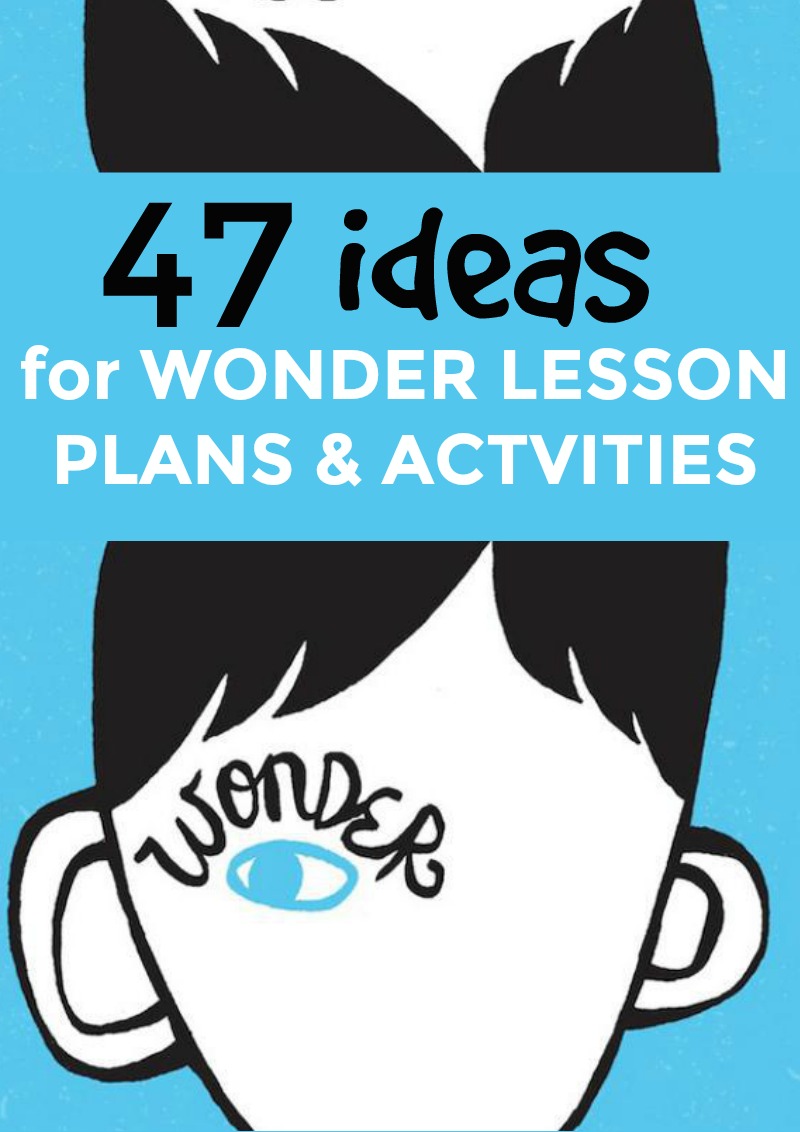 PIN TO SAVE!
---
47 Wonder Lesson Plans and Worksheets (Wonder Movie Lessons and Wonder Book Lessons)
Plot summary and teacher's guide to Wonder
Author's guide for Wonder and other resources (Wonder novel study guide)
Songs and references in the book Wonder
Read about the author of Wonder
Learn more about Treacher Collins Syndrome
Writing assignments for Wonder: We are all wonders writing prompt
Free Wonder mini book: We Are All Wonders Mini Book
---
CHECK THIS OUT NEXT:
---
Choose Kind Movement
The book Wonder inspired something called the Choose Kind movement.
The Choose Kind movement is simple: create and spread more kindness in the world.
Here are some ways to incorporate kindness into your learning:
Ideas for kindness projects to go with Wonder Theme Lessons
Kindness lesson plans (access with free sign-up)
Books on Kindness
Wonder Lesson Plans on Bullying
What messages do movies send about bullying?
Speak Up! anti-bullying videos
How can students help a peer who is being bullied? lesson
Understanding needs and feelings lesson
Being reasonable and ethical lesson plans
Books on Bullying
Wonder Lesson Plans, Activities, and Crafts
Make your own Wall of Precepts
Paint a personal kindness sunshine ray
Use a beach ball for a Wonder book discussion
Read Wonder Books


---
LOOKING FOR ANOTHER THEME LESSON?
TRY OUT ONE OF THESE BOOK + MOVIE LESSON COMBOS!
JUMANJI LESSON PLANS AND ACTIVITIES (BOOK AND MOVIE)
32 PADDINGTON BEAR LESSON PLANS AND ACTIVITIES (BOOK AND MOVIE)
WRINKLE IN TIME LESSON PLANS AND PROJECT IDEAS (MOVIE AND BOOK)
60 PETER RABBIT ACTIVITIES AND LESSON PLANS (MOVIE AND BOOK)