We have some great Coco movie lesson plans, life lessons, Coco movie teaching resources, free worksheets, and Coco activities for kids so that you can make a fabulous unit study or curriculum out of this touching Pixar movie. Coco the movie is a fun way to spice up your lessons and learning!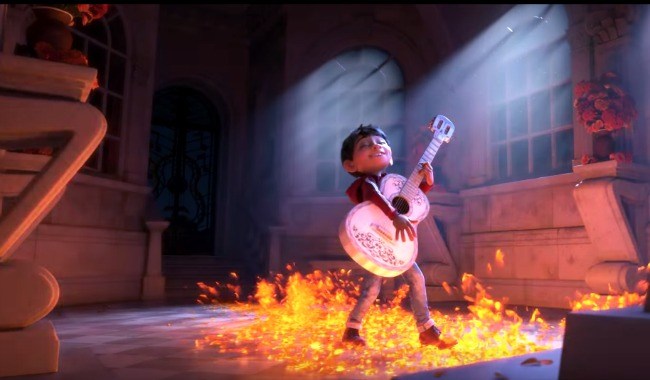 What Is The Coco Movie About?
So, what is the story of Coco?
Affiliate links are used on this site. As an Amazon Associate I earn from qualifying purchases. Read more in our DISCLOSURE.
The Disney Pixar Coco movie
is about a 12-year-old boy whose name is Miguel.
Miguel wants to be a musician just like his idol Ernesto de la Cruz.
Unfortunately, Miguel's family has a longstanding ban on music.
(GASP! I know! Who would do that?)
Miguel visits the Land of the Dead and meets a "trickster" named Hector.
Together the two become friends and try to figure out why the music ban is in place for Miguel's family and to also help Miguel realize his dream of becoming a musician.
Why is the movie Coco called Coco?
The movie is called Coco because it is named after the great grandmother matriarch of the family, who is named Coco (Mamá Coco).
Coco Movie Characters
The movie cast of characters includes:
Anthony Gonzalez (Miguel)
Gael García Bernal (Héctor)
Ana Ofelia Murguía (Mamá Coco)
Benjamin Bratt (Ernesto de la Cruz)
Alanna Ubach (Mamá Imelda)
Jaime Camil (Papá)
Sofía Espinosa (Mamá)
Renée Victor (Abuelita)
Natalia Cordova-Buckley (Frida Kahlo)
Coco Movie Lesson
The movie covers responsibility to family, as well as loss and death.
(Don't miss our resources to help you cover this tough topic later in the post!)

This sweet Disney movie won't disappoint!
Coco Movie Lesson Plans
If you are looking for good teaching themes with movies to add to your learning or need Coco movie teaching resources, you'll have a lot of fun with Coco activities because there are a lot of things to incorporate on culture and diversity, too.
Get creative and you can cover Day of the Dead (Dia de los Muertos), make some pan de muerto, practice your Spanish, study the art of Coco, have fun with Coco movie songs on the Coco Soundtrack, and so much more!
The Movie Coco Trailer
A fun Coco activity is to watch the movie and then do some of the projects from the Coco resources below to reinforce what you've learned!
---
COCO ACTIVITIES: FUN FOR THIS MOVIE
---
DISCLOSURE: Affiliate links are used on this site and may be used in this post.
43 (MOSTLY) Free Disney Pixar Coco Movie Lesson Plan Activities, Worksheets, Coloring Pages, Projects, & More!
Have fun with these parent and teacher resources and worksheets for the Coco movie!
Most of them are free, so they are great additions to your learning tools.
Coco Resources & Coco Movie Activities
Coco educational movie guide for students (Coco movie guide)
Coco movie discussion questions (Coco comprehension questions)
Coco movie worksheets (and a fun coco movie activity with a guitar!)
Make a Hexaflexagon
Coco Movie Printables:
Miguel Coco Movie Free Printable Coloring Pages
Hector Coco Movie Free Printable Coloring Pages
Dante Coco Movie Free Printable Coloring Pages
Dante Coco Movie Free Printable Coloring Pages 2
Day of the Dead Spanish Lesson Plans (Intermediate)
Day of the Dead Activity Calendar
Day of the Dead Reverse Glass Painting Craft
Make a Day of the Dead Skull Pinata
Make a Sugar Skull Stencil with Gel
More Coco Learning Tools
Read Coco: A Story about Music, Shoes, and Family (and don't miss the companion Coco study guide)
Coco Movie Books
Even though the Coco animated movie is awesome, you can't go wrong with adding these fun Coco books to your lessons and learning!
Coco Movie Lesson Learned
Since the Coco movie lesson has a lot to do with death, you may want to spend some specific time on that topic.
Here are some resources for discussing death and dying to help a little more with the Coco movie questions and answers.
Make a Coco Classroom
If you want to really get into this study unit, you can make a coco themed classroom using one or more of these Coco classroom theme ideas:
Decorate with a Papel Picado Banner just for a Coco theme
Get a Coco backdrop for pictures
---
IF YOU LOVED THE COCO MOVIE LESSONS, TRY THESE OTHER AWESOME MOVIE THEME LESSONS:
WONDER LESSON PLANS (BOOK AND MOVIE)
32 PADDINGTON BEAR LESSON PLANS AND ACTIVITIES (BOOK AND MOVIE)
WRINKLE IN TIME LESSON PLANS AND PROJECT IDEAS (MOVIE AND BOOK)
60 PETER RABBIT ACTIVITIES AND LESSON PLANS (MOVIE AND BOOK)
FERDINAND THE BULL ACTIVITIES AND LESSONS (MOVIE AND BOOK)
JUMANJI LESSON PLANS AND ACTIVITIES (BOOK AND MOVIE)
---
As an Amazon Associate I earn from qualifying purchases. Please refer to our
DISCLOSURE
STARTING HOME SCHOOL? CHECK OUT OUR HOW TO HOMESCHOOL GUIDE