You probably already know, but Cinco de Mayo is an annual celebration on May 5. What better way to learn about the day than talk about Cinco de Mayo facts and history and then do fun, TRADITIONAL crafts, lessons, and projects!
But first . . .
What exactly is Cinco de Mayo?
Cinco de Mayo translates to the 5th of May. It celebrates the date of Mexico's victory over France in the Battle of Puebla on May 5, 1862 during the Franco-Mexican War. Surprisingly, it is celebrated more in the United States than in Mexico, especially in communities with a large Mexican-American population.
Many people wonder "What is Cinco de Mayo?"—especially in the United States where we seem to have adopted the day as a reason to eat Tex-Mex and drink low-priced margaritas. And, many Americans think it is it has something to do with the Mexican American war. (It doesn't.)
You will find cultural heritage festivals in the U.S. during Cinco de Mayo.
Affiliate links are used on this site. As an Amazon Associate I earn from qualifying purchases. Read more in our DISCLOSURE.
Now you know that Cinco de Mayo has nothing to do with the Mexican American war (which is a common misconception) and is about way more than Tex-Mex food, let's clear up something else:
Is Cinco de Mayo and the Day of the Dead the same thing?
Cinco de Mayo is not the same thing as Day of the Dead. Cinco de Mayo happens on May 5 every year and commemorates Mexico's victory in the Battle of Puebla. Day of the Dead, or
Dia de los Muertos, is celebrated each year between October 31 and November 4. It honors relatives and ancestors who have died.
What are some interesting facts about Cinco de Mayo?
Cinco de Mayo Facts:
Cinco de Mayo is Spanish for 5th of May
Cinco de Mayo  commemorates Mexico's victory over France in the Battle of Puebla
It is not Mexican Independence Day and is not a "Mexican July 4th"
The holiday has nothing to do with the Mexican-American war
Cinco de Mayo is not a national holiday in Mexico and is probably celebrated more widely in the United States
Los Angeles throws the biggest Cinco de Mayo celebration in the U.S., followed by Denver, New York, Phoenix, and Houston
Locally in Puebla and Veracruz, Mexico, the day is a big deal and is celebrated as a holiday
Places in Japan, Australia, and South Africa now also celebrate Cinco de Mayo
President Roosevelt help make Cinco de Mayo popular in the U.S. to improve relationships with Latin countries
81 million pounds of avocados are eaten on Cinco de Mayo every year in the United States
The holiday is celebrated with colorful clothing ("Puebla dresses" / China Poblana dresses), mariachi music, and a traditional Mexican folk dance called the "Baile folklorico"
---
CHECK THIS OUT NEXT:
---
What foods are served at Cinco de Mayo?
The official dish of the holiday is mole poblano because it is a traditional dish in Puebla.
(Mole is pronounced mow-lay.)
Mole poblano is a spicy chicken dish with a deep, dark reddish-brown sauce called mole. The sauce contains about 20 ingredients that includes chili peppers and chocolate.
Other traditional Cinco de Mayo foods include:
Chalupas
Lamb barbacoa that has been smoked underground in banana leaves
Carnitas topped with queso fresco, pickled onions, and salsa verde in a corn tortilla
Chiles en Nogada (poblano pepper dipped in egg batter, fried, stuffed with picadillo—a meat and dried fruit hash—and topped with walnut sauce, pomegranate seeds, and parsley)
Pozole (traditional soup served on holidays)
Tamale
Cinco de Mayo desserts include:
Tres Leche cake

Churros
Flan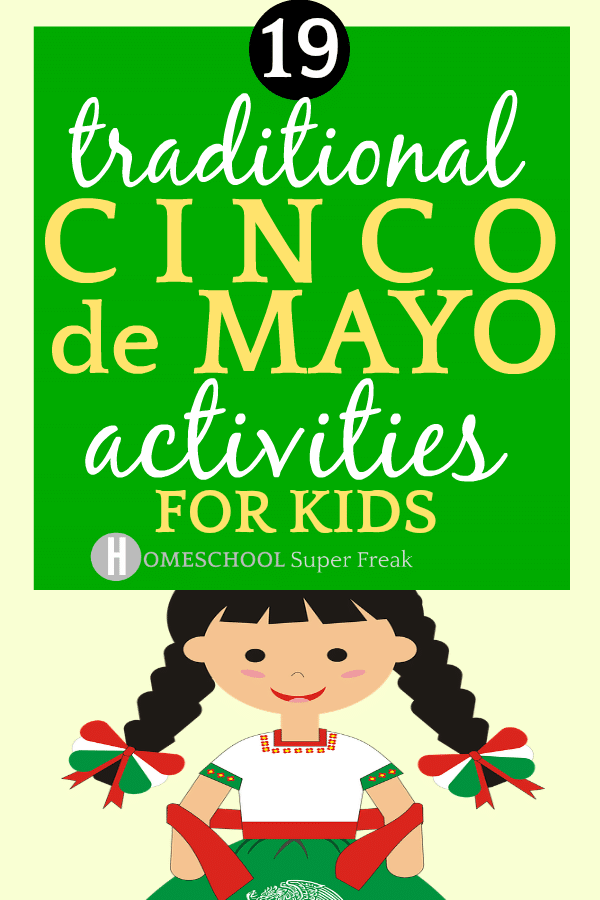 TAP & PIN TO SAVE FOR LATER
---
19 TRADITIONAL Cinco de Mayo Activities, Crafts, and Lessons
Now that you know the real Cinco de Mayo facts, here are some fun crafts, activities, and books you can add to your Cinco de Mayo lessons that stay true to the traditions of Puebla and to the holiday.
Watch a Cinco de Mayo VIDEO [below]
Then watch another really good video on Cinco de Mayo:
Read Cinco de Mayo Children's Books
---

WHAT CINCO DE MAYO FACTS AND ACTIVITIES ARE YOUR FAVORITES?
LET US KNOW IN THE COMMENTS!
As an Amazon Associate I earn from qualifying purchases. Please refer to our
DISCLOSURE