Thinking about adding learning a foreign language to your homeschooling? 
Welcome to showing you how to unschool foreign language!
You can unschool Spanish, unschool French, unschool Chinese, or any foreign language your child is interested in learning.
Yes, you really can unschool foreign language.
Sometimes the best language curriculum is no language curriculum.
Does that sound crazy?




Learning a Foreign Language
How is learning a foreign language possible without a sequential curriculum?
It's commonly assumed that parents have a choice between either the grammar-based workbook style or computer-based immersion style. Sadly, what's commonly done doesn't have a good track record for successfully learning to speak a foreign language.
And, you already know something about learning to speak a language:
You didn't learn to speak your first language by using a curriculum.
Don't rush off thinking that the best way to learning a foreign language is the same way you learned your first.
The answer isn't that simple.
---
---
However, for those of you who are unschooling, or thinking about unschooling foreign language, it's important to be aware that many people learn a second language without using a curriculum.
For example, I have relatives who learned English simply by watching English TV with subtitles turned on in their native language.
Of course, homeschoolers who unschool can use curriculum if they'd like to, but the point is that you don't have to do it.
You'll probably want to outsource foreign language lessons and/or start a foreign language curriculum at some point, but what you do on your own in an unschool fashion is just as important, if not more so.
Does thinking about how to teach your child multiple languages seem intimidating?
Don't worry!
While people can learn a foreign language without lessons or curriculum, there are things you can do to make foreign language learning more efficient.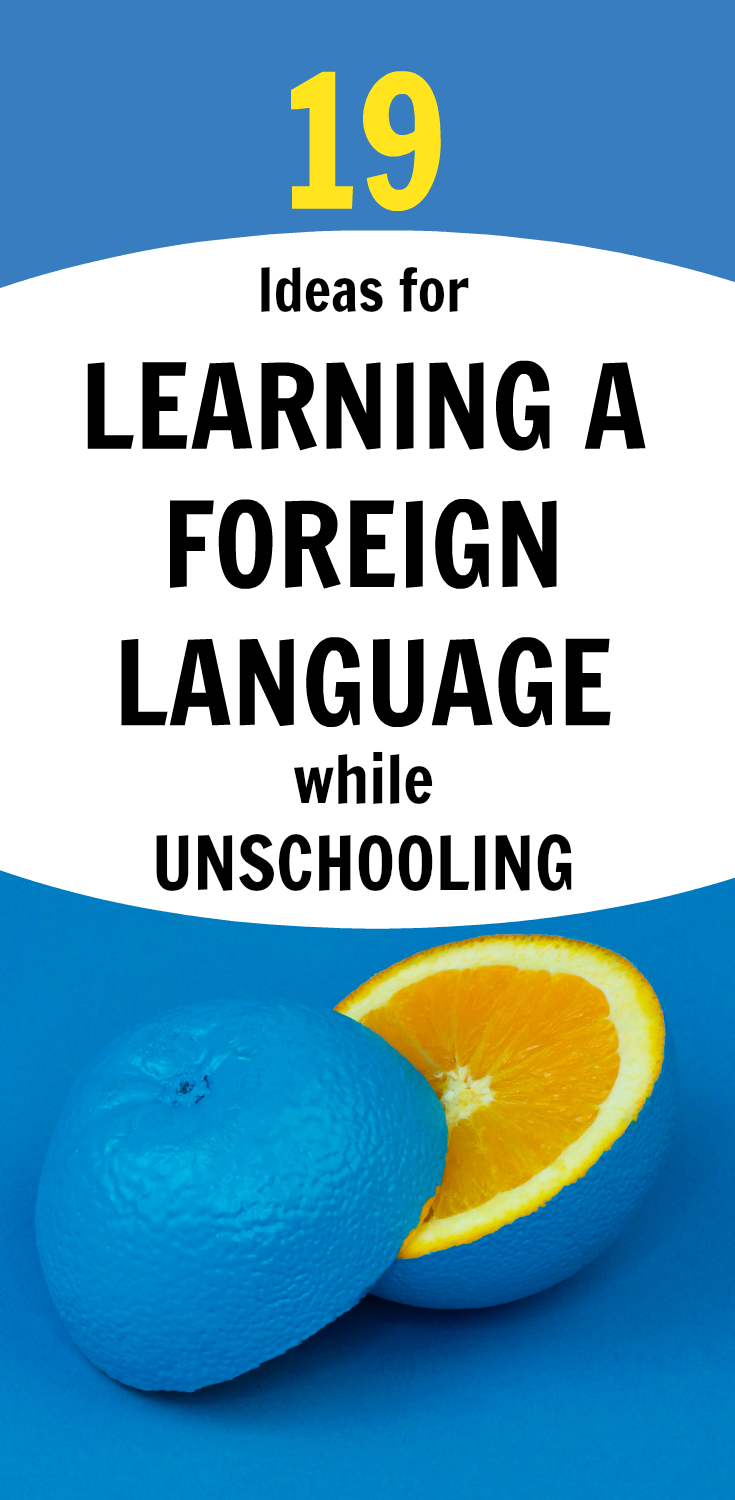 How to Teach a Foreign Language When You're Unschooling | 19 Resources for Learning a Foreign Language
Use Foreign Language for Kids Worksheets
Check out these learning a foreign language worksheets to help you think through the process of planning your foreign language unschooling.
The first worksheet guides you through the thought process about when to start teaching a foreign language.
Keep in mind there are different advantages and disadvantages to starting early vs. delaying teaching foreign language until adolescence.
Another great worksheet for unschoolers is the Bilingual Environment worksheet.
Once you start creating a bilingual environment in your home, you're going to be able to "salt the environment" with material that gets your child naturally curious about learning a foreign language.
This is how you increase your child's intrinsic motivation by exposing her mind to TV, books, games, songs, travel material, and people who speak a foreign language.
Get Creative with Children's Language Programs
Do you have tween/teen girl who loves to braid hair? Why not learn about hair braiding in Spanish?
Maybe your kids like cooking? Why not watch cooking shows in Chinese?
It doesn't have to be focused on learning a skill, either, it's ok to watch Peppa Pig in Chinese.
To get more ideas about to get your kids naturally interested in learning a foreign language, check out Supplements Worksheet and the Foreign Language Resources Page.
Ask Your Kids About Learning A Foreign Language
Give your kids the ability to choose the foreign language they want to learn.




If they choose Spanish classes for kids, you'll see resources broken down by type.
Go ahead and skip over the curriculum list to start with and just move to the fun stuff like Songs or Rhymes, Audio or Video, Games, Crafts.
(Or, you can go right to the Cross-Curricular Subjects list.)
These lists will help you find ideas for how to unschool your child in a foreign language at home.
And, most of these resources will start teaching your child a foreign language for FREE.
Expand Children's Interests in Learning a Foreign Language by Adding Fun Activities
Once you and your child choose a foreign language, you can start to think about what kinds of activities your child might enjoy while learning a foreign language.
This characteristics of good foreign language lessons worksheet provides great ideas for companion activities.
You can also:
1. Encourage your child to show off what they learned in the foreign language.
If your child watches an episode of Peppa Pig (or several ahem), your child can draw Peppa Pig and then also make a cartoon story to go with it.
2. Use Google Translate or Amazon Echo/Alexa with the Translated Skill to find out how to say things in a foreign language.
Yes, you and your child will make mistakes.
Making mistakes is a natural part of learning a language, so relax and don't worry about it.
3. Add in reading in a foreign language.
Research shows that reading books is very effective for learning new languages and vocabulary.  Eventually, you should add in some reading while learning a foreign language.
But, don't worry!
There are many foreign language ideas for reading in the supplement lists.
You can start with a parallel reader like Spanish: Short Stories for Beginners
.
There are also apps, such as Beelinguapp and Parallelbooks.
You can also turn foreign language websites into parallel readers using a website like Readlang.com.
If you want to add learning a foreign language to your unschooling, it's easier than you think!
What kinds of things get your child interested in learning a foreign language?
Lisa Yankey is a regular contributing writer for HomeschoolSuperFreak.com and the author of "The Homeschool Path to Foreign Language." You can find her at www.highenergyhomeschool.com, on Facebook, on Pinterest, and on YouTube.
---
HOMESCHOOL BLOGS : READ THESE LEARNING A FOREIGN LANGUAGE BLOGS NEXT
---
DISCLOSURE: Affiliate links are used on this site and may be used in this post.
Please refer to our DISCLOSURE STATEMENT.
---