Homeschool hour requirements or asking "How many hours is homeschool?" or "How many hours should homeschooling take?" are all normal how to homeschool questions when you first start schooling at home. Here's how many hours a day is homeschool in an average homeschool day…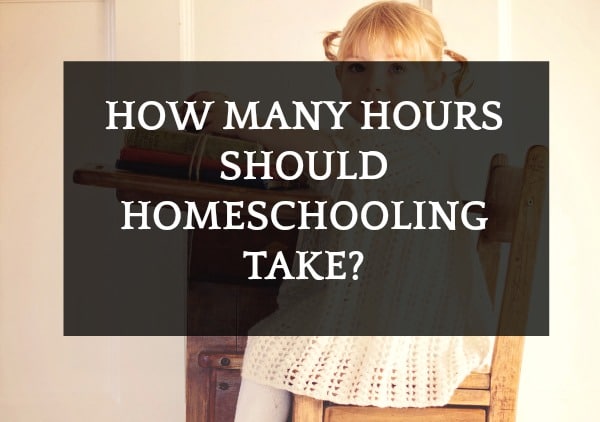 When talking about how many hours is homeschool, I think you're going to be surprised — especially if you grew up in a traditional school setting (like public school).
Let's take a closer look at homeschool hour requirements and how much time does it take to homeschool.
Affiliate links are used on this site. As an Amazon Associate I earn from qualifying purchases. Read more in our DISCLOSURE.
How Many Hours of Homeschool a Day
How many hours a day do you have to homeschool?
Most home school parents find that they can effectively homeschool their children in around 2-3 hours each day for 3-5 days each week. How many hours homeschooling takes will depend on factors like: how many children you homeschool, age and stage of the children, the curriculum or method you are using, outside classes and activities, and the requirements for your state.
Many states have a minimum number of hours (or days) you must meet each year, and some states even break down how many hours you must meet in specific subject areas. Most states don't require a specific number of homeschool hours per day.
So how many hours a day do homeschoolers work?
In general, homeschooling takes much less time than public school and you won't need 8 hours every day to homeschool your children! Remember, you are homeschooling a few kids and not an entire class of 27 kids like in public school (which takes way more time).
Remember: One of the benefits of homeschooling is that you can tailor learning to meet your needs and schedule, so you may homeschool for fewer or more hours than this based on your needs.
How many days a week do you homeschool?
How many hours of homeschooling a week will vary based on your students. Homeschoolers often homeschool anywhere between 3-5 days (or more) per week. The best thing to do is check your state homeschooling requirements. Some states require that you have a certain number of days per school year and you want to make sure you meant those.
How Many Hours a Day Does Homeschooling Take: Sample Homeschool Schedule
To give you an idea about homeschool hour requirements, let's pretend that we are homeschooling three children: preschool (age 4), middle school (age 12), and high school (age 16).
Here's what a sample homeschool schedule may look like for this family of three children:
8:30-10:00 a.m. Chores/breakfast/quiet time/quiet play or reading
10:00 a.m. Group Bible study time
10:30 a.m. Preschool quiet play/coloring; middle school math (assist); high school math (online self-paced course)
11:00 Read books to preschooler (assist); middle school keyboarding (online self-paced course); high school art (online, self-paced course)
11:30-12:30 Group nature hike at park/lunch picnic/finished for the day
And then, the next day, you cover other topics.
When you homeschool multiple ages, you can combine some of your studies and other studies will be individual. This will affect how many hours do you homeschool. Some days it take longer to homeschool. On other days, homeschooling will go really fast.
Also, remember that homeschooling preschool and kindergarten will take a lot less time (and be more about free play and motor skills) than maybe a third grader who needs more direction with a specific curriculum.
As your child gets older, chances are they'll need less help and they will become more autonomous in their studies and only need assistance here and there.
The great thing about homeschooling is that you have the flexibility to tailor homeschooling to what works for you and your children and the home schedule.
If the high schooler likes to sleep in and complete their work in the afternoons, then let him/her!
You can focus on the younger kids while your high schooler sleeps and then maybe work on outdoor activities with them later.
Don't be afraid to switch things around and figure out what works best!
GRAB OUR FREE HOMESCHOOL SCHEDULE PRINTABLE
One Last Note on Homeschool Hour Requirements
Before you do anything else for home school, you must check your state (or country, if you are outside of the United States) laws and requirements for your area.
Every state in America has different laws and requirements for homeschooling.
So, be sure you understand what is required of you, including if there are any minimum hour or days of instruction requirements.
How many hours of homeschool per day will vary greatly on where you live and how you homeschool, so don't be afraid to be flexible in your homeschool schedule.
HAVE MORE HOMESCHOOL QUESTIONS?
Check out our homeschool FAQs.
We'd also love to have you in our group for new homeschoolers! Just click below.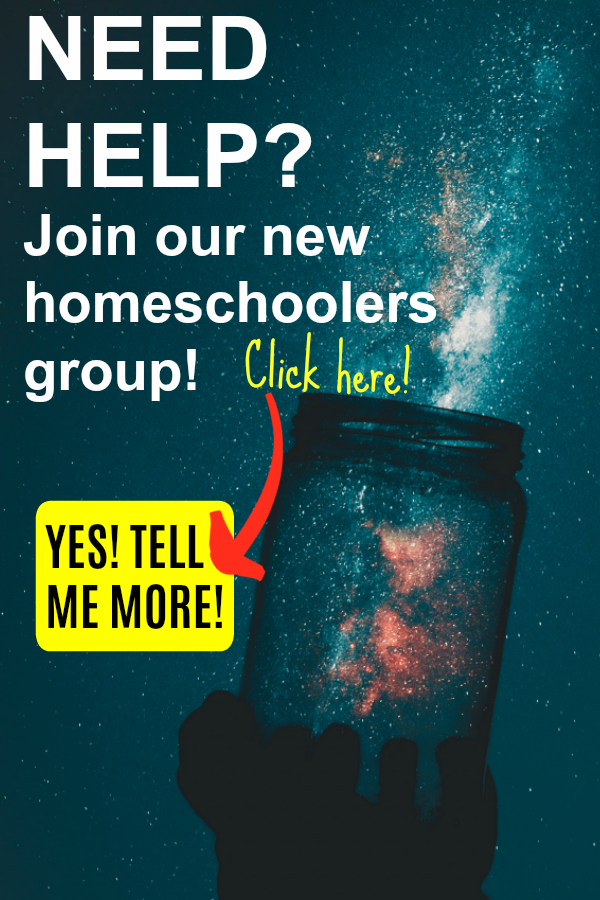 WHAT QUESTIONS DO YOU HAVE ABOUT HOMESCHOOL HOUR REQUIREMENTS?
As an Amazon Associate I earn from qualifying purchases. Please refer to our
DISCLOSURE