Not long ago I overheard some moms talking about yearbook ideas for their school kids' pictures.
As I eavesdropped on them (shut up, like you never eavesdrop in public), I heard them talking about yearbook theme ideas, and covers, and some other fun end-of-year stuff when I thought:
Why haven't I ever made a yearbook for homeschooling?
I mean, it makes perfect sense.
We do a ton of outside classes and activities and attend a variety of events throughout the school year.
I'm always taking a million pictures during those activities and then . . . doing nothing with them.
Affiliate links are used on this site. As an Amazon Associate I earn from qualifying purchases. Read more in our DISCLOSURE.
Then, we forget all the things we've done.
Heck, the more I thought about it, the more I realized that I have way more than enough yearbook content ideas that I could do this every year.
Then, at the end of her homeschooling time she could graduate with an amazing photographic journey of her time in home school, separated out by years, and maybe even some fun autographs and messages from her friends and others who attended those classes or events with her.
Doesn't that sound awesome?
But, what makes a yearbook different from a scrapbook?
A scrapbook is a book of different photographs and items of importance.
And, a yearbook can be the same thing. But, a yearbook is an annual publication and contains photographs and activities from the past school year.
(Plus, the autographs from friends are a big deal for yearbooks, right? I'm going to tell you how to do that for your DIY homeschool yearbook!)
---
TIP: These make great gift ideas using photos for graduation, birthdays, and more!
---
So . . . where do you start for yearbook ideas?
You could pay for a company to create your homeschool yearbook (like at Picaboo yearbooks), which is a great solution.
Just be aware that the yearbook costs for each of your kids every year can get expensive and may be a little more than you want to spend for this home school project.
If you and your kids like crafts or photography, I think that you and/or your kids will have a lot more fun making a homeschool yearbook on your own.
(I'll even cover how you can do it for FREE!)
Here's how to make your own yearbook (and some other cool homeschool yearbook ideas):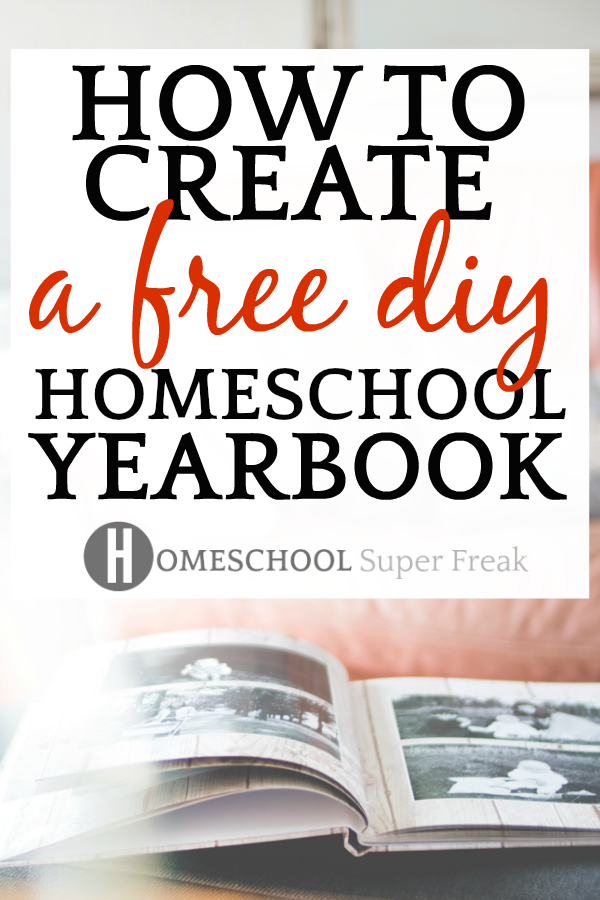 TAP & PIN TO SAVE FOR LATER
---
How to Create Your Own DIY Homeschool Yearbook
---
DISCLOSURE: Affiliate links are used on this site and may be used in this post.
DON'T MISS THE RECAP AT THE BOTTOM OF THIS POST TO MAKE SURE YOU DIDN'T MISS ANY IMPORTANT TIPS!
Yearbook Ideas Step 1: Decide How You Want to Create Your Yearbook
There are two approaches to a homeschool yearbook:
Printed yearbook templates, or
Online templates (that you print out later).
With printed yearbook page templates, you can print out pages, attach the photos, and write down the description and memories about the event.
(Or, you can type out the event description before you print out the templates.)
With online yearbook page templates, you type out the event description and information and then insert the pictures into the template all online. Then, you can print out the finished page (with the pictures and info) and put them in a scrapbook or binder (or even bind it yourself!).
We'll talk about exactly how to create your yearbook using these methods in Steps 5-6.
[KEEP READING!]
---
Yearbook Ideas Step 2: Organize Your Photos
OK.
This is definitely the most UN-fun part of this entire craft project (or any DIY photo projects), but you will need to get your digital photos in some kind of order before you start the fun stuff.
(Sorry.)
I recommend doing it on your computer (and not your phone), if you can, especially if you're going to use online templates (we'll talk about those more later). That way you'll have everything you need in one place on your computer to get started (and you won't be scrolling up and down through a zillion pictures on your phone).
HERE'S WHAT I DO:
I make a folder for each of the events or classes on my computer (you can combine and delete later) and then place the pictures for the corresponding event into the folder.
For example, the folders may be:
Spring Art Camp April 2019
Christmas Homeschool Party December 2018
Fall Volunteer Event November 2018
and so on.
If you have multiple kids and you're doing a separate yearbook for each of them, just put the child's name at the front of the folder name. (Example: Ella Spring Art Camp April 2019)
Also, don't think you need to necessarily make a yearbook per child.
It's fun to also make just one yearbook that covers all the kids and their events for the entire year. It's not necessary to make one yearbook that is customized for each child!
NOW . . .
. . . pour yourself a cup of tea (or glass of wine or whatever), put on some background music (or a TV show) and then begin the mind-numbing process of dragging pictures into the corresponding folders.
If your phone organizes your photos by folder or event, just use those to save time. Transfer the entire folder from that area on your phone to a folder on your computer.
---
TIP: At this point, it's important that you don't stop to reminisce, edit your photos, or even decide which ones you are going to use. 
---
Your only goal at this stage is to get your photos organized!
THINK: KonMari for your pictures!
(You'll be choosing and editing your photos in the next step.)
STAY FOCUSED ON THAT ONE GOAL!
If you start to talk about the event or edit them during this step, you will never finish.
(Trust me, I know from experience when we made our summer photo journal!)
---
Yearbook Ideas Step 3: Choose, Edit, and Print Your Photos
OK, now for some fun!
At this point, all of your photos should be organized into folders by event on your computer (or by event and child, if you're doing a different yearbook for each child).
This step is a great place to get the kids involved!
The little ones can choose which photos they like and the older ones can edit the photos online.
---
TIP: TAKE BEGINNING OF THE YEAR AND END OF YEAR PICTURES THAT CAN BE INCLUDED IN YOUR YEARBOOK!
---
One of the best ways to edit your photos online (think: cropping, making them brighter, enhancing the color, etc.) is an online program called PicMonkey.
PicMonkey is an image editing software and it's super easy to use. You can also add words and other fun clipart and effects to your images.
At around age 9 or 10, I showed it to my daughter. After a few basic questions, she was off and running with it. She uses it all the time now for projects.
There is a free level of PicMonkey and also a CHEAP paid level if you want more functionality (that's what I have!).
Want to see what New PicMonkey is all about? Sign-up for your free trial today!
After you're finished enhancing your photos, be sure to save them with a name that you recognize.
(Don't just leave them at IMG1o3o23.jpg.)
---
TIP: CHOOSE 3-5 IMAGES FOR EACH EVENT PER CHILD TO GO INTO YOUR YEARBOOK.
---
I usually name them using the event and date like EllaVolunteerDayNovember2018_1, EllaVolunteerDayNovember2018_2, EllaVolunteerDayNovember2018_3, and so on.
You just need to figure out a naming system that works for you.
Next, I make a new Folder called something like "Yearbook 2018" and I put all of my edited photos in that folder.
Now I know which photos will be ready for my yearbook without searching through all those event folders for the updated ones!
Once all your photos are edited, you can print them out (if you're doing your yearbook that way).
If you're not sure yet, hold off on printing your pictures and read through the rest of the steps first.
NOW YOU'RE READY FOR ALL THE FUN STUFF!
---
Yearbook Ideas Step 4: Decide On Your Yearbook Theme
If you want to have a lot of fun, you can give your yearbook an overall theme or quote for that year.
Then, you create a cover for that theme and carry that theme throughout your yearbook with clip art and quotes.
---
TIP:
Pixabay.com is a great place to find free clipart to use in your yearbook. Be sure to filter on Vector Graphics or Illustrations on the search bar.
---
29 Yearbook Theme Ideas
Need examples?
Here are some yearbook theme ideas:
Super hero
Sports
Animals
Travel
Your state
Emojis
Motivational quotes
Books
Board games
Video games
Disney
Dr. Seuss
Harry Potter
Social media
Movies
Theater/Broadway plays
Music
Color theme (choosing one or two colors)
Trucks/cars
Farm/country
Planets
God/Bible verses
Beach
Food/cooking
Patriotic
Technology/computers
Magic
Fashion
Cartoons
Then, you take the yearbook theme idea and come up with a catchy quote or saying.
For example, I recently saw on pinterest a Dr. Seuss book themed yearbook and the cover was, "Oh, The Places We've Been!" (So clever, right?)
Here are yearbook quotes that are fun to use with your yearbook theme.
(You can also talk to your kids and come up with a fun one on your own!)
"Why fit in when you were born to stand out?" -Dr. Seuss (Dr. Seuss quotes are really good for yearbook quotes!)
"Be somebody who makes everybody feel like a somebody." -Kid President
"Anything can happen, child. Anything can be." -Shel Silverstein
"We don't make mistakes, just happy little accidents." – painter Bob Ross
"You're braver than you believe, and stronger than you seem, and smarter than you think." -A. A. Milne
"Great things are done by a series of small things brought together." -Vincent Van Gogh
"Everything you can imagine is real." -Pablo Picasso
"Whatever you do, do it well." -Walt Disney
Yearbook Ideas Step 5: Make Your Cover
The cover is something that a lot of people will overlook when creating a DIY yearbook.
(Or, they'll just add a picture and let that be it.)
However, the yearbook cover is where you and/or your kids can have a lot of creative fun!
You'll add your theme quote or theme title ("Our Year of Fun!") and some fun designs.
[Theme ideas are below, so keep reading!]
---
TIP: You'll need to create a free account for both PicMonkey and Canva to create designs.
---
Yearbook Ideas: Cover + Free Yearbook Templates
(You may not need a yearbook cover if you are using a photo album or scrapbook that has cover art already. Just skip to the next step if that's the case.)
Your cover will set the tone for the entire theme of the yearbook, so don't be afraid to get creative!
PicMonkey.com
You can use the collage function on PicMonkey to create your cover, then switch over to the editor function to add text and clipart.
The collage provides template layouts that make dragging and dropping (and changing around) your photos easy!
If you don't want photos on your cover, just open the editor and create from a template or a blank document.
Canva.com
Canva.com is another photo editing and document creation software.
Like PicMonkey, Canva has a free version and a (very affordable) paid version.
Canva also has free cover templates that you can use (and are pretty fun!).
[I'll cover more of that in the next step.]
---
TIP: Don't forget to put the school year on the yearbook covers!
(Like 2018-2019)
---
Yearbook Ideas Step 6: Create and Assemble Your Yearbook
Now that you have your cover, it's time to create and print your yearbook!

If you're printing out your pictures and handwriting the descriptions, you can grab a cute scrapbook with a cool cover already included.
Make sure you have quality scrapbooking markers and your printed pictures, and get to work!
-OR-
If you want to use online templates for your yearbook, use what you learned in Step 5 and make your yearbook pages in PicMonkey or Canva.
(In either one you can add text and clipart.)
If you're using Canva, here are some tips:
After you log in to Canva, search for "Yearbook."
Canva has many yearbook templates. BE AWARE THAT SOME OF THEM ARE FREE AND SOME ARE PAID. (Look for the FREE on the bottom of the template.)
Drag the template over into the work area and start using! You can upload and add your pictures, add your text, add designs and more!
If you want to add another template to use, simply add a page (by clicking on the add page button) and then drag a new template over on to that page.
Continue doing this until you've made all your yearbook pages.
---
TIP: The maximum pages you can create in one Canva template is 30. If you need more pages, just open another document and continue on!
---
Assembling Your Yearbook
After creating your online yearbook pages, print them out and add them to your yearbook!
(Or, if you created them by hand, you're ready for this step!)
My daughter likes the scrapbooks or photo albums that have the clear sleeves/page protectors that you can slide a page down into them (from the top).
She creates her pages using collages in PicMonkey, adds the pictures, types in what she wants to say about the picture or event, and then prints out the entire page for her book or album.
(You can get books in different sizes and widths. Just be sure to adjust your online page size to the size for your book.)
Then, you just add the pages to your binder. (Those sleeves are pre-punched so they can go into a bound photo album or binder.)
If you want, you can have your digital yearbook pages professionally printed and bound. (You can try the printing services at an office supply store or shipping store, but just know it can get a little pricey.).

Yearbook Ideas Step 7: Get Autographs!
Some of the best parts of a yearbook are the autographs and fun things that friends and teachers write in it.
(Sometimes I'll run across my old yearbooks and I still read through what everyone wrote in them!)
So, don't leave this part out of your homeschool yearbook.
Here's who you could have sign your child's yearbook:
YOU! (Since you're their educator, you need to be sure to write in each of your child's yearbooks!)
Your child's other homeschool friends
People who attended a class or event with your child
Teachers or leaders of the class or event
Any supportive friend or family member who has memories to add
But, how do you get autographs for classes and events throughout the year?
(It's not like in traditional school where you will be with the same people at the end of the year.)
Here's how:
SECRET HOMESCHOOL DIY YEARBOOK TIP FOR AUTOGRAPHS
I recommend giving your kid a sheet of blank stickers/labels (this size makes the most sense) and have your kid get autographs on the labels whenever they have a class or event.
Then, after the event, write the event and date on the label sheet (so you can remember which class they're from later). Store them away in a yearbook folder.
When you're ready to make the scrapbook, your kid can peel off each autograph label and put it in the appropriate spot in the yearbook with the pictures of the class or event!
Now, sit back and ENJOY YOUR DIY YEARBOOK.
Have fun going through it all with the kids and laughing about the memories!
---
• CONCLUSION RECAP •
YEARBOOK IDEAS + FREE YEARBOOK TEMPLATES
If you have multiple children, decide if you want to make a yearbook for each child or one yearbook for all the kids.
Organize your digital photos into different (computer) folders based on event.
Edit your digital photos using free PicMonkey.com.
Decide if you want to do everything by hand (print photos and handwrite descriptions) or you want to make digital yearbook pages to printout.
Determine a theme.
Make a cover (if needed).
Choose 3-5 edited photos for each event per child.
Create your yearbook photo pages based on events (using free yearbook templates from PicMonkey collage or Canva yearbook templates).
Print your pages and place them in your binder, scrapbook, or photo album.
Use labels to get autographs during events and then place them in the yearbook at later dates.
---

Have you ever created a DIY yearbook?
What kind of yearbook ideas do you have?
I'd love to hear your experience and add it to the post!
As an Amazon Associate I earn from qualifying purchases. Please refer to our
DISCLOSURE