Are you ready for Ultimate Best of Black Friday deals and Cyber Monday deals? We have top toys for 2019, Instapot deals, best tablets for kids and so much more in Black Friday shopping tips! It's the ultimate HUGE Black Friday list for homeschoolers and parents!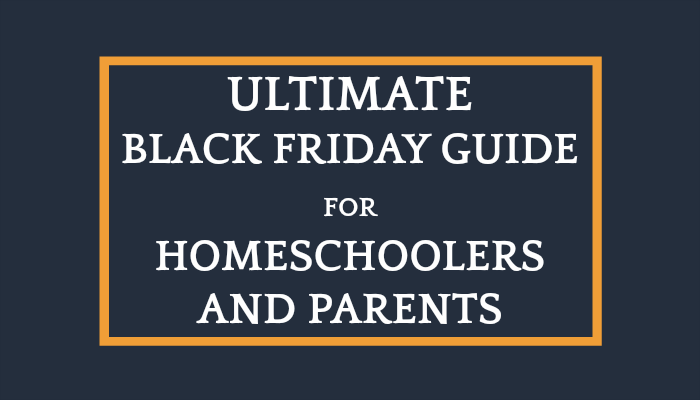 Black Friday, or the shopping day on the Friday following Thanksgiving Day in the United States, is a great time for parents and homeschool families to get the best deals. For many people, it starts off the Christmas shopping season in stores and for many others, we shop online right from the comfort of our home (while watching the Macy's Thanksgiving Day Parade replay or whatever Santa Claus parade we favor).
BUT…
Affiliate links are used on this site. As an Amazon Associate I earn from qualifying purchases. Read more in our DISCLOSURE.
Before you get caught up in the Black Friday chaos, I want you to prepare for family and homeschooler Black Friday deals.
Like, RIGHT NOW.
Promise?
(You're here, so I'm assuming that's what you're doing . . .)
OK.
Before we get into all the Black Friday sales questions and info, let's get right to it and give you some 2019 Black Friday / Best Cyber Monday deal picks for kids.
We recommend bookmarking / saving this post so you can come back here and check these items and see any sales updates we've added!
Don't miss our other Black Friday recommendations after the toy section.
KEEP SCROLLING!
Ultimate Black Friday Tips: When To Buy What
OK, we're going to let you in on a little secret:
Did you know that the best deals now often happen before Black Friday?
Stores are trying to "one up" their competitors and get a larger piece of that revenue pie, so they are starting earlier and earlier.
This means you can probably start your holiday shopping now and still get big discounts!
---
Did you know that Thanksgiving through Cyber Monday accounts for 20% of all sales for the year?
---
DISCLOSURE: Affiliate links are used on this site and may be used in this post
Early Black Friday Sales and Deals
These are the best dates to buy certain products for holiday shopping to get the best discounts:
Buy electronics in early November.
Shop Christmas decor on November 22nd where products can be up to 25% off!
Look for the best toy deals the day before Thanksgiving.
Black Friday discounts and sales will start to slow the following Friday (after Cyber Monday).
Amazon often has different daily deals the entire week prior to Black Friday, so keep your eye out.
Green Monday, or the second Monday in December, also offers discounted shopping.
The average store discount the week of Thanksgiving is 20% off.
Thanksgiving, Black Friday, and Saturday, the in-store deals often increase to an average of 37% off.
Online sales are better on Thanksgiving Day than on Black Friday. (WHA?!?) The average discount was 24% off.
Thanksgiving Day is the best day to shop online for sporting goods, video games, electronics, smart phones and accessories, and clothing / fashion.
Cyber Monday is a great time to get deals on travel / vacation packages.
Resources: Balance.com, National Retail Foundation, Wall Street Journal, DigitalTrends.com
OK, onto the really good stuff!
---
Homeschooling Tip:
Some homeschool sites offer free homeschool deals during Best of Black Friday deals and Cyber Monday. Search online for "free homeschool deals" during those times!
Also, check your favorite homeschool websites and products by searching terms like "Alpha and Omega bookstore coupons," "BookShark coupon code," "Academy Cyber Monday" or "Teaching Textbooks coupon code."
---
SNEAK PEEK: PREDICTIONS FOR HOT TOYS
BEST OF BLACK FRIDAY DEALS AND BEST OF CYBER MONDAY DEALS
We're seeing some early 2019 HOT TOYS (and other products) released NOW, so start your planning!
Although we don't know the exact sales or savings yet, it's a safe guess that you'll see great discounts on these new and popular toys.
FAIR WARNING: Hot Toys often sell out if they go viral and become the "Gotta have that!" toy for your kid. If you see something that is a MUST HAVE, you may want to consider purchasing it now so you don't have worry about it being in stock during the holidays. I saw limited-time coupons on Amazon for some of these toys starting RIGHT NOW, so be sure to click on the coupon box when shopping to get the savings.
Here are the toys and hot products for this year you'll want to keep an eye on (and they're in no particular order):
Affiliate links are used on this site. As an Amazon Associate I earn from qualifying purchases. Read more in our DISCLOSURE.
1. Pinkfong Baby Shark Song Puppet with Tempo Control
The Pinkfong Baby Shark Puppet has been released by some stores on their "Top Toy List."
(If you're wondering, yes it's that Baby Shark. Doo doo doo doo.)
When you move the mouth of the soft, plush puppet, it sings the Baby Shark song.
The song can go slower or faster based on how your move the puppet's mouth.
There's a Baby Shark puppet, Daddy Shark, and also a Mommy Shark.
CHECK CURRENT PRICE
2.
Kindi Kids Snack Time Friends:
Jessicake
The Kindi Kids Snack Time Friends Jessicake is part of the Kindi Kids world.
(Watch their adventures on YouTube!)
Jessicake comes with Magic Cupcake and Sprinkles that Jessicake "eats."
SEE ALSO: Kindi Kids Marsha Mello
CHECK CURRENT PRICE
3. RYAN'S WORLD Giant Mystery Egg (Series 3)
The Giant Mystery Egg series is based on Ryan Toys Review, "the most popular kids YouTube channel on the planet."
(Ask your kids. They'll probably know.)
Each egg is unique—no two eggs are the same!—and include items like:
Ultra-rare figures

Build-a-Ryan Figures

Special putty

Limited edition squishy

Stickers

Tattoos

& MORE
CHECK CURRENT PRICE
4.
Wildluvs Juno My Baby Elephant with Interactive Moving Trunk
Wildluvs Juno My Baby Elephant is so cute!
It has an interactive moving trunk and over 150 sounds and movements.
She has a personality that grows and changes the more she is played with.
The elephant also comes with a peanut and toy mouse so you can teach her different games, dances, and more.
CHECK CURRENT PRICE
5. FurReal Cubby, The Curious Bear Interactive Plush Toy
FurReal Cubby, The Curious Bear Interactive Plush Toy is another interactive toy that has "lifelike and interactive expressions" and is a HOT TOY PREDICTION for this year.
It has 100+ sound and motion combinations and comes with a treat, bottle, and comb for more interactive play.
CHECK CURRENT PRICE
6. Treasure X King's Gold Treasure Tomb
Treasure X King's Gold Treasure Tomb is a playset where you "go on the Quest and solve the puzzles to conquer the treasure tomb and unlock the real gold dipped treasure from the vault."
Kids get to smash glass, and dig, and solve secrets, and avoid traps.
They guarantee a "real gold dipped treasure in every treasure tomb Playset."
(How awesome is that?!)
I'm going to quote this because it's SO COOL:
Before kids can unlock the vault and find the treasures they must first solve a series of cause and effect puzzles. With traps and critters to avoid and keys to find, including the treasure sword which opens the King's Tomb, it's a unique experience not to be missed
After, they still have an amazing playset for imaginary play!
CHECK CURRENT PRICE
7. Avengers Articulated Electronic Fist
The Avengers Marvel Legends Series Endgame Power Gauntlet Articulated Electronic Fist is from the Avengers movie.
This movable "fist" is a fun imaginary roleplay item that kids can wear.
There are lights and pulsating movements and sounds and more!
CHECK CURRENT PRICE
ALSO KEEP AN EYE ON THESE ADDITIONAL HOT BLACK FRIDAY TOY DEALS:

OK.
Now that we've taken care of our BEST OF picks for Black Friday toy sales, let's get into more about Black Friday versus Cyber Monday, answering some general shopping questions, and give you more Black Friday Deals / Cyber Monday Sales to watch.
Sound good?
What's Black Friday?
When is Black Friday 2019?
Black Friday Day: Um, on a Friday (but I'm guessing you already know that)
2019 Black Friday Date: November 29, 2019 (the Friday after the Thursday of Thanksgiving)
What Are Black Friday Hours?
You will see some stores with Black Friday hours as early as 4 p.m. on Thanksgiving Day.
(Some are open all day on Thanksgiving.)
However, other stores wait until midnight to open or around 4-6 a.m. on Black Friday.
Check your local stores to see their hours because they vary widely.
Black Friday Amazon
HEAD'S UP: Amazon often starts their Black Friday deals early (and some deep discounts on their Amazon Deal of the Day).
Last year, Amazon started Black Friday sale on November 17th!
So, be sure to keep an eye on this post.
We'll update it as soon as we hear the Amazon Black Friday sales date (and other early Black Friday ads info).
Since we're talking about Amazon on Black Friday, this is a great place to talk about Prime Membership.
Is Amazon Prime Membership worth it for holiday shopping?
We've been Amazon Prime Members for a few years now and find it well worth it for our family.
During the holidays, it is especially helpful because with Prime the shipping is FREE and FAST.
(So it's great for last minute ordering, too.)
During special times (like Prime Day, holidays, etc.), Prime Members often get additional discounts on some items, which is really helpful for times like Christmas when you're spending a little more than usual.
Benefits of Becoming an Amazon Prime Member:
Free 2-day shipping
Free same day shipping
Prime member exclusive discounts
Free unlimited streaming of movies and TV episodes
Free unlimited, ad-free access to hundreds of Prime Playlists and more than two million songs
Discounted prime channels like HBO, SHOWTIME and STARZ without a subscription/cable commitment
Discounts from Whole Foods Market
Prime Wardrobe try before you buy on eligible clothing
Prime Reading to borrow books, magazines, and more from the Prime Reading catalog and read them on your Fire tablet, Kindle e-reader, or the Kindle reading apps for iOS and Android
Early access for members in the U.S. to download a new book for free every month from the Amazon First Reads picks & MORE!
---
How To Get Prime Membership Benefits Without Paying For A Prime Membership
TIP: If you're not a current Amazon Prime member, you can try PRIME for FREE for 30 days in order to take advantage of the additional Black Friday / Cyber Monday deals.
**You can cancel Prime before the 30 days is up and it won't cost you anything!**
---
If you decide to keep the Amazon Prime membership after the trial ends and enjoy the benefits all year long, the monthly cost is currently less than a take one take out meal! (SOOOOO worth it!)
You can also give a gift of a Prime Membership (which, honestly, is a great deal for those who are hard to buy for on your Christmas list!).
Which stores have the best Black Friday deals?
We have a list of Black Friday sales links below that you can bookmark, so don't miss them! Keep scrolling!
The stores that have the best Black Friday sales will depend on what you're looking for in products or gifts. For example, you're probably not going to look at Kohl's if you need a great deals on laptops for a student.
However, in general, these stores seems to offer big discounts across a variety of products:
Best Black Friday sales by store for Black Friday 2019:
Walmart
Target
Best Buy
Amazon
Kohl's
Office Depot / Office Max (for real!)
Dick's Sporting Goods
JCPenney
Meijer
Keep an eye out for Black Friday ads that list the sales for your favorite stores.
How much discount do you get on Black Friday?
Black friday sale discounts vary between stores.
The average discount is around 25%, but may be (a lot) more or less depending on the store and the product.
Should You Shop Black Friday vs Cyber Monday?
Cyber Monday: When Is it?
We've been talking a lot about Black Friday deals, but what about Cyber Monday?
Cyber Monday is the Monday after Black Friday.
What happens Cyber Monday?
Cyber Monday is dedicated to targeting people who shop online, encouraging shoppers to continue buying after the Black Friday sales.
According to Wikipedia:
The term was coined by Ellen Davis of the National Retail Federation and Scott Silverman, and made its debut on November 28, 2005, in a Shop.org press release entitled 'Cyber Monday' Quickly Becoming One of the Biggest Online Shopping Days of the Year.
Cyber Monday Best Deals
You will find sales for cyber monday from many of your favorites stores.
You'll find:
Cyber Monday Amazon deals
Cyber Monday Walmart deals
Cyber Monday Best Buy sales
Cyber Monday Target deals

Cyber Monday Apple sales (Yes, even Apple!)
. . . and many, many other favorite stores.
Some people think that it's best to wait until Cyber Monday to buy electronics (and not buy them on Black Friday).
However, that's not always the case.
Like we mentioned earlier, online sales are often better on Thanksgiving Day than on Black Friday!
Also, don't forget:
Are Cyber Monday deals the same as Black Friday?
Deals for cyber monday offer additional savings or discounts in different categories than was offered on Black Friday if you shop online.
Cyber Monday for Amazon usually offers pretty good savings on a variety of items, so keep your eyes on Amazon Deal of the Day during Cyber Monday.
Is it better to buy laptop on Black Friday or Cyber Monday?
This is a tricky question because there will be laptop sales from varying stores on both days.
However, the best time to buy a laptop is when you've completely done your research. You definitely don't want to impulse buy a laptop just because the price seems good or it's on sale.
We recommend that you plan ahead for Black Friday laptop sales by thoroughly understanding what kind of laptop you want/need.
Oh hey, in case you're wondering . . .
Why do they call the Black Friday?
So, what is the Black Friday origin?
According to History.com:
Back in the 1950s, police in the city of Philadelphia used the term to describe the chaos that ensued on the day after Thanksgiving, when hordes of suburban shoppers and tourists flooded into the city in advance of the big Army-Navy football game held on that Saturday every year.

Not only would Philly cops not be able to take the day off, but they would have to work extra-long shifts dealing with the additional crowds and traffic.

Shoplifters would also take advantage of the bedlam in stores to make off with merchandise, adding to the law enforcement headache.

By 1961, "Black Friday" had caught on in Philadelphia, to the extent that the city's merchants and boosters tried unsuccessfully to change it to "Big Friday" in order to remove the negative connotations.
Affiliate links are used on this site. As an Amazon Associate I earn from qualifying purchases. Read more in our DISCLOSURE.
BEST BLACK FRIDAY DEALS TO KEEP YOUR EYE ON
This is our list of "keep your eye on" Black Friday deals (and Cyber Monday sales) because these products traditionally have significant savings during the Thanksgiving week / Thanksgiving Day / Black Friday / Cyber Monday shopping period.
We'll leave the links here for you to check as the holiday approaches, SO DON'T FORGET TO BOOKMARK THIS POST!
When they release specific sales / info on these categories, we'll update it here!
---
I recommend that you head over now and do some research so you know exactly what you want when the sales hit!
BLACK FRIDAY IS NOT THE TIME TO DO RESEARCH, IT'S THE TIME TO SHOP!
---
Black Friday Deals for Video Games
Save this link: Black Friday for video games and accessories
Black Friday Deals for Nintendo Switch
Save this link: Black Friday Nintendo Switch deals and accessories
Black Friday Deals for PS4
Save this link: Black Friday PS4
Black Friday XBox One Deals
Save this link: Black Friday XBox and accessory deals
Black Friday Deals for Laptops
Save this link: Black Friday Laptop Deals
Black Friday for Tablets
Save this link: Black Friday Deals for iPad
Save this link: Black Friday Deals for Kindle
Best Homeschool Printer Sales on Black Friday
Save this link: Best Homeschool Printers Deals
Something for Parents (and Cyber Monday Deals for Mom)
Other Best Of Black Friday Deals To Keep An Eye On
Black Friday Instant Pot
Save this link: Black Friday Instant Pot Sales
Black Friday Air Fryer
Save this link: Black Friday Air Fryer Deals
Black Friday TV Deals
Save this link: Black Friday TV Deals
Black Friday Ring Doorbell
Save this link: Black Friday Ring Doorbell Deals
Black Friday Roomba
Save this link: Black Friday Roomba
My Favorite Black Friday Finds
I do the majority of my holiday shopping on Amazon for Black Friday.
One year, I got this Osmo game
(that I call "One of THE BEST LEARNING TOOLS we've ever purchased)!
It's one of my favorite Black Friday sales finds and, even a couple of years later, we're still using it!
As an Amazon Associate I earn from qualifying purchases. Please refer to our
DISCLOSURE
STARTING HOME SCHOOL? CHECK OUT OUR HOW TO HOMESCHOOL GUIDE