I have some confessions of a homeschooler.
And, you may be feeling like I have been feeling these days.
There are long homeschooling days when it feels as though I am losing our focus, our vision, and I'm losing unique pieces of myself that I love.
My ideas, my time, and my space no longer seem to be of great importance.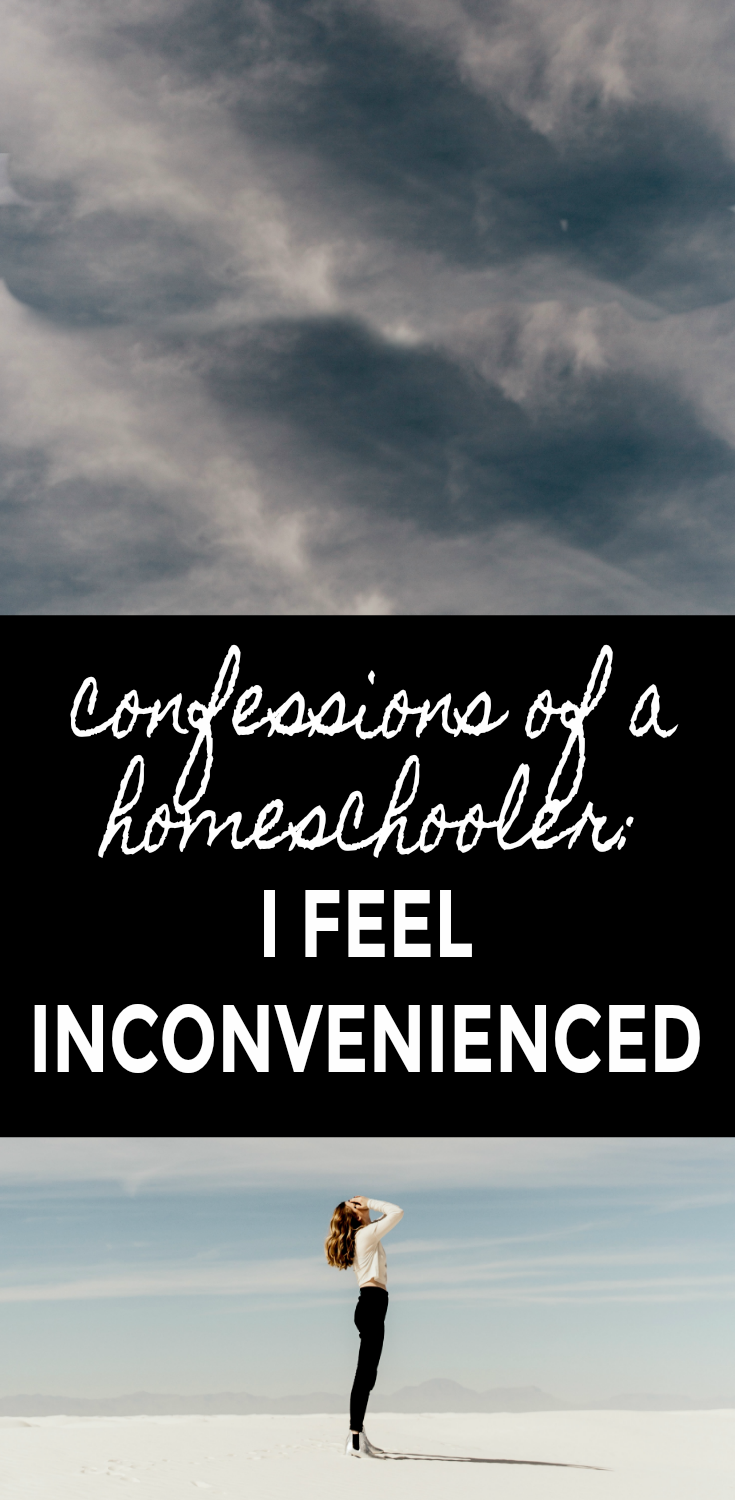 (It's OK, you can tell me your confessions of a homeschooler, too.)
As homeschooling parents, we find ourselves giving all that we are for the little ones that have invaded every inch of us and we begin to feel . . . utterly inconvenienced.
As homeschooling parents we refuse to win arguments and heated debates, clinging desperately to the belief that the goal is connection not control.
We leave the expensive popular curriculum unfinished and commit to doing what works best with our children's learning style.
And, introverts like myself venture timidly out into the homeschool group, making friends and commitments totally out of our comfort zones . . . all to benefit our homeschooled children.
But, sometimes homeschooling feels like an inconvenience. An interference.
Old plans, projects, and dreams of ours lie in ruin as we begin to realize that our children aren't always interested in the same things that we are.
We plan sleep-overs, play games, watch kid's movies, stay up late, get up early . . . for what?




We give up cooking certain healthy foods and trying new recipes to avoid the shrill complaining at the dinner table.
Paint colors come home from Home Depot end up on bedroom walls that would never be our choice.
We plan birthday parties with themes that we don't delight in . . .
We clean up unidentifiable messes, do loads laundry, answer unending questions, and soothe a variety of tragic problems only to start all over again the very next day.
Our ego lies in ruin as we hold vehemently to the belief that homeschooling and parenting plainly isn't about us. 
It's about these tender little hearts placed by God into our homes  and into our hearts like sponges.
And, they are asking for love.
They are asking for someone to daily remind them–in both word and action– that "You're special!" and "This thing called life? You can do it!" or "Your tastes are unique and important!" and "You are delightful!" or "Nothing in this world can ever stand in the way of what you and God can do together!"
But homeschool parents, what about us?
What about our hearts?
And, what about the days when we need to be reminded of these very things for ourselves?
The days when we feel about as strong and beautiful as a squishy little sponge.
Or, days when we've given so much of ourselves that we begin to wonder if there is any part that is us anymore, or if we got lost somewhere in the piles of dirty paper towels and art projects.
Days when we need to turn to the One that utterly gave of Himself to remind us that we are special and that we CAN do this thing called life.
That we are delightful.
That our tastes are important and unique.




And, that there is nothing in this world that we and Him can't do together!
Because when we open our hearts to that truth it's no longer an inconvenience, but an overflow.
What are your confessions of a homeschooler? Share in the comments so we can support each other!
Anita Byler is a homeschooling mother of three, finding joy in the little moments. Read more at littlemomentsgreatjoy.wordpress.com.
---
HOMESCHOOL BLOGS : READ THESE NEXT
STARTING TO HATE HOMESCHOOLING? | WHAT TO DO WITH HOMESCHOOL BURNOUT
ALONE TIME FOR THE HOMESCHOOLING PARENT TO AVOID BURNOUT
6 SYSTEMS THAT WILL HELP CALM YOUR HOMESCHOOLING CHAOS STARTING TODAY
---
DISCLOSURE: Affiliate links are used on this site and may be used in this post.
Please refer to our DISCLOSURE STATEMENT.
---