Can you believe it? That time is here and you're staring a homeschool graduation ceremony right in the face!
::sob::
There. There.
It will be fine!
Affiliate links are used on this site. As an Amazon Associate I earn from qualifying purchases. Read more in our DISCLOSURE.
Everything will be OK.
I promise.
Alright.
Enough of that.
I need you to pull yourself together because we have some work to do with planning a homeschool graduation ceremony!
So, your homeschooler is graduating high school . . .
. . . but now what?
We're going to walk you through common homeschool graduation ceremony mistakes, how you should avoid them, and give you some creative homeschool graduation ideas to rock the party!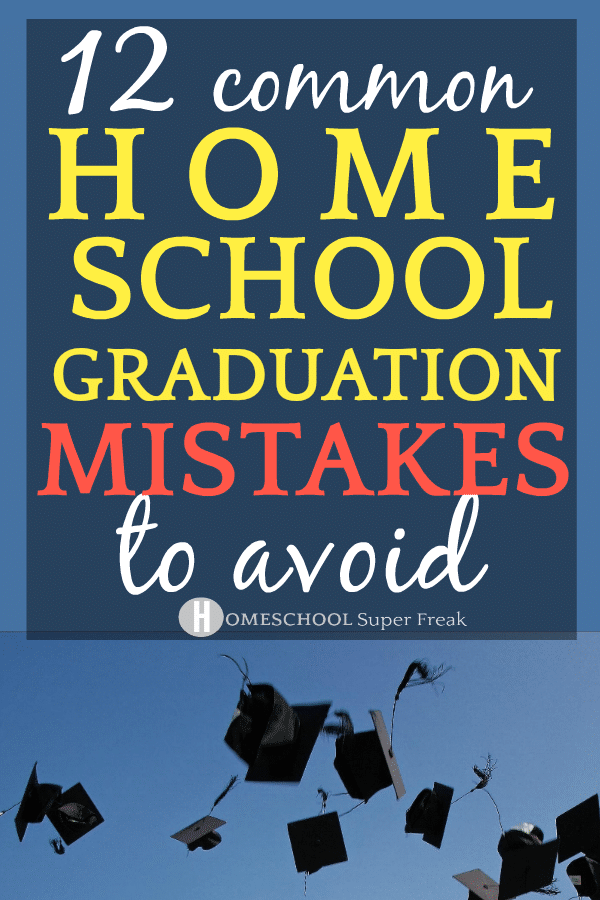 PIN TO SAVE & SHARE
---
12 Common Homeschool Graduation Ceremony Mistakes to Avoid
Homeschool Graduation Ceremony Mistake #1: Not Checking Your State Laws for Graduation
Once you get to the graduation ceremony planning stage of homeschooling, it's a little late to be checking your homeschool state laws on graduating for the very first time.
However, this is a good time to make sure all your proverbial homeschool ducks are in a row.
So, be sure to double check what is required of you (by your state) for homeschool graduation requirements and tie up any loose ends.
Homeschool Graduation Ceremony Mistake #2: Not Checking If There's a Local Ceremony for Your Homeschooler
In some areas with a large population of homeschoolers, you may find that there's a local homeschool graduation ceremony hosted through a private organization or group.
Search online, ask in local homeschool Facebook groups, or in your meet-up groups for homeschool graduation ceremonies for your city or state.
And, who knows?
If there isn't one, but there is enough interest from a small group of other homeschool parents, maybe you can even put something together?
Homeschool Graduation Ceremony Mistake #3: Forgetting to Create a Diploma
This one is easy to forget because your homeschooler just completes the last of their work and then they're . . . done.
However, creating a diploma for your homeschooler is one of the most important things that you can do for their graduation!
They'll use copies of that diploma for job interviews, college, and more.
Plus, it's a cool recognition of their accomplishment!
(And, you are their "educational institute," so it is your responsibility to create a diploma!)
However, a word of warning: don't create one of those cheesy clipart diplomas with a balloon border.
Remember, your child may be using copies of the diploma for official purposes (jobs, college, etc.), so you want a professional looking diploma!
But, don't worry!
You can order professional looking diploma paper. (And, don't forget an awesome, offical looking diploma document holder.)
---
UNSURE WHAT TO PUT ON A HOMESCHOOL DIPLOMA?
CHECK THIS OUT THIS NEXT:
---
Homeschool Graduation Ceremony Mistake #4: Not Buying a Cap and Gown
UGH.
I know.
Why would you want to spend the money on something that your kid is only going to wear for a short period of time?
A cap and gown is a symbol of a milestone, but it's something that many homeschool families don't buy.
Don't make this mistake!
A graduation cap and gown makes this process feel more official!
(Plus you can get a cap, gown, tassel, and year to go on the tassel REALLY CHEAP, so there really is no excuse. . .)
(And, think of all those cute pics you'll get of your grad!)
Homeschool Graduation Ceremony Mistake #5: Not Setting a Date and Location
Don't make your graduation a private event!
This is a CELEBRATION, so invite friends and family to commemorate this time and honor the hard work of your homeschooler.
Consider where and when you want to have your homeschool graduation ceremony and then get it on the calendar.
(The earlier, the better!)
Homeschool Graduation Ceremony Mistake #6: Forgetting to Create (and Send) Invitations
Graduation time is super busy for a lot of people, so once you get your date and location set you'll want to get those invitations out ASAP!
You can save money by creating and printing your own invitation with an online app like PicMonkey.
Want to see what New PicMonkey is all about? 
Be sure to include the following on your homeschool graduation invitation:
What the event is
Child's name
Date
Time
Location (including an address)
RSVP contact info
Homeschool Graduation Ceremony Mistake #7: Not Planning The Party Adequately (It's Different Than a Traditional Graduation Party!)
Another mistake people make is not thinking through exactly what kind of  ceremony is needed for a homeschool graduation.
Because it's for homeschooling, it will be a different than a traditional graduation ceremony (where you go to a school for the graduation and then back home or to a venue for the party).
At your homeschool graduation ceremony, you will be performing some type of graduation recognition and then having the party.
So, consider:
What kind of party do you want?
Will you hold the "graduation" and then have an open house type of party where you have cake and drinks and people can drop in any time between certain hours? (If so, be sure to put this on the invite!)
Are you having a smaller celebration at a restaurant?
Are you having a casual party that will last several hours that includes a graduation recognition and then a barbecue?
Most of the time, a casual backyard barbecue kind of ceremony works fine.
Just be sure to plan for everything you need:
When will you have the graduation part of the ceremony? (At the beginning? After everyone eats?)
If it's a bigger party, do you need a sound system with a microphone so you can give a speech, present the diploma, and then others can give toasts?
Do you need a tent to protect from the sun (and one with sides that can pull down in case it rains)?
How many chairs and tables will you need?
Do you want to do fun things like a bubble machine or a karaoke machine?
What else?
---
DON'T MISS:
---
Homeschool Graduation Ceremony Mistake #8: Forgetting to Celebrate Your Homeschooler's Successes
Some of the people coming to the homeschool graduation ceremony for your child probably don't completely understand how to home school and how your child even got to this point.
Make part of the diploma presentation an explanation of your child's accomplishments. (Skeptical Aunt Jo will definitely be impressed to learn that your child covered ancient Egyptian history and also volunteered three times each month!)
Celebrate your homeschooler's accomplishments by:
Highlighting in your diploma presentation speech what your child covered and some of their favorite things.
Putting together a slide show of your homeschooling years.
Making a

cool photo collage

of the homeschooling years. (You can even ask guests on the invitation to contribute their favorite photos!)
Homeschool Graduation Ceremony Mistake #9: Not Planning Your Graduation Speech
OK, this is the part where I remind you of something that might terrify you:
You will need to speak in front of the crowd at your child's homeschool graduation.
(I mean, you'll be presenting them with their diploma, so this can't be that much of a surprise, right?!)
Yikes.
This is another area that homeschooling parents may forget about, especially if you were traditionally schooled.
Don't forget to plan the diploma presentation and your speech!
So, what should you say?
What To Say At a Homeschool Graduation:
Give an overview of their accomplishments.
Share some funny stories about homeschooling.
Tell about areas where your child excelled.
Include any recognitions they received over the years.
Talk about extra-curricular activities.
Let your guests know what your child plans on doing next in their life.
After the diploma presentation and your speech, open the floor for anyone else who might want to say something to the new grad!
Homeschool Graduation Ceremony Mistake #10: Forgetting to Capture Memories from Guests
Don't forget to give your guests a way to write messages, well wishes, and memories for your grad!
Here are some fun keepsake ideas:
Homeschool Graduation Ceremony Mistake #11: Not Getting a Meaningful Graduation Gift
With everything else going on, a graduation gift might slip through the cracks.
But, now is the time to bust out the big gift guns and give your homeschool graduate something meaningful, especially if they're going off to college or moving out right away.
This is really their last big send off gift that transitions them from childhood into early adulthood, so make it good.
(No pressure . . .)
Here are some of our favorites:
Upgraded tech like a new laptop,

a tablet

, or a new phone.
Gas gift card to cover 3-6 months of gas.
Meal gift cards (especially if they are moving out or heading off to college).

AirBnB gift card

(so they can do a vaca with their friends).
Money. (Seriously, you can never go wrong with cash.)
Homeschool Graduation Ceremony Mistake #12: Not Involving Your Homeschool Graduate in the Planning
One of the biggest mistakes homeschooling parents make is not involving their homeschooler in the graduation planning process.
Sit down with your new grad and get an understanding of what they really want.
Maybe they want a huge party with a mix of their homeschool and traditional school friends and you were planning a small family dinner?
(Yikes.)
Or, maybe they're mortified at the thought of wearing a cap and gown for their graduation?
Be sure you're all on the same page and the process will be much more enjoyable!
---
ALSO CHECK OUT:
---
As an Amazon Associate I earn from qualifying purchases. Please refer to our
DISCLOSURE