Looking for black history month for kids: ideas, black history fun facts, black history inventors and heroes, and other black history month activities, printables, and resources?
Look no further!
We've put together the ultimate guide to black history month for kids!
About Black History Month
Black history month is in February.
It starts on February 1st and runs the entire month until the end of February.
Affiliate links are used on this site. As an Amazon Associate I earn from qualifying purchases. Read more in our DISCLOSURE.
But, you don't need to wait for the designated month to add amazing people to your lessons and studies and teach your kids about black history.
There are so many great black history heroes and black history month topics to study starting TODAY — even if it isn't February!
Before we get to the black history resources and black history month printable activities, let's take a look at some black history facts and how the month came about.
Black History Month Fun Facts
Here are some black history facts to give you a better understanding of the month:
Black History Month (initially just a week long) was created in 1926 by the Carter G. Woodson and the Association for the Study of Negro Life and History.
It was created to spotlight the contributions of black people throughout history.
The week was initially called "Negro History Week" and was initially celebrated the second week in February because it was the birthdays of two men who greatly influenced African American history: Frederick Douglass and Abraham Lincoln.
The week was later expanded to Black History Month in 1976.
Founder and Harvard scholar Dr. Carter G. Woodson was disturbed by the lack of African American's documented in American history, so he created the Journal of Negro History.
Black History Month is also called African American History Month.
The Smithsonian National Museum of African American History and Culture honors the contributions of African Americans.
[source]
Black History Month [VIDEOS]
Black History Month Quotes
Need some inspiration?
Here are black history month quotes for students that will provide inspiration for your learning!
"You have seen how a man was made a slave; you shall see how a slave was made a man." -Frederick Douglass
"Never be limited by other people's limited imaginations." -Dr. Mae Jemison, first African-American female astronaut
"Hate is too great a burden to bear. It injures the hater more than it injures the hated." -Coretta Scott King
"The time is always right to do what is right." -Dr. Martin Luther King, Jr.
"Success is to be measured not so much by the position that one has reached in life as by the obstacles which he has overcome while trying to succeed." –Booker T. Washington
"Bringing the gifts that my ancestors gave, I am the dream and the hope of the slave. I rise."  -Maya Angelou 
Still I Rise by Maya Angelou: Famous African American Poems) [VIDEO]
---
DISCLOSURE: Affiliate links are used on this site and may be used in this post.
Please refer to our DISCLOSURE STATEMENT.
---
Black History Month Ideas
Check out these fantastic black history month theme ideas.
There are enough different ideas here that you can fill the entire month of February with black history lessons!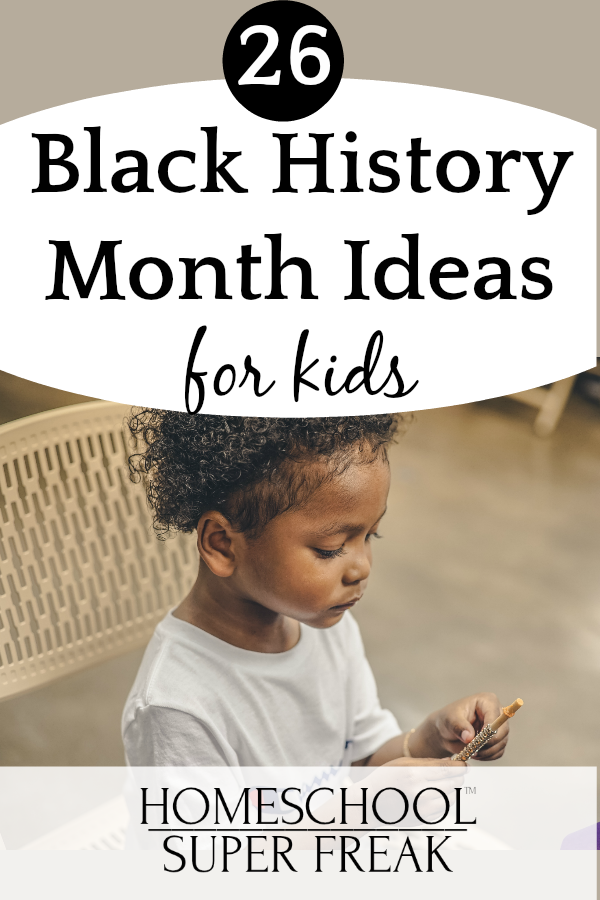 PIN TO SAVE FOR LATER
Black History Month for Kids Idea #1: Study Black History Inventors, Black History Figures, and Black History Heroes
One of the best ways to incorporate black history month into your studies is to first start with reading books about important black figures and black leaders in history (and even some black superheroes)!
Here are some of our favorite books for black history for kids:
Black History Month for Kids Idea #2: Watch Black History Month Movies and Documentaries
Don't discount watching movies and documentaries to supplement your black history studies.
Check out these black history documentaries, shows, and black history movies:
Black History Month for Kids Idea #3: Host Black History Month Events
Gather your group of homeschool friends, the homeschool co-op, the church youth group, or whomever your tribe happens to be and host black history events!
Here are some ideas:
Black History Month for Kids Idea #4: Do a Black History Timeline Project
Check out this black history timeline and recreate a topic of timeline of African American history facts!
Each person can focus on 10 black history events that interests them. Design a timeline and then illustrate the timeline. At the end of the event, each kid can explain their timeline and why they chose those events.
(We keep a roll of art paper for projects like this!)
Black History Month for Kids Idea #5: Complete Theme Lessons
Here are free (and unique) resources for black history lessons, activities, information, and more so that you can compile theme lessons
1. African American History Museum
Ages: Kindergarten – High School
The National Museum of African American History and Culture is an interesting place to start.
On the site you can explore different African American cultural exhibits, take a virtual field trip, as well as read about stories and contributions of African Americans throughout history.
2. The J. Paul Getty Museum
Ages: Kindergarten – High School
The J. Paul Getty Museum website has an amazing "Resources for the Classroom" section.
There are complete lesson plans including art, science, history, ESL, women in history, and so much more that you may find helpful for black history.
The downloads are free, but there are links to resources you can purchase in the online store to enhance the learning.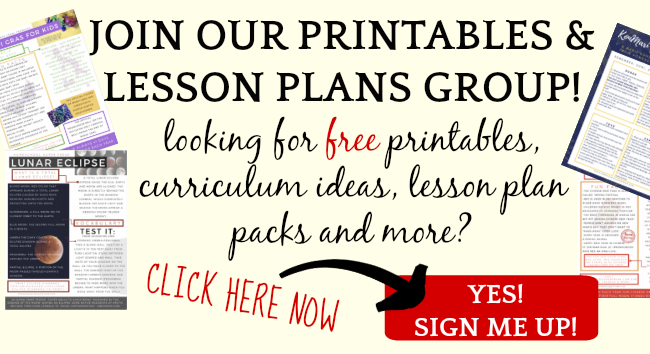 3. Library of Congress
Ages: Kindergarten – High School
The Library of Congress has a great selection of teacher, classroom and student lessons, eBooks and information on a variety of topics related to historical happenings in the United States, including black history.
You can also sort the information by Common Core standards, state regulations, and by organizations.
4. National Archives
Ages: Kindergarten – High School
The National Archives has an extensive collection for African American history studies.
The archives include information for Black history month including:
Video resources
Blog posts
Documents
Online exhibits
Lesson plans
Records
AND SO MUCH MORE!
5. Federal Registry for Educational Excellence
Ages: Kindergarten – High School
The Federal Registry for Educational Excellence was a website from the federal government that listed 2,000 learning resources and new sites were added regularly.
The portal was retired in 2015, but it still has some pages available.
There is a great page for Martin Luther King, Jr. and civil rights, as well as activities.
6. National Park Service
Ages: Kindergarten – High School
Who would've thought you can find lesson plans from the National Park Service, right?
However, they have amazing lesson plans and information called "Teaching with Historic Places" that is centered around teaching about history, events, and people from the standpoint of the location.
For example, check out Discover Colonel Young's Protest Ride for Equality and Country: A Lightning Lesson from Teaching with Historic Places, featuring the historic Colonel Charles Young House.
It will fit perfectly with your black history studies.
Also check out the Civil Rights and Racial Healing Feature.
Pretty cool!
7. ScienceNetLinks
Ages: Kindergarten – High School
ScienceNetLinks.com has a ton of resources for Science-based learning on anatomy, environment, math, chemistry, engineering, technology and so much more.
There are even lessons on science-based careers.
Don't miss the entire section on black history that includes a ton of different resources and information!
8. National Gallery of Art
Ages: Kindergarten – High School
From the National Gallery of Art, each lesson plan focuses on one piece of art.
Lesson plans can cover shape, form, texture, color, and more.
They also have audio and video prompts and information.
Don't miss the section on Through a Lens Darkly: Black Photographers and the Emergence of a People.
The documentary "investigates black portrait photographers and artists who have profoundly reshaped the image of contemporary and historic African Americans, and continue to do so."
Great art additions for black history learning!
9. Smithsonian Heritage Resources
Ages: Kindergarten – High School
From the Smithsonian Institute, you have access to a wealth of information on heritage, culture, and background, including black history, women's history, Asian Pacific heritage, Native American heritage, Hispanic heritage.
It's another portal that I felt like I could get lost in (in a totally good way).
Once you access a heritage area, you are given lists of additional information from other Smithsonian sites.
Good stuff!
---
CHECK OUT THESE HOMESCHOOL BLOG POSTS NEXT!
---

DO YOU HAVE ANY FAVORITE BLACK HISTORY MONTH FOR KIDS RESOURCES THAT WE'VE MISSED?
LET US KNOW IN THE COMMENTS SO WE CAN ADD THEM TO THE LIST!
As an Amazon Associate I earn from qualifying purchases. Please refer to our
DISCLOSURE