Listen up, because I'm about to BURN 👏 IT 👏 ALL 👏 DOWN 👏 .
I read an article today that has me FIRED UP and I'm UNLEASHING IT ALL RIGHT HERE.
(Thanks to Stephanie for reminding me about that gif.)
Affiliate links are used on this site. As an Amazon Associate I earn from qualifying purchases. Read more in our DISCLOSURE.
The article was about how a Chicago-area preschool "forest school" had to shut down because it was annoying the neighbors because . . .
(wait for it)
THERE WAS UNSTRUCTURED PLAY GOING ON.
"In a December letter to Ald. Margaret Laurino (39th), neighbors complained that the school, located at 5801 N. Pulaski Rd. in Peterson Park, has 'become unattractive' and that there is 'unstructured play' going on there, according to Manuel Galvan, a spokesperson for Laurino's office."
In case you're not familiar, "forest school" (also sometimes called nature school, farm school, or a variety of other names) is a gathering time ("school" just sounds too … blech) where kids get to spend all their time outside and learn about nature, the environment, gardening, animals, plants, hiking, foraging, outdoor survival, and a host of other things depending on the focus of that specific forest school.
For this particular forest school:
"They're watching all the changes and cycles, development of plants and animals in that one spot,' said Weed [the school's director], who has a masters in zoology and background in early childhood education. Weed contracts with the Chicago Park District to host the preschool in the park."
Which, all sound like amazing things for kids to learn about, right?
Well, apparently not to these neighbors who think that kids being outdoors in "unstructured play" is ::gasp:: horrifying.
Also, this forest school is a world-wide model for other countries looking to implement similar programs (because, by the way, "recent research suggests that children should experience twice as much unstructured time as structured play experiences.").
"In the last year alone, educators from five countries have visited the outdoor preschool to learn about its model."
So, I'm unclear why it had to be an all or nothing situation.
(HA! Good one, I know. That's basically the society we live in right now.)
The school had a permit from the park. If there were violations, why couldn't the park just issue them a warning and if those violations weren't corrected, then take further action?
Anyway. . .
digress.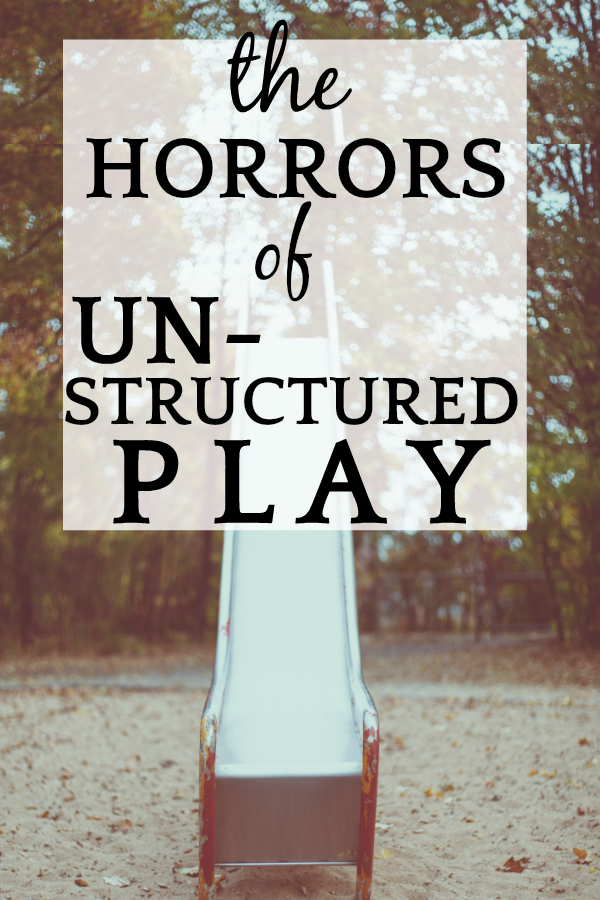 Benefits of Unstructured Play
Let's just take a step back right here and remind you (and by "you" I clearly mean "these neighbors" OR actually you if you're one of those people) of the benefits of unstructured play.
A 2011 dissertation from University of Pennsylvania titled, "An Investigation of Unstructured Play in Nature and its Effect on Children 's Self-Efficacy" reports:
According to Berman (2007), children learn to solve problems, socialize, self regulate, and gain self-confidence through unstructured play. It has been hypothesized that children who are allowed to play on their own terms grow up to be adults who can be leaders in life and the workplace (Berman, 2007). Burdette and Whitaker (2005) believe that free play can help regulate many emotional states such as depression, aggression, anxiety, and sleep problems.
Now, I don't know what all that means, but it sounds pretty official . . .
No Dog In This
Fight

Unstructured Play

I don't live in the area where this forest school is located, but I am familiar with these kinds of neighbors . . .

. . . mainly because they are in every area and seem to be online all day, e'er day complaining about kids/everyone/everything on Facebook, Nextdoor, and everywhere else.

(Don't you people have LIVES?!)

You know the people I'm talking about . . .

They're the "neighbors" who:
Say that our teens are awful creatures who don't add anything to society, but then get upset when they see the teens hanging at the neighborhood park enjoying each other's company. (But they look so . . . suspicious . . . just doing nothing.)
Accuse homeschoolers of "missing out on socialization," but then get annoyed when a homeschool group meets up at the covered park picnic area.
Profess that kids today don't know the value of (well, anything), but then call the police on a 6-year-old kid down the street having a lemonade stand without the proper permit.
Tell the stories about how "when I was a kid we spent it outdoors playing all day," but then make sure that a preschool forest school gets shut down.
I see you.
I see you and I'm here today to call you on your BS because:
YOU CANNOT HAVE IT BOTH WAYS.
You cannot complain that today's youth are awful, wretched human beings and then be the same neighbors who throw up roadblocks for every program, parent, or child attempting to be exactly what you say is MISSING in society today.
So, which is it?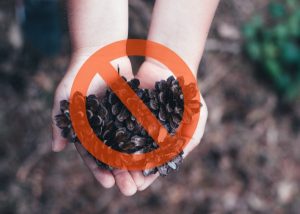 Bye Bye Unstructured Play
Sadly, the forest school in the story is closing.
Instead of the neighbors making recommendations to the park and the program about what could change to make it better for everyone (neighbors and children, alike), the program permit was pulled and now the forest school is going away.
So, those countries who traveled to learn about this program will continue to add value for their own country's children after learning from this amazing US forest school program, but because some neighbors complained about unstructured play our kids will not be able to benefit from it.
Yay for us.
Again.
You win, neighbors, you "win."
Good on you.
Victory over some preschoolers.
Be sure to write about it on Facebook and Nextdoor.
As an Amazon Associate I earn from qualifying purchases. Please refer to our
DISCLOSURE
STARTING HOME SCHOOL? CHECK OUT OUR HOW TO HOMESCHOOL GUIDE