As homeschoolers, we often forget that back to school sales are also for us!
Also, back to school shopping is an opportunity to stock up for an entire year.
(Did you ever consider that?)
And, if you're new to homeschooling and asking, "What do you buy for homeschooling?" this is your time, too!
Our tips are great whether you're shopping for homeschool kindergarten supplies, homeschooling supplies for high school, homeschool accessories, or even shopping a dorm room essentials list for your new homeschool grad going off to college!
Affiliate links are used on this site. As an Amazon Associate I earn from qualifying purchases. Read more in our DISCLOSURE.
Here's what you need to know first when shopping for the best things to have for homeschool:
There are two different sessions for back-to-school sales that especially benefit homeschoolers:
During the back to school sales, and
AFTER the back to school sales when they clearance the school supplies (generally in August/September)
As homeschoolers, we often have the flexibility to wait on getting some (or all) of our school supplies—especially things like paper, cheap binders for school, folders, glue, etc.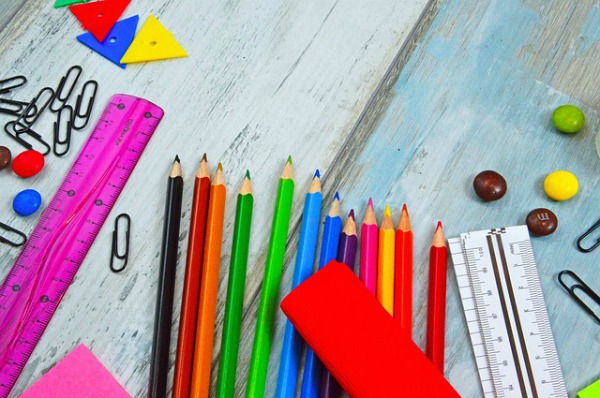 ---
Homeschool Supplies List TIP: Keep a running homeschool wish list throughout the year so that you have it when back-to-school sales begin!
---
What Do You Buy for Homeschooling?
Ultimate Back-To-School Shopping List For Homeschool
If you can wait on basic items and are willing to take the "picked over" stuff (like the popular colors or themes being gone already), then you can sometimes save up to 75% OFF (and more!) on basic school supplies like:
Lined notebook paper
Composition notebooks / spiral notebooks
School Binders
Folders
Cheap Glue sticks
Glue (remember to stock up because, helloooo! SLIME PROJECTS)
Tape
Pencils
Pens
Crayons
Erasers
& MORE!
TIP: Don't wait for the "Clearance Time" to buy laptops or electronics. Those RARELY get clearanced in the After sales.
Do NOT wait for the AFTER clearance part of the back to school sales to buy:
Backpacks / book bags
Lunch boxes
Computers
World globe and maps
Dry erase board and markers
These back to school supplies rarely get moved over to the clearance aisle.
Even though backpacks and lunch boxes may get clearanced, there is rarely a good selection of them left during the clearance period.
If you need a backpack, buy those during the regular back to school sales time.
DISCLOSURE: Affiliate links are used on this site and may be used in this post.
Also, rarely do journals, day planners, photo day planners, and decorating markers for journals go on clearance.
They do go on sale during back to school, but you might not want to wait for clearance sales for them.
(Plus, the popular journals and day planners go pretty fast when they're on sale.)
TIP: I have gotten those fun stickers and tabs for my journal/day planner on clearance. Last year, I got them for .25 per pack (and they were regularly around $3.99)!
When Do Back to School Sales Start?
So, when are back to school sales?
The best back to school sales start a couple of months before traditional schools start back (which can be any time between July-September).
So, you'll start to see some back to school sales pop up in early June and going forward.
Bigger ticket item sales, like computers, start very early.
(They want to be sure to get to the college students who need them!)
So, if you're in the market for laptops or desktop computers, keep your eye out starting in the summer (or even at the end of the previous year, around graduation time)!
(There's no desktop computers clearance, usually!)
Can homeschool moms get teacher discounts?
In many cases, homeschool parents can also get the additional teacher discounts offered at some of the stores, so don't be afraid to ask.
You will need a homeschool "teacher" ID to show at checkout. If you don't have one, you can print your own for free from the Homeschool Buyers Co-op.
---
ALSO CHECK OUT:
---

PIN TO SAVE
Back to Homeschool Supply List & Homeschooling Equipment
Shopping Back to School Sales to Stock Up for the Entire Year
OK.
The biggest thing to do when shopping back to school sales to stock up for all year long is to readjust your mindset.
There things to buy ASAP during the back to school sales and then there are some items for stockpiling during homeschool sales at specific times (like after the sales end!).
To get the biggest bang for your buck and stock up for all year, you have to consider all seasons and not just the current season (especially if you're shopping for clothing).
So, be sure to think ahead and not just for the current moment!
Back to School Sales: Electronics
Back to school sales and holiday sales are the two biggest times of the year for electronics. So, now's the time to get that laptop you've been eyeing or that tablet that will help with school on the go!
However, be sure to shop around an compare prices and not just buy the first sale you see!
Back to school is a good time to get tablets that you can use for school!


Back to School Sales: Awesome Backpacks
Even if you don't need a "school" backpack (because you homeschool), you may still want to take advantage of the awesome backpack sales that occur during this time.
My daughter uses her "school" backpack for library, sleepovers, and travel.
So, look for a multi-purpose backpack that you can use for hiking, park days, and other things.
It's one of the best
CHECK CURRENT SALE PRICES ON BEST BACKPACKS

Backpack shopping tips:
If you're transporting a laptop, be sure that you get a backpack big enough to fit the laptop and that it also has a padded compartment to protect the computer.
We like the multi-compartment backpacks that can double as a book bag and also to separate clothes and other items during travel.
Don't buy a backpack just because it's cheap. You are trying to get back to school sales to benefit you all year, so you are looking for a quality backpack at a discounted price.
Back to School Sales: Clothing
Back to school sales are great for clothes shopping.
And, this is also a great time for you to stock up on clothes for your kids because, whew, do they grow out of clothing fast!
To make clothing sales work for you all year long, buy the current size that your child needs, and then, also buy one to two sizes up.
Also keep your eye out for those BOGO—or buy one, get one—sales, where you can make your dollar stretch even more!
Back to School Sales: Supplies
My recommendations for school supplies are:
Tape, tape, and more tape.
Glue sticks, more glue sticks, even more glue sticks.
(Seriously? WHAT DO THEY DO WITH ALL THAT TAPE AND GLUE????)
But really, the school supplies area is ALWAYS where wait until after the back to school sales are finished and they have clearanced the items.
Walmart back to school is really great about clearancing back to school supplies, as well as Meijer (if you have one of those near you.)
Target school supplies being clearanced is a hit or miss for us and often depends on the store/location.
Be sure to stock up on basic supplies during the clearance period.
And, I'm not talking about two glue sticks. I'm talking like 10+ glue sticks!
Or, 10 packs of lined paper. (We found them for .50 each last year clearanced!)
Think about the things that you currently use and buy extras.
(We have a little plastic bin that we put all the extra glue sticks, tape, etc. and we store them inside cabinet.)
You will always find paper, folders, and binders on the after back to school sales clearance, even if you have to check a few stores.
Things you generally don't find during the after back to school sales clearance:
Markers
Craft paper
Planners
More expensive pens
Staplers
The stores just put them back to regular price in their office supplies area instead of putting them on clearance.
---
• REVIEW •
Tips for Using Back to School Sales To Stock Up For The Entire Year
Wait until the clearance sale to buy glue sticks, tape, paper, folders, and binders. Stores will want to get rid of the over-supply and you'll be able to stock up.
You'll always need more glue sticks and tape than you think. Buy more than you think you'll need! (TRUST ME ON THIS.)
Buy electronics, laptops, and computers when you see them during the regular back to school sales. They won't be clearanced cheaper.
Don't just stick to the Back to School aisles! I found those journal stickers in the regular clearance aisle (along with a ton of other school stuff that wasn't selling because it was hidden in the regular clearance aisle!).
Buy a size (or even two!) up on clothing if you find a great deal during back to school sales! It's one of the best ways to make back to school sales finds last all year!
Grab those back to school calendars and journals when you see them on sale during the regular school sales. You won't see them on clearance, but you might see the accessories (like the planning stickers).
Search out the BOGO sales (by one, get one 50% off). If it's something that you can use, take advantage of it and stock up for the entire year!
What tips do you have for making back to school sales work for you all year long?
As an Amazon Associate I earn from qualifying purchases. Please refer to our
DISCLOSURE