Are you looking for a special way to say, "Thank you mom!" whether it's for mom's birthday, Mother's Day, holidays, best friend gifts for your favorite mom, or any other gifts for moms?
Don't worry, because we're going to pull the curtain ALLLLL the way back today and let you in on what moms really want—straight from the mother's mouth.
(Don't be scared.)
I know.
I know.
Affiliate links are used on this site. As an Amazon Associate I earn from qualifying purchases. Read more in our DISCLOSURE.
I know what you're thinking:
Moms are HARD to buy for because when you ask us what we want we just shoulder shrug and mumble some inaudible, "Dunno. It doesn't really matter anyway . . ." something.
But, that's not because we don't want or need anything.
---
Moms don't tell you what we need/want because it probably isn't the "fun" thing that you want to buy for us and what we really want/need will sound like, well, not a gift at all.
---
There.
I said it.
Look, don't be annoyed.
Saying "thank you mom!" isn't as hard as you think, you just need to pay attention.
(I mean, one look at the mom in your life—and, I mean, reallllly looking at her and listening to her—and it won't be too hard to figure out what she needs.)
So . . . what now?
Before you head off to buy her one of those "#1 Mom" mugs, here's what you should know:
I guess you can write a thank you mom letter and she will appreciate it . . .
(But, just remember that she can pull that sucker out for future blackmail if she needs it. So there's that.)
Or, you can make her some nice DIY gifts that she will cherish, but . . .
. . . those things are nice, but really aren't what she wants.
Or, needs.
(Sorry.)
So, What Are The REAL Ways To Say 'Thank You, Mom!'?
Well, you'll want to buckle up for this one, because I asked the moms in our group if they were granted one wish for something personal (just for them), what would it be?
(I think you're going to be totally shocked at the answers, but if you've REALLY been paying attention to the mom in your life, then maybe not. . . )
We'll start by looking at a graph of the most common responses, but we'll also give you great gift suggestions later in the post, so don't miss those!
[KEEP SCROLLING!]
---
GIFTS FOR MOM: INFOGRAPHIC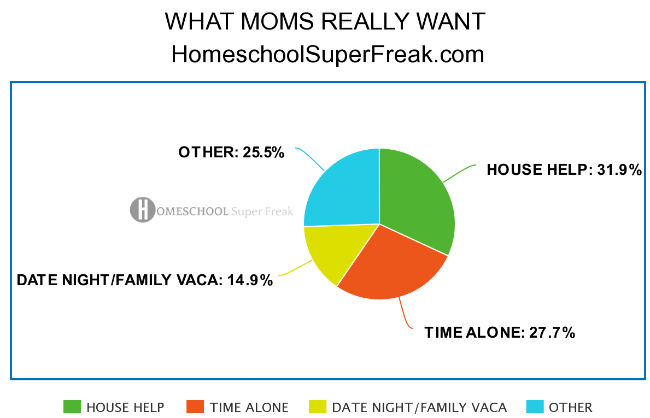 Survey info: 58 moms provided answers and they were allowed to give more than one answer.
Breaking down the mom wishes:
32% of Moms Want Help With the House
This included a house cleaning service, a nanny/sitter, a grocery shopping service, a cook/chef, and/or someone to help organize the house.
28% of Moms Want Alone Time
"Alone time" included: a night or weekend away alone, time at the gym alone, spa or mani/pedi time, a night of uninterrupted sleep. and—wait for it—5% of the answers had to do with needing alone time in the bathroom with no interruptions.
Let that sink in for a moment:
When moms were grant ONE WISH, we answered, "I just want to pee alone."
Wow.
15% of Moms Want Time Alone With Their Spouse/Partner or More Quality Time With Family (Like a Vacation)
About 15% of the answers were something about date nights or alone time with their spouses or partners.
This category also included more quality time with kids and a family vacation.
There were other answers including things like:
New laptops/computers/tablets
More financial security
A clone of themselves or more help with kids/homeschooling
New clothes (without feeling guilty about buying them)
A daughter (for someone who has all sons)
Better communication with kids/family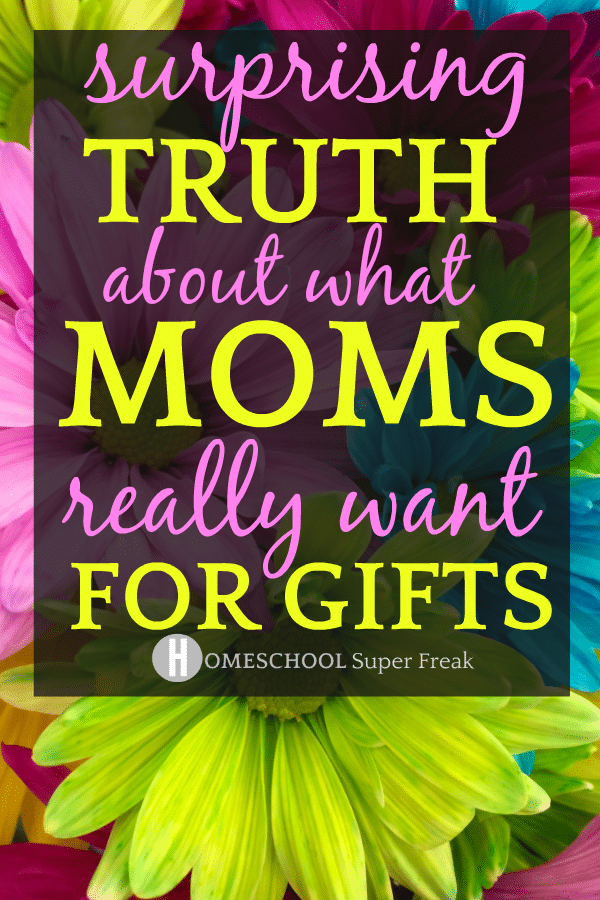 TAP & PIN TO SAVE FOR LATER
---
Meaningful Gift Ideas for Mothers to Say 'Thank You Mom'
---
DISCLOSURE: Affiliate links are used on this site and may be used in this post.
Please refer to our DISCLOSURE STATEMENT.
So, how do you translate those survey answers into real gifts for moms (for any occasion) that she will use and love?
Stop looking for unique gifts for mom or the perfect gift for mom who has everything, because we have the ultimate list of useful gifts for mom.
Check it out and remember: These are things that real moms actually said they wanted! So, you probably can't go wrong choosing something from this gift list for that mother in your life!
---
SAY THANK YOU MOM WITH HOUSE HELP
This was the biggest answer, so clearly moms need help with the house!
(Don't ignore that!)
If that mom in your life needs some house help, here are some gift ideas:
One time

deep house cleaning

OR contract a cleaning service just to come in and do the laundry that week or month (yes, FOR REAL)

Regular house cleaning

(once a week or once per month, whatever works for your family)
Boxed meal service (so that they don't have to worry about planning/shopping)
Things moms can automate

like a cleaner that works while they sleep

(this was LIFE CHANGING for me, especially since I can set and forget)
Remember, you can try out the services or make it a one-time gift.
It doesn't have to be an ongoing, costly subscription if you can't afford that!
---
SAY THANK YOU MOM WITH ALONE TIME GIFT IDEAS
Honestly, I thought this category would be more than 28% of the answers.
I thought it would be A LOT higher because, you guys, most moms never get alone time.
I mean . . . N. E. V. E. R.
(Dude, we answered that we just want to pee alone as a WISH. THINK. ABOUT. IT.)
If you want to make your mom happy, give her some alone time and—here's the most important part—don't make her feel guilty about it!
Giving moms alone time is not a reflection of her love for her family (or spouse or partner). It just means that she needs time to recharge (which is better for everyone!).
So, don't get offended if the mom in your life gets excited over this gift!
Here are alone time ideas the mom will love:
A night alone at a hotel (

grab a hotel gift card

and let her do the rest!)
A weekend alone at a hotel (try an

AirBnB gift card

!)
Gym membership with babysitting set up
Spa treatment, including massage and manicure and pedicure (PS: Don't give her a spa treatment if she hates getting her nails done or getting massages. Use good judgment here, OK?)
Spa treatment AT HOME (meaning, you take the kids away for the evening and give mom some awesome spa goodies to use at home like a

bath spa set

, wine and cheese, or whatever is her "thing")
Give mom a break with a regular babysitter (once a week or once a month) so she can do whatever she wants. (Check services like Care.com)
And, for the love of all that is good, give that mama some time alone in the bathroom without any knocks, interruptions, or "MOOOOOOOOOOOM!" yells through the door!
(Get her this and then train the kids not to bother mom when it's on the door!)
---
SAY THANK YOU MOM WITH MORE QUALITY FAMILY TIME
Give a dinner and a movie gift card

, make arrangements for the kids, and then take her on a date night!
Get a night away with her at an AirBnB or a hotel (be sure to make all the arrangements for the kids!)
Be a tourist in your town and set aside a day to do something with the family that you've all been wanting to do (but, you need to plan it all so there's no stress on mom!)
Plan a surprise weekend (or day!) road trip with the family (be sure to make all the plans

and pack some of these to save mom's sanity

!)
Have a

family game night

where you order in dinner, play games together, and then clean up after (with no help from mom!)
---
SAY THANK YOU MOM WITH THESE CREATIVE GIFT IDEAS
---

WHAT DID WE MISS?
LEAVE IT IN THE COMMENTS SO WE CAN ADD IT TO THE LIST!
As an Amazon Associate I earn from qualifying purchases. Please refer to our
DISCLOSURE