The homeschool balance struggle is real. How do you do it all and how to balance homeschool and work and balancing homeschool and housework? We'll cover how to keep homeschool and life in balance and let you in on a life-changing secret strategy for creating homeschool balance and trying to balance your entire life!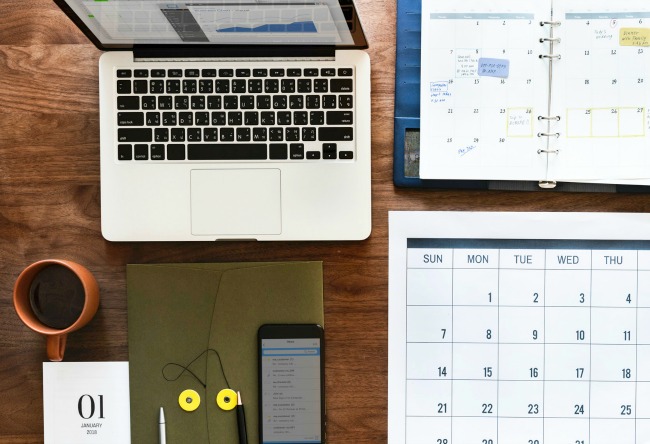 No matter if you're new to homeschooling or have been homeschooling for a while now, one question seems to remain for all of us:
How do you schedule for homeschooling and create a homeschool balance?
I mean, how do you go about balancing homeschooling and home (and even work, for some of us)?
Affiliate links are used on this site. As an Amazon Associate I earn from qualifying purchases. Read more in our DISCLOSURE.
While trying to figure out a schedule for homeschooling, it leads to SO MANY QUESTIONS like:
How does managing a home and homeschooling work?
How do I schedule my homeschool day?
Or, how do I organize my homeschool day?
How do you homeschool multiple children?
And, what is the best homeschool schedule for kindergarten or preschool?
Or, how do other moms handle balancing homeschooling while working at home?
(And, can you homeschool while working?)
Or, how do I create a homeschool schedule that calms the chaos so I don't go absolutely insane?
Balancing homeschooling and home is definitely one of the cons of homeschooling, but don't worry! We're going to tell you how to get a handle on it.
Let's start at the beginning . . .
---
DON'T MISS YOUR FREE BALANCING HOMESCHOOLING & HOME GOALS WORKBOOK AT THE END OF THIS POST!
[KEEP SCROLLING!]
---
How do you do it all while homeschooling, anyway?
If you've been searching for a homeschool scheduler and homeschool balance, some of these questions are probably pretty familiar.
(In fact, if you're like most of us they run through your head at least once each day.)
Your homeschooling daily schedule and homeschool balance will depend on several factors:
Number of kids you homeschool
If you work at home while homeschooling or outside of the home
If you are a single working parent homeschooling
Schedule of classes and activities you take outside of the home
& more!
This, in turn, affects your "balance" or how you're able to juggle it all—balancing homeschool, home, and work.
First, let's get this common homeschooling question out of the way:
Can you homeschool while working?
How do you balance work and homeschool?
Some homeschool parents work and homeschool and have to figure out how to create a homeschool schedule that balances it all. How parents can work while homeschooling will depend on the types of jobs for moms who homeschool (and dads). Some parents work at home and may have a more flexible schedule to work around homeschooling. Other parents work outside of the home while homeschooling and may work shifts that allow them to homeschool during the day and work at night (or vice versa).
Some ways to work and homeschool include:
Working at home.
Freelancing.
Alternating work schedules with a spouse or partner.
Working shifts that allow you to homeschool during the day.
Spending some homeschooling time at a co-op.
Working part-time and homeschooling on the off-work days.
Using an independent study curriculum.
Enlisting the help of family and close friends.
Now that you have a better understanding of how to work and homeschool, let's move on. . .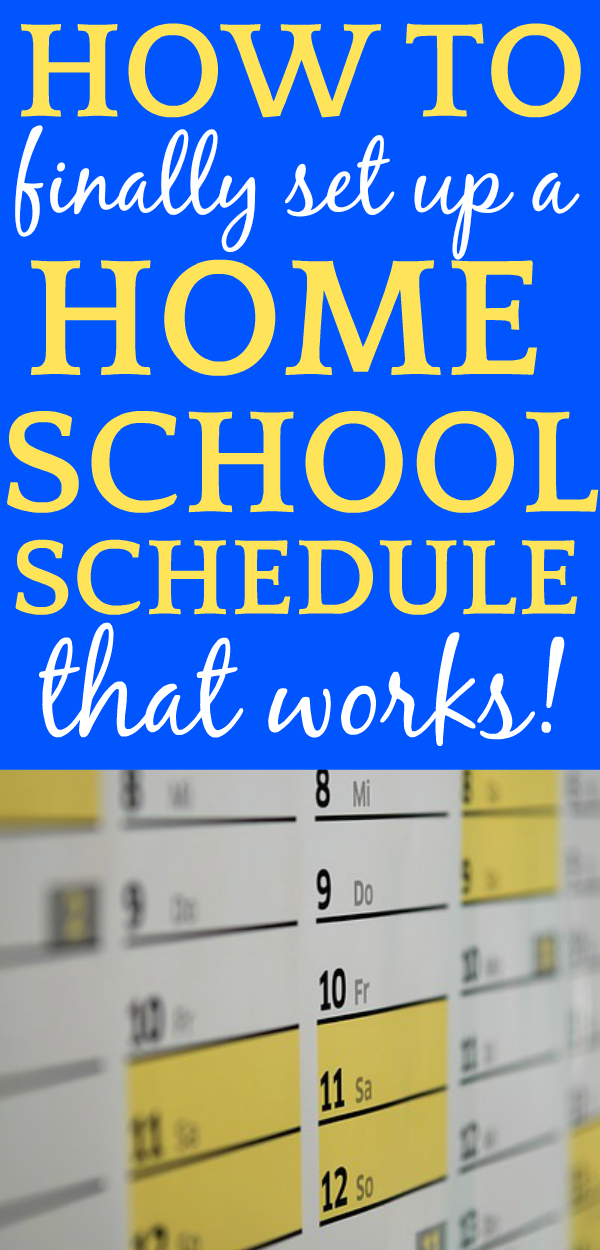 PIN TO SAVE!
ABOUT THAT SCHEDULE FOR HOMESCHOOLING . . .
(IT'S PROBABLY NOT THE HOMESCHOOL BALANCE MAGIC YOU'RE SEARCHING FOR. . .)
Ugh. Sorry.
You may have ended up here because you were looking for a magic schedule for homeschooling or the perfect homeschool schedule template or amazing homeschool schedule app, right?
You want someone to say, "HERE'S THE BEST HOMESCHOOL SCHEDULE! Follow it and all your problems will be solved!"
HOWEVER . . .
That's not how homeschooling works.
(Don't worry! That's a good thing! READ ON TO FIND OUT WHY . . . )
One of the best things about homeschooling is the flexibility, so I caution you against creating a schedule for homeschooling that is so rigid that you are missing out on one of the main benefits.
Let's take a look at what I mean with two different examples of a schedule for homeschooling:
Daily Homeschool Schedule Example:
8:00 a.m.: Rise and shine! Get ready, make beds, have breakfast.
9:00 a.m.: Bible
9:30 a.m.: Math
10:30 a.m.: Reading/Grammar
11:15 a.m.: Spelling/Handwriting
12:oo p.m.: Lunch and Clean Kitchen
1:00 p.m.: Afternoon Chores and Free Reading
3:00 p.m.: Music class outside the home (alternate with history & social studies on M, W, F)
---
IF YOUR HOMESCHOOL SCHEDULE LOOKS SIMILAR TO THIS (OR YOU WANT A SCHEDULE FOR HOMESCHOOLING THAT LOOKS LIKE THIS) I'M GOING TO TELL YOU SOMETHING YOU MAY NOT LIKE:
YOU'RE HOLDING ON TOO TIGHT IN YOUR HOMESCHOOLING AND MISSING SOME OF THE BENEFITS!
(Hear me out. OK?)
---
I'm assuming that you're homeschooling because you DO NOT want a mirror of public school, right?
(I mean, if you wanted that, you would just put your kids into public school.)
So, why would you want to have the same exact kind of schedule that kids have in public school?
(Just give it a moment of thought . . .)
ALSO, I SEE THE EYE TWITCHING FOR SOME OF YOU!
"But, I NEED a schedule!"
"Please don't tell me to get rid of my homeschool schedule. None of this will work without it!"
OK, I get it.
Some people NEED a schedule for homeschooling because that's your comfort zone and that's how you balance your life.
IF YOU ARE ONE OF THOSE PEOPLE, I'M NOT TELLING YOU TO DITCH THE HOMESCHOOL SCHEDULE.
I'm just asking that you reconsider loosening up your schedule a bit to:
Allow for more child-led learning (things kids can learn that interest them).
Allow more balance in your life.
Create less stress for yourself (and your family).
FOR REAL.
(Doesn't that sound nice?)
Here's what it might look like . . .
REVISED Daily Homeschool Schedule Example:
9:30ish: Kids sleep in and get up on their own. (DID YOU KNOW THAT KIDS NEED MORE SLEEP THAN ADULTS FOR THEIR BRAINS TO DEVELOP?) Breakfast and quiet time (reading, drawing, playing quietly with blocks, etc.).
After that: Group Bible studies
After that: Cooking lunch together (remember, kids LEARN while cooking!)
After that: Math
After that: Grammar/spelling/handwriting (independent study for older kids/working directly with younger kids)
Notice how—aside from their natural wake-up time—I didn't assign any times AT ALL?
---
What if I told you that you don't need a rigid time schedule to be successful AND that relaxing your schedule will create LESS stress and MORE balance in your homeschooling (and life in general)?
---
That's because not having to follow a minute by minute schedule will relax your learning and life.
SO . . .
Don't just ask, How do I schedule my homeschool day?
Instead, ask:
How do I schedule my homeschool day that works best for my homeschooling family (and looks DIFFERENT than what I wanted for them in public school)?
Now that you better understand a schedule for homeschooling, let's talk about that "B" word:
BALANCE.
(I think you might be a little surprised at what direction this takes in a little while. Be sure to keep reading to find out . . .)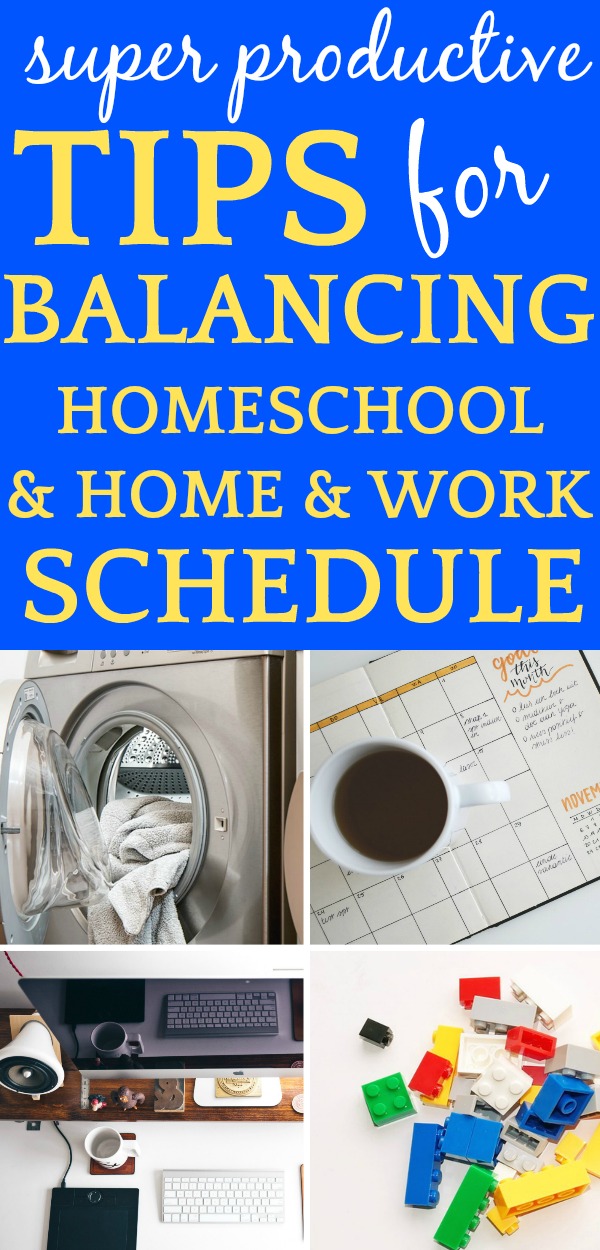 PIN & SAVE
QUICK TIPS FOR BALANCING HOMESCHOOLING AND HOME
Balancing homeschooling and home and housework can get crazy.
(I don't have to tell you, right?)
If you are also a working mom who homeschools too, you can easily get completely overwhelmed.
(Even if you don't work and homeschool, you can get overwhelmed with just the daily life tasks and homeschooling!)
I'm going to help you out with that starting RIGHT NOW . . .
Here are tips for balancing while homeschooling:
(We'll go through each of this in more detail later in the post, so don't miss it!)
Understand the truth behind "balancing" and how the balance scale works in your life.
Spend time writing down and reviewing what's going wrong.
Stop the FOMO.
Prioritize.
Say NO.
Let things go.
Stop letting SHINY OBJECT SYNDROME mess with your life balance.
Regularly reassess your schedule for homeschooling and life.
Be sure to read on to understand how to put all of these in place!
BUT . . .
Before we go any further, I feel the need to tell you that there are things you were never told about life balance (and homeschool balance).
Don't be mad though.
Most people don't even know . . .
---
What if I told you that balancing homeschooling and home, or balancing homeschooling and work, or balancing homeschooling and housework (or balancing anything at all, really) can't be accomplished?
I'm being totally serious.
(And, I'm only a little crazy.)
---
Whoa.
Now, wait a minute.
Before you go away mad or curl up in a corner and start doing that ugly, snotty cry, give me a chance to explain.
DEAL?
OK. You're still here. Great!
(Whew.)
• HERE'S WHAT I PROMISE ABOUT HOMESCHOOL BALANCE •
When you finish reading this post, you'll have a REAL action items that you can implement to help with "balancing" homeschooling and home.
We'll cover:
• The "Balance Myth" and what you should be doing instead of "balancing."
• How to determine your homeschool, home, and work priorities that assists with your schedule for homeschooling.
• Shiny Object Syndrome (SOS!) and how it's creating chaos in your homeschooling life.
• How saying NO will create more "balance."
• How to create more "balance" starting TODAY.
& MORE!
Before going step-by-step, I want to talk to you about a big fat lie.
About the "Balance Myth"
You've probably already noticed that I'm putting "balance" in quotes.
---
That's because I think that balance is a LIE that society sells to people (especially women).
---
Yikes.
That sounds super accusatory and angry, doesn't it?
That's probably because I've spent the last 17 years working from home in my own business (seven of those while also homeschooling) and feeling like a failure because I can't "DO IT ALL!"
Nothing was EVER balanced:
If I was excelling in business, my house was a MESS.
If I had homeschooling pretty organized, then business stuff fell through the cracks.
I was always struggling for more time for my husband, my kid, my family, my friendships and more.
And, time for myself? FORGET ABOUT IT. It's laughable (and is still something that I'm working on, to be honest).
All of this left me feeling like a failure, like, ALL. THE. TIME.
So if there's no balancing homeschooling and home, now what?
Don't give up!
I want to help you achieve the homeschooling, home (and work, if applicable) life that you and your family deserve!
Here's how:
---
I want you to change your mindset from thinking that balance is achievable to understanding how to prioritize your life and homeschooling instead.
And, I'm going to give you step-by-step instructions on how to do this!
---
Once you do this, you'll understand that you don't need more "balance" in your life. What you really need is a good PRIORITY LIST and a REALISTIC way to achieve those priorities—whether it's for homeschooling or work or family time.
Um . . . what?!
Right about now, you're probably still skeptical, huh?
I mean, balance MUST be a thing.
Society tells us all the time that we CAN balance (and gives us many, many solutions on how to do so—many of which don't ever work).
So, why isn't it, like ever, working for us in our lives?
Here's why . . .
UNDERSTANDING THE BALANCE SCALE
Envision a balance scale
— you know, those scales where you put something heavy on one side and it goes down, but the other side goes up?
(You may even have one of these for homeschooling!)
If you've ever played around with one of those scales, you know that there are weights of all different sizes and heaviness that come with the scale.
Now, think of each weight as a responsibility.
For example, "homeschool" may go on a bigger, heavier weight because it's more important in life, while (sadly) "me time" may go on a smaller lighter weight because it's taking a back seat right now.
Now, pretend that you close your eyes and pick a weight and place it on one side of the scale.
Now, close your eyes and randomly pick another weight and place it on the other side of the scale.
Then, repeat this process, placing each weight, one-by-one, on the scale until all the "responsibility" weights are gone.
It goes something like this:
The homeschooling weight goes on one side and tips the scale all the way down.
Then, the work weight goes on the other side and tips the scale a little further in that direction.
Bible study group goes on one side and ballet class for the kids goes on the other.
Cleaning house goes on one side and working out goes on the other side.
If you randomly alternate until all of the "responsibility" weights have been placed on the scale, chances are that scale will never, ever balance.
---
THAT'S BECAUSE ALL OF THE THINGS YOU NEED AND WANT TO SPEND TIME ON HAVE VARYING IMPORTANCE TO YOU.
---
Your scale will never balance unless everything is of equal "weight."
And, in life, that will never happen.
NOT ONLY THAT, YOUR PRIORITIES HAVE VARYING IMPORTANCE TO YOU ON DIFFERENT DAYS, WHICH MEANS ONE "WEIGHT" WILL HAVE A DIFFERENT IMPORTANCE ON MONDAY THAN IT HAS ON TUESDAY.
Guess what?
The weights of your responsibilities will change daily.
So, just when you think you have this "balance thing" figured out, WHAM! It changes the very next day.
For example, one day a work project may be a heavier "weight" than homeschool.
So, you might give the kids free learning time while you complete the work project.
On another day, family dinner/together time will be a bigger, heavier "weight" on the scale than making it to soccer practice.
On even another day, you are bouncing along on your homeschool schedule thinking, "We're finally going to get caught up today!" and then WHAM AGAIN! The dog throws up in your lap and you spend the rest of the afternoon in the vet's office.
Just like that, the priority of the dog has moved to a bigger responsibility weight on one side of the scale, while the homeschooling weight on the other side of the scale becomes smaller.
And, that darn balance scale tips — yet again — in one direction and throws everything out of balance.
---
This is life. It happens to all of us. And, that never-ending task of trying to get that scale to balance just right is the thing that is making us all crazy.
---
Not only that, it's making us less productive by weighing us down with feelings of failure.
I think you're starting to see that the balance really isn't achievable, right?
You cannot really "do it all."
So, what should you do instead of believing that balance lie and living that life of chaos?
CREATING A FUNCTIONING SCHEDULE FOR HOMESCHOOLING & HOME
7 STEPS TO HOMESCHOOL BALANCE
STEP 1: SPEND A WEEK WRITING DOWN WHAT'S GOING WRONG
Before you move forward, you need to understand what's holding you back.
Take a moment and write out your schedule for the upcoming week.
(Go ahead and put those times by that schedule for homeschooling, if that's how you normally work.)
At the end of each day, make notes on what went right and also what derailed your day.
What happened during the day?
Did you stay on your timed schedule for homeschooling (and other schedules)? Why or why not?
What worked?
What can you do differently?
I know this seems tedious (and, it is), but this one step was a life-changing process for me!
I had convinced myself that I absolutely did not have time to work out and spend time cooking healthy meals while homeschooling and working and . . . living life.
(How convenient, right?)
I mean, I was trying to life-balance!
How could I possibly add more things on top of my already busy life?
When I completed this step, I found that I had blocks of time that I was wasting (that I could easily like, you know, walk on the treadmill or take a walk).
It bummed me out…
::snort laugh::
(For real. It did though…)
So, DO NOT skip this step!
This one step can change balancing homeschooling and home and put many things into perspective when creating your schedule for homeschooling!
(Hold on to your list. We'll use it in a bit.)
STEP 2: REDEFINE "BALANCE" AS "PRIORITIES"
Now, this is super important and is going to take some time because it's a change in how you think.
So, don't expect this to happen right away (it will be something that you have to consciously change).
I want you to replace the word balance with the word priority.
So, whenever you're feeling like you need to balance, what you really need to do is reprioritize.
---
Balance is defined as "a condition in which different elements are equal or in the correct proportions."
Priority is defined as "a thing that is regarded as more important than another."
---
Often, when we say "balance," what we really mean is that we are giving more important things (for that day) more attention than other things — and that's really prioritizing (not balancing).
This is one of the secrets to creating that homeschool and life balance that no one ever tells you about!
Now, go back and look at your weekly schedule and your notes of things that worked and things that went wrong from Step 1.
Were some of them because you didn't prioritize the day?
(My guess is yes…)
Hang on, let's see what's next:
STEP 3: BE OK WITH LETTING THINGS GO.
When you shift your thinking from "balancing" to "prioritizing," you will need to be OK with letting things go sometimes.
If you're prioritizing a homeschool field trip for that day, then you might not get to the laundry.
And, that's OK!
(You know that laundry is just going to sit in a basket for a week or so before it gets put away anyway. Why sweat one or two or five more days?)
(No one else? No? Ok, then . . .)
ANYWAY . . .
Now that you understand that you have to let things go and that all things are not going to get done every day (they're just not, sorry), you can set up schedule for homeschooling, cleaning, and work.
---
SECRET HOMESCHOOL TIP: How to homeschool and get housework done?
Make homeschooling chores part of your homeschooling schedule each day — even if you're homeschooling kindergarten. (Working on life skills is an important part of homeschooling!)
---
If you don't get all of your scheduled homeschool things done for the day, it will be there tomorrow (and your kids won't even suffer from missing it that day).
I promise.
AGAIN, REPEAT AFTER ME:
GIVE YOURSELF PERMISSION TO NOT HAVE TO "DO IT ALL" IN ONE DAY.
If you can't give yourself permission, I'm giving it to you! I release you from having to do it all TODAY!
Guess what else?
STEP 4: STOP SAYING "WHEN I FIND TIME"
OK, this is another big one.
You need to stop saying "When I find time, I'll _______."
---
The truth is this:
You make time for the things that you want or really need to do.
---
(Ouch. I know, right?)
When you are constantly living in a state of feeling like you don't have enough time to do things, it creates that "unbalanced" feeling in life where you can't get things done.
DON'T SAY THIS: "When I find time…"
SAY THIS INSTEAD: "Today, I'll make time to…"
(And then, do those things you prioritize for that day!)
(Try it. It works. I SWEAR.)
Changing your mindset and language is an IMPORTANT part of this process.
Don't skip this!
STEP 5: RECOGNIZE YOUR TIME WASTERS
OK, this one may get a little touchy because many of us (including me) have convinced ourselves that our time wasters are really just downtime for our sanity.
Um. No. Not necessarily.
It many cases, those time wasters are what we use to avoid or procrastinate.
(I'm talking to you, self.)
Then, when things don't get accomplished, we feel stressed and our lives feel chaotic.
You know, unbalanced.
So, what should you do?
TAKE THOSE STUPID GAMES OFF OF YOUR PHONE, YOU IDIOT.
(I was actually talking to myself there, again . . .)
I spend a lot of time in the car carting my kid around or waiting for her during her outside-the-home classes.
Most of the time, guess what do I do?
I sit there and play games on my phone or scroll through social media to "pass the time."
Then, later in the week I say things like, "I can't cook healthy meals this week because I didn't have time to make the menu and shop."
(Please refer to Step 1.)
So, we order take out or hit the drive-thru window.
(SO. MANY, DRIVE-THRUs.)
And, we waste money.
And, we're still not eating healthy.
Then, we've also stretched the money spending all that extra money eating out.
---
See how (what seems like) one little time waster can trickle down throughout your whole life and create chaos — you know, that "unbalanced" feeling?
---
Take a few minutes (I always suggest setting a timer on your phone for 5 minutes) and list out all the time wasters you can think of.
At the end of the 5 minutes, determine which ones are your "procrastinators" and get rid of them!
STEP 6: LET GO OF SHINY OBJECT SYNDROME
Shiny Object Syndrome (SOS!) goes like this:
"Oooh! That homeschool class looks fun! I need to sign them up!"
"Ahhh! My friend said that homeschool curriculum is better! I'll order that!"
"EEEK! Everyone is joining a homeschool co-op. My homeschoolers are going to miss out and be behind if we don't join!"
"If we don't go to that homeschool meet up this week, my kid will feel left out…"
---
Shiny Object Syndrome are things that grab your attention and make you feel like you're missing out.
---
And, many of us homeschool parents feel this way a great deal because we want to be sure that we are providing our homeschoolers with everything they need and that our kids aren't missing out.
So, we sign up and overbook and overcommit and then get annoyed when we our life feels overwhelming.
Let's get real:
---
YOU NEED TO PUT A LIMIT ON OUTSIDE THE HOME CLASSES, MEET-UPS, OVERBOOKING, AND OVERCOMMITTING.
---
Take a look at what you're doing outside the home or what you're trying to squeeze in each day.
What can you get rid of to decrease that chaos and make more time for your priorities?
One thing that really helped me is that I try to plan the majority of our outside-the-home classes on one or two days so that I know we'll be out on those days and can plan the at-home things on the other days.
---
•SCHEDULE FOR HOMESCHOOLING SANITY SAVER TIP•
Plan one day a week as a "free learning" day.
We do Free Learning Fridays where my kid picks what she wants to learn and does independent projects.
Then, I know that every Friday I have that day to catch up on house stuff or work.
---
Oh, and there's something else that goes with this step:
PRACTICE SAYING, "NO."
YIKES. I know.
Saying "no" can be difficult, but it is an important part of the process of gaining "balance."
If you have not accomplished your daily priorities and someone asks you if you want to meet up for a homeschool field trip, saying no will be hard but will help you achieve that balance you're looking for in life.
I'm not recommending saying "NO!" to all the fun (unplanned) stuff. But what I am saying is to recognize when your failure to say no to others is creating chaos in your life.
STEP 7: PRIORITIZE EACH DAY
This is it.
All of those other steps have been leading up to this one action that is going to help your life become more "balanced" and help your create a schedule for homeschooling that finally works for your family!
To help with balancing homeschool and home, you need to do the following prioritizing task:
Set a timer for 5 minutes.
On a piece of paper, list out everything that you want/need to accomplish in a "normal" week day.
Write everything you can think of in 5 minutes.
Include the MUST DO things (like homeschool, work, cook dinner, etc.) and also the WANT TO things (like read, work out, meet with friends, weekly field trip, etc.)
DO NOT EDIT OR WORRY ABOUT WHAT YOU'RE WRITING . . . YET.
Just keep brainstorming until the time runs out.
Now, set another timer for 2 minutes.
Look through your list and number the top 10 most important things for each day.
Think of the things as a "weight" that you put on a scale (from my earlier example).
The "heavier" weights will have a higher priority (starting with #1).
At the end of 2 minutes, you will have a tentative list of daily priorities.
Later, you can go back and assign the items to the specific day of the week.
This is how you create a successful homeschooling schedule that works!
---
BALANCING HOMESCHOOLING AND HOME TIP:
TRY TO GET YOUR PRIORITY LIST DOWN TO 3-5 THINGS THAT MUST BE ACCOMPLISHED EACH DAY.
---
Your Priority List should be the things that MUST get accomplished each day . . . no matter what!
The smaller you can make your priority list, the more "balanced" your day will feel.
If you accomplish your 5 priority items for the day, everything that you accomplish or do after that is icing on the cake!
(MMMMM, cake!)
• HOMESCHOOL BALANCE RECAP •
THE NEXT STEP IN YOUR SCHEDULE FOR HOMESCHOOLING & BALANCING HOMESCHOOLING AND HOME IS UP TO YOU!
I've given you the same actionable steps that I use to schedule for homeschooling to help calm the chaos in my homeschooling and home (and, for me, work) life:
1. I wrote down what was going wrong.
2. I realized there is no "balancing" and instead there is "prioritizing."
3. Then, I let the non-priority things go and stopped freaking out when they didn't get done — especially the housework stuff! (I like to say, "If friends are coming over to my house and will judge how clean it is, then those aren't the people I want as friends.")
4. I started saying, "I will make time to . . ." instead of "I need to find time to . . . "
5. I recognized my time wasters. (Stupid phone games.)
6. I let go of Shiny Object Syndrome and learned how to say, "NO."
7. And, the biggest of all, I learned how to prioritize 5 items or less each day that we must complete to avoid feeling overwhelmed or chaotic.
---
NOW, WHAT ABOUT YOU?
TAKE A LOOK AT YOUR SCHEDULE FOR HOMESCHOOLING:
HOW WILL YOU START BALANCING HOMESCHOOLING AND HOME?
(OR, BALANCING HOMESCHOOLING AND WORK?)
WILL YOU CHANGE OR JUST CONTINUE THE WAY IT HAS ALWAYS BEEN?
---
You've read through this entire post looking to change your schedule for homeschooling and add more "balance" to your life.
Now you have two choices:
1. You can ::eyeroll:: and move on, continuing to waste time searching the internet for answers that will never come (and never work for you, your family, and homeschool),
OR
2. You can take control of the chaos in your life today and move forward, letting go of that unattainable goal of "balance" and instead embracing "priorities."
WHAT WILL YOU DO TO IMPROVE YOUR SCHEDULE FOR HOMESCHOOLING & CHANGE YOUR LIFE BALANCE STARTING TODAY?
HOW ABOUT A FREE HOMESCHOOL BALANCE WORKBOOK TO HELP GET YOU STARTED?
GET STARTED RIGHT NOW!
DOWNLOAD YOUR FREE GOAL SETTING WORKBOOK!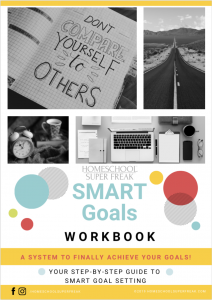 We have a FREE goal setting worksheet pack to help you plan your goals!
(Free for a limited time only! GRAB IT NOW!)
The goal setting worksheet pack also includes examples to help you plan your own personal goals.
When you download the goal setting worksheet pack, you can re-use it whenever you're ready to set re-evaluate and set new goals (and CRUSH them!).
If you have trouble setting goals and keeping on track, our FREE SMART Goals workbook will help you to:
Set goals that are specific to your homeschooling schedule and tailored to your life.
Understand how to measure the success of your goals.
Realize when you need to change or update goals.
Understand the importance of mapping out how you'll achieve your goals (and how to do it!)
& MORE.
[CLICK HERE or on the image above to download your goals workbook and get started TODAY!]
---
BUT, PLEASE! ONLY DOWNLOAD THE WORKBOOK IF YOU'RE REALLY SERIOUS ABOUT SETTING YOUR GOALS AND FINALLY GETTING YOUR SCHEDULE FOR HOMESCHOOLING ON TRACK!
---
HOW WILL YOU MOVE FORWARD WITH HOMESCHOOL BALANCE?
As an Amazon Associate I earn from qualifying purchases. Please refer to our
DISCLOSURE