If you're just researching school at home options, you may feel overwhelmed.
You're probably seeing things like homeschool supplemental classes, K12 online school reviews, and tuition-free online & virtual public school programs.
Whew.
It's A LOT.
It's so easy to get confused about school from home options, so we're going to cover some basic school at home programs (including school at home online) to help you make more informed decisions.
Affiliate links are used on this site. As an Amazon Associate I earn from qualifying purchases. Read more in our DISCLOSURE.
But, before we get to any of those options, let's start with the basics . . .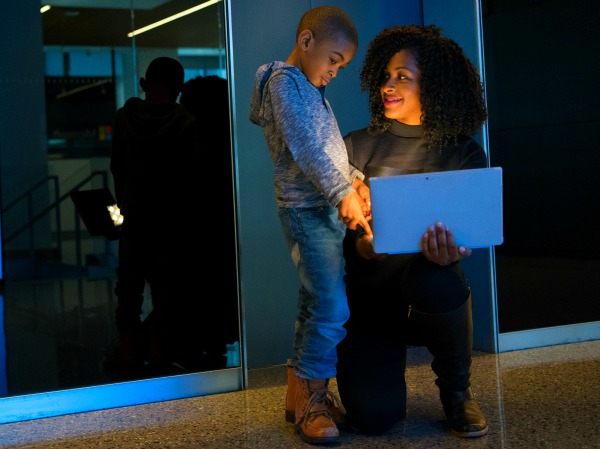 What Is School At Home?
School at home means that parents take responsibility for their child's education in their home. For some, this is a full school in home where the parent coordinates, implements, presents, and oversees every aspect of the child's education. For others, this may mean school at home online where the child is taking public school programs at home (like tuition-free online & virtual public school programs) or homeschool supplemental classes where the student takes independent online classes or in-person classes in addition to the homeschool curriculum. School in home can start as early as preschool at home all the way to homeschool high school. (Some even homeschool for 3 year olds.)
Let's take a closer look at these school from home options and how to "do" homeschool.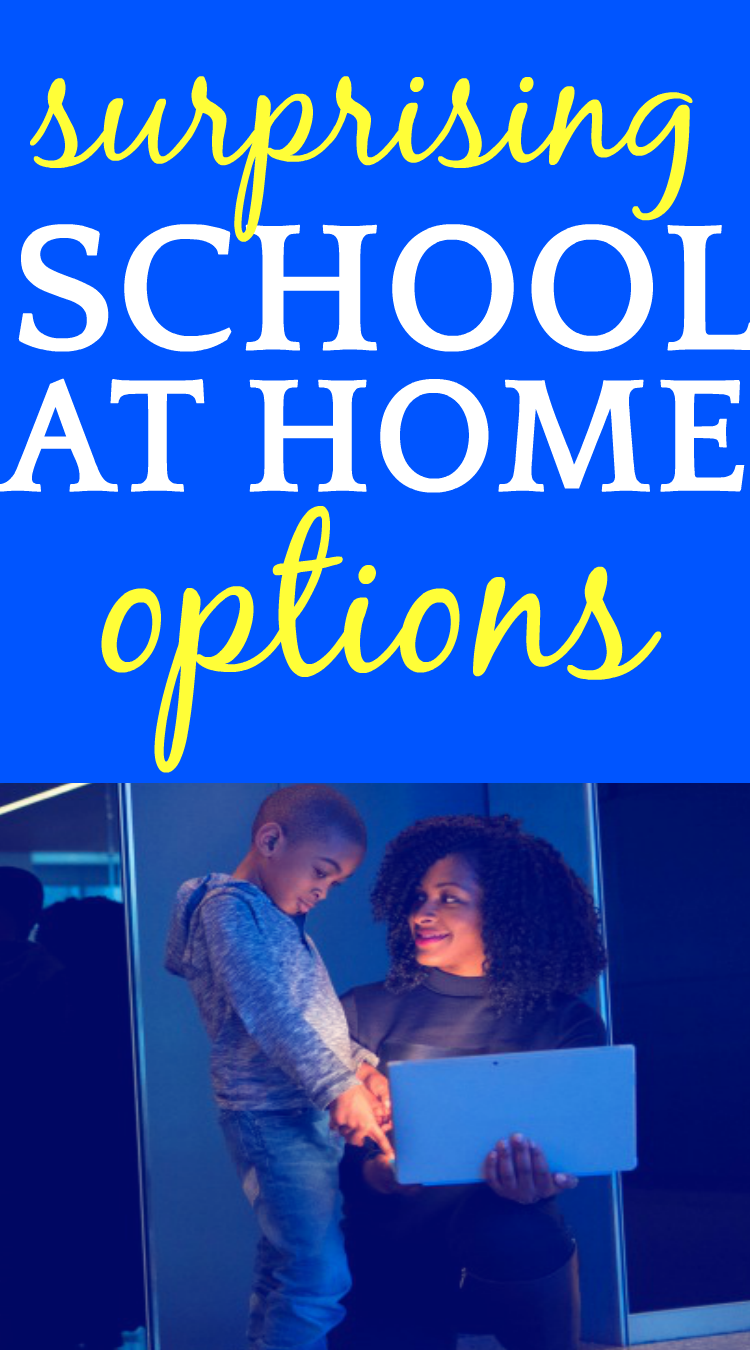 Understanding Different School At Home Programs
Home School
With true homeschooling, parents are the "homeschool teacher" and teach/oversee their child's school at home and is not affiliated with any public school program.
Homeschooling is legal in every state in America, but it is illegal in some other countries. The first thing you should do before anything else is check your homeschool state or country laws.
In the United States, every state law is different for home school. While there may be specific requirements that a family must meet, most states allow parents to decide how they will homeschool their children, including selecting a homeschool curriculum.
A homeschool curriculum is set of books and learning tools that allows a child to work through a preset lessons for a specific subject.
There are printed, "boxed" homeschool curricula that come with everything you need for subjects or even a set of subjects.
There are also full online curricula courses where your child completes everything on the computer.
You can also enroll in stand-alone computer courses and programs that your child can use for a specific topic (like Spanish, Bible, Math, etc.) to supplement at-home learning.
The cost of homeschool curriculum and online homeschool programs will vary—ranging from free to hundreds of dollars.
There are also many different methods of learning that homeschoolers follow like classical education, unschooling, Montessori homeschool, Waldorf homeschool, eclectic homeschooling, and more.
When you first begin, it is not necessary to know what homeschool method you will use.
This is something that will naturally fall into place over the first few months as you observe how your child best learns.
A homeschool schedule will look different for every homeschooling family.
One of the biggest benefits of homeschooling is the flexibility to build a schedule or curriculum around what works best for your family!
PROS OF HOMESCHOOLING: Complete control of your child's education; can tailor learning to meet your child's needs; great for special needs or special schedules (like frequent family travel).
CONS OF HOMESCHOOLING: Time to select curriculum; active involvement in child's education may be difficult with schedule/working; time-consuming; cost.
---
FOR MORE HOMESCHOOL INFO, CHECK OUT:
School At Home Online
How do you homeschool if you want your child to physically do school from home, but you don't want to be responsible for choosing a curriculum or "teaching" the course materials to your child?
There are public school at home options available online.
With virtual public school at home, your child completes the same curriculum and coursework requirements that they would at a brick-and-mortar (physical) public school, but they are completing the work from home instead.
These programs are are kind of a school-home partnership, but they follow the same state laws, regulations, standards (like common core), and standardized testing requirements as regular public schools.
An example of public school from home that you may have heard of is K12 public school at home.
As the parent, you will not need to decide on a curriculum, or homeschool workbooks, or what your child needs to study because this is predetermined for you (just like if they attended traditional public school).
Your child will virtually attend classes online, receive instruction from state-certified teachers, and submit coursework online.
This type of school at home online (associated with public schools) is free, but may have various costs for materials on occasion (like in public school).
PROS OF SCHOOL AT HOME: Free; parents don't have to select a curriculum or "teach."
CONS OF SCHOOL AT HOME: Loss of control over child's education; learning cannot be tailored to child's learning style; standardized testing is required.
Hybrid Homeschooling
There is also something called hybrid homeschooling.
Hybrid homeschooling is when a student spends part of their time in a brick-and-mortar, physical school location and then part of their time at home completing school work.
Hybrid home schools are associated with a public school or a private school.
The public school hybrid will have the same requirements they would have if your child attended a public school full time, just part of their work will be completed at home.
The private school may not have to follow the same regulations as public (state) schools, but they will follow the curriculum selected by the private school.
There may or may not be a cost associated with hybrid homeschooling, depending on if it is categorized as public or private school.
PROS OF HYBRID HOMESCHOOLING: Parents don't have to select a curriculum or "teach"; can be free; part of time is spent at home.
CONS OF HYBRID HOMESCHOOLING: Loss of control over child's education; learning cannot be tailored to child's learning style; standardized testing is often required; may be expensive (if classified as a private school); may be difficult to work around parent schedules.
What is the difference between hybrid homeschool and online class?
Sometimes hybrid schooling is mistaken for online school at home programs.
Although hybrid schools may use online classes, they are not the necessarily the same thing.
However, many hybrid school systems today incorporate a mix of online classes and in-person classes.
A student may complete work with textbooks while they are in the physical class and then complete online classes on the days they are at home.
There are also school at home online classes that are not affiliated with any hybrid or any school system.
These are usually private, for-profit companies that offer alternative learning options for parents.
For example, a homeschooler may follow a specific printed curriculum and homeschool worksheets for language arts, but then pay for an online course for math from a private company.
While We're On This Topic, You'll Also Want to Check Out:
As an Amazon Associate I earn from qualifying purchases. Please refer to our
DISCLOSURE